Co Saigon River Yatch to Can Gio mangrove forest
PRICE AND BOOKING
Price per person in a double or twin cabin
Itinerary
Starting October 2013, CO SAIGON will cruise daily on Saigon River following mainly two itineraries between Hochiminh City, Cu Chi and Can Gio, on joint tour basis, and with a maximum capacity of 20 passengers + 5 crew members including an English speaking tour guide.
CO SAIGON will be available for private chartered cruises for groups of 20 pax maxi, and ideal for corporate and business meetings, cocktails, family parties or anniversaries, on itineraries in and from Hochiminh City to Can Gio biosphere reserve or to some spots in Mekong delta.
Later this year, exciting dinner cruises will also be planned daily, with different cuisines and wines themes.

Our regular daily tour package to Can Gio will combine a one-way cruise (downstream) on CO SAIGON boat starting from HCMC with a one-way road vehicle transfer from Can Gio to HCMC in the afternoon.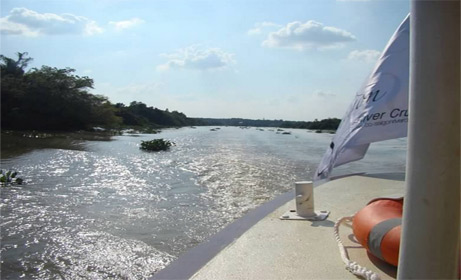 The downstream cruise onboard CO SAIGON boat will depart at
07.30am
(**) from Vuon Kieng pier (in front of Renaissance Hotel).
Upon embarkation, your crew will welcome you. After your installation on board, a breakfast will be served (coffee or tea, milk, juice, bakery, bread, butter, jam, and seasonal fruits).
During the cruise, from the comfort of your seat in the air-conditioned salon or from the large U shape bench situated open air on the back deck, you will be able to assist to the exciting life scenes on the Saigon River and its banks... Some movies will be proposed to you (related to Vietnam and former Indochina), as well as books and music to entertain you. Our tour guide will also give you an introduction to Saigon, Southern Vietnam and its tormented history. The crew will be at your entire disposal to satisfy your every need. Exotic fruits, one bottle of mineral water and fresh scented towels will be served to you free of charge. A wide list of refreshments will be available from the bar throughout the cruise (mineral water, juices, soft drinks, beers, aperitifs, wines, Champagne and spirits), charged according to the drinks list.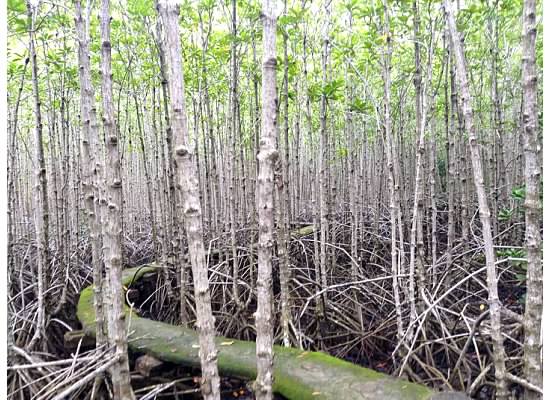 Arrival at Vam Sat (Can Gio biosphere reserve). Disembarkation. The visits will begin with a 15 minutes walk through the amazing mangrove forest... You will then climb up on the 28m bows shaped Tang Bong tower, from which you will have an amazing 360 degrees panorama view of the whole Can Gio mangrove forest area with its rivers network. Proceed by the exciting visit of a crocodile's farm in a very natural setting and navigate on their water habitat with a raft made by composite and enclosed with B40 grid, being impossible for crocodile to attack or upturn. You will be able to feed some of them and get a very close approach of the animals. Your hands will tremble and your heart will beat strong when you will feed the animals with your fishing rod! (In full safety and under the assistance and close watch of a local worker)
A lunch of Vietnamese specialties will be awaiting you at the restaurant.
Proceed by Co Saigon boat to the "Bat lagoon", a dense mangrove forest where hundred of flying bats with wingspan of 0.8-1m are residing. You will be able to see thousands of bats in flock living naturally in the mangrove forest, and travel by small rowing sampan threading through the mangrove forest to see with your own eyes flying bats with wingspan of up to 1m living naturally. This bat species can be found in countries such as Australia, Indonesia, Cambodia, and Laos and different from the ones seen in the cities. They sleep on the high mangrove trees in the daytime and flying to find food at night.
Back onboard Co Saigon for a short cruise to Dan Xoay Bridge where your private vehicle will await you for a road transfer back to HCMC. Services will end at around
5pm
in HCMC (**) at Vuon Kieng pier (in front of Renaissance Hotel).
Inclusions
Including:
Vehicle transfer from HCMC (Vuon Kieng pier) to Can Gio or vice versa (minivan, coaster bus, bus / seat-in-coach incl. 1 btle. mineral water + cold towels), Lunch at local restaurant in Can Gio, Visit fees, CO SAIGON cruise from HCMC (Vuon Kieng pier) to Can Gio or vice versa (incl. morning breakfast or afternoon high tea time, fresh exotic fruits, 1 btle. mineral water, fresh scented towels, 2 English speaking tour guides (1 way vehicle+boat | 1 way boat+vehicle), Services & Taxes.

Excluding:
Vehicle transfers from / to your hotel to / from Vuon Kieng pier, Activities in Can Gio other than stated in program, Drinks during lunch in Can Gio and from the bar on CO SAIGON boat, Boutique gifts, Personal expenses, Tipping for guides, bus driver and boat crew members.

Similar Tours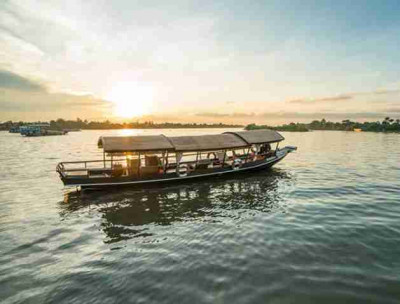 1 days 0 nights
Saigon - Cai Be - Vinh Long - Saigon