Specialities and Restaurants in Hoi An
Hoi An food is a one of the most delicious styles of food in Vietnam, its style and taste shares slight similarities with its near neighbors (China, Japan) yet the food of Hoi An is distinct and original. And not only can you rampage your way through regional cuisine, you can learn to cook it too, quite often at the very place you tried it.
Hoi An Specialities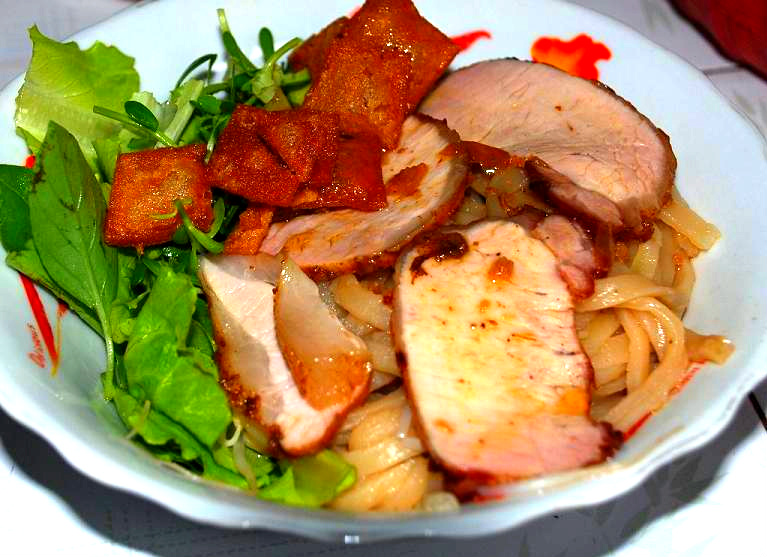 Cao Lau
This is the foremost traditional food in Hoi An. Visitors to Hoi An always remember Cao Lau, which was considered by the Quang Nam people as a special symbol representing Hoi An. Cao Lau does not taste like any other Vietnamese dish, but nobody can really recognize it as being comparable to Chinese or Japanese cuisine. Despite its Chinese-like appearance, the Chinese people don't consider it to be Chinese food. Until now, the origin of Cao Lau is still enveloped mystery.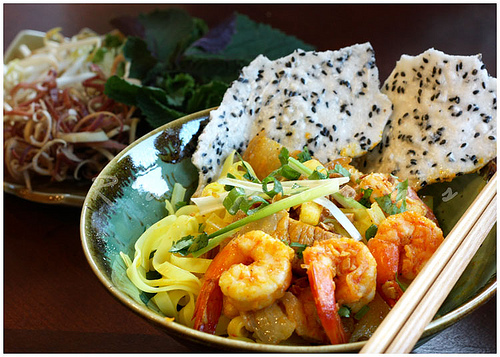 Quang Noodle (My Quang)
This is the popular country dish in Hoian and Quang Nam. The noodle is yellow or white in color and made from rice flour. It is mixed with shrimp, pork and vegetables, and topped with grilled rice paper and spices. Similar to rice noodle and chicken or pork soup (Hu tieu), My Quang is a variety of Pho (rice noodle soup), because the noodles are made from rice and covered with soup as serving.
Where to eat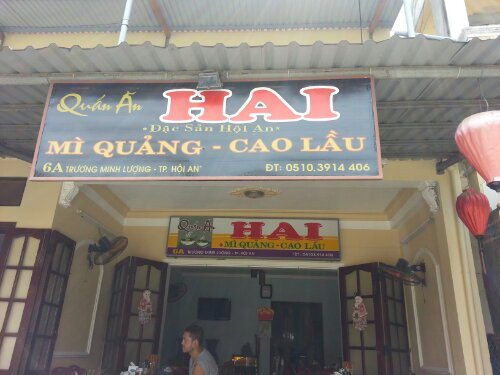 Try the stalls in the central market food hall where Tran Phu meets Nguyen Duy Hieu or one of the local one-dish restaurants that line the northern end of Phan Chau Trinh Street.
A good tip is to look out for vendors with a black and gold sign which are awarded to families with the best examples of these dishes, which generally means they have been producing that one dish for generations.
'Restaurant Two'
(Quán Ä'n Hai)
where the locals like to eat. They serve two dishes there, hence the name. It's
20,000 VND (~US$1)
per bowl for either My Quang or Cao Lau.
White Rose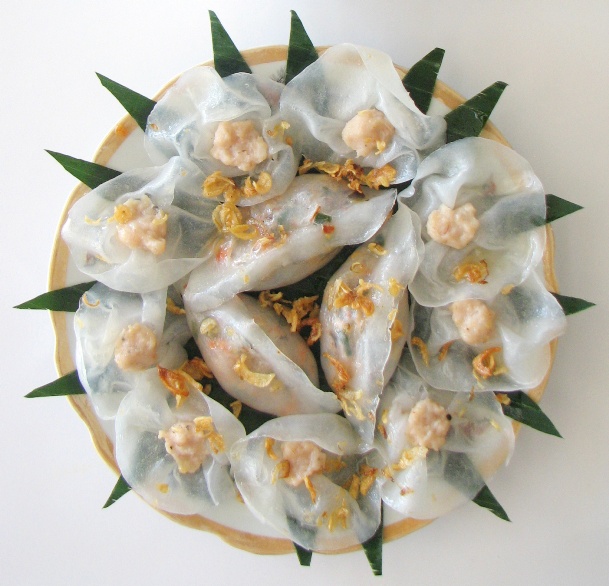 An appetizer named for its shape when presented properly – White Rose is a type of shrimp dumpling made from translucent white dough bunched up to look like a rose.
Ingredients such as shrimp and pork are placed on top the carefully folded noodles and topped with crispy shallot. The unique dipping sauce is made of shrimp broth, hot chilies, lemon and sugar.
Water must be drowned from the old Ba Le well, which is filtered and purified 15-20 times before being mixed with the rice paste to form airy dough.
Where to eat
Local Restaurant -
Banh Bao Banh Vac
, Add: 533 Hai Ba Trung St., Price: 4 USD/1 dish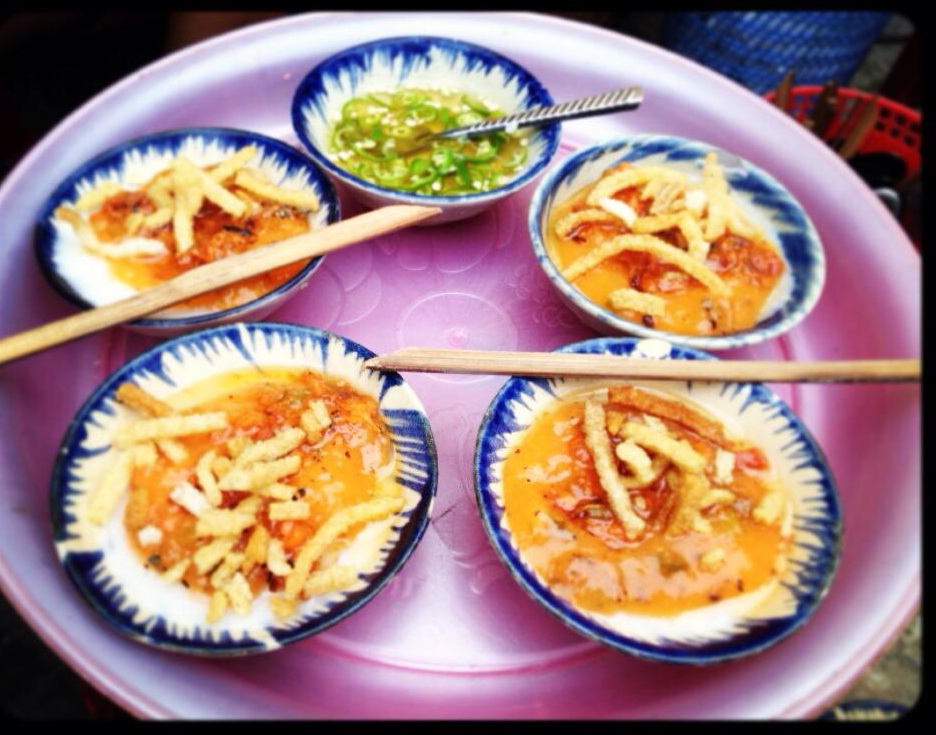 Banh Beo
Banh beo is made of a mixture of rice flour and water. The mixture is poured into small, clay bowls, much smaller than the usual ones. The delicious core of Banh beo is stuffed with small shrimps, and the dipping sauce is made by mixing fish sauce, sugar, garlic, chilly, fresh small shrimps and watery grease.
Seafood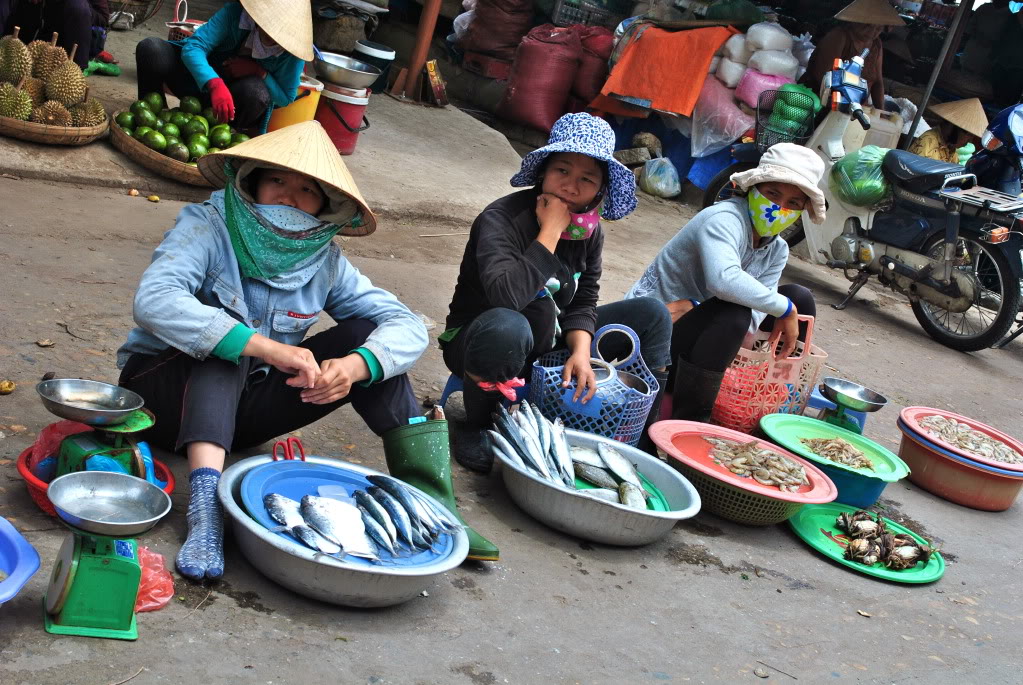 If you like seafood, you may find heaven in Vietnam. Vietnam is a country that is criss-crossed with rivers and streams, tributaries and deltas as well as being bounded by the South China Sea. Fish and shellfish, both freshwater and saltwater, are abundant.
Hoi An have Cua Dai and An Bang Beaches. The ultimate seafood experience is travelling to a seaside village or beach resort area in the south to try the local seafood restaurants that often serve shrimp, crab, and locally-caught fish. Follow the locals to a good restaurant: the food will still be swimming when you order it, it will be well-prepared, very affordable by Western standards, and often served in friendly surroundings with spectacular views.
Com ga (Chicken rice)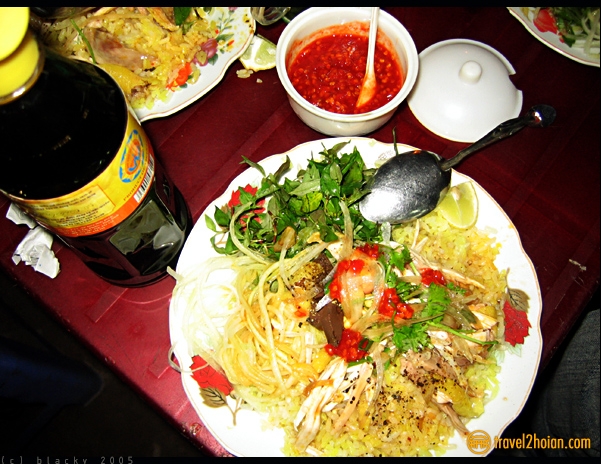 Add 1:
Ba Buoi - 22 Phan Chau Trinh Street
Add 2:
BaTy - 27 Phan Chau Trinh Street
Add 3:
Ba Thuan - 17/4 Nhị trưng Street
Add 4:
Com Ga Huong on the pavement outside 48 Le Loi Street (near Thu Thuy Cloth Shop).
Cuisines:
Vietnamese
Price
: Set menu US$2
Description:
Hoi An's chicken rice, with its unique spicy character, tempting smell and its simple yet very appetizing presentation, is just so Vietnamese!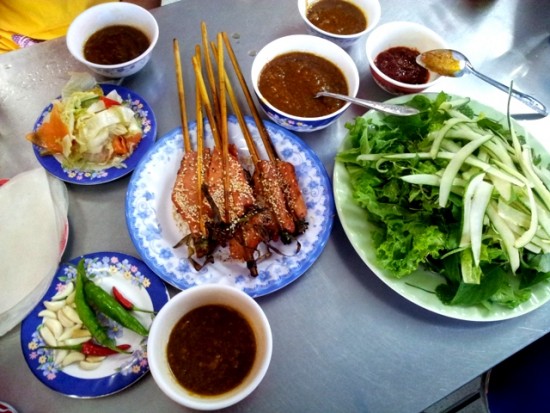 Ba Le Well
Add:
45/51 Tran Hung Dao St
Tel:
+84 (0510) 386-4443
Cuisines:
Vietnamese
Price:
Set menu US$2.5
Description:
a set menu of nem nuong, the kind of spring rolls that you make yourself, rolling chicken, beef, or pork with fresh greens and condiments into sheets of rice paper. You might also want to try the good pork satay, savory banh xeo (pancakes), or good fried spring rolls. The restaurant is in a little alley just off of Tran Hung Dao Street.
Banh my Phuong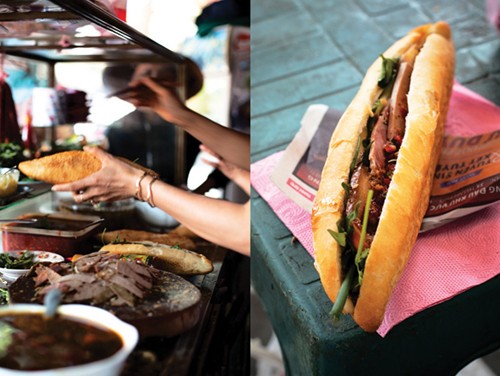 Add:
By the market entrance on Hoang Dieu St
Cuisines:
Vietnamese
Price:
20,000 VND (around US$1)
Description:
Madam Phuong serves Banh My from a cart and has been doing so for 25 years. The baguettes are perfect, unbelievable fresh, crisp on the outside and soft in the middle
It is the great mixture of baguettes in the western and Vietnamese way with many favors and raw vegetables. A loaf of Banh My combine French ingredients, the baguette, pate and mayonnaise plus native Vietnamese ingredients including cilantro, hot peppers and pickled carrots, that's a lot of history in one delicious roll.
Restaurants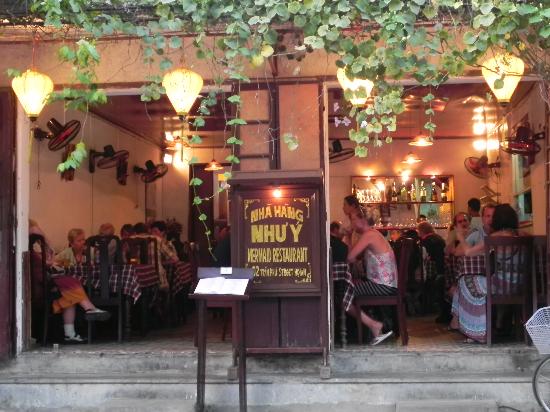 Mermaid (NhÆ° Ý restaurant)
Add
: 2 Tran Phu St, Hoi An
Tel
: +84 (0)510 3861 527
Cuisines
: Vietnamese
Price
: dishes from US$1.5-5
Description
: This local institution offers a comprehensive Vietnamese menu with local dishes punctuating the selection. This is Ms Vy of Morning Glory's fame's very first restaurant set in a traditional old shop house which adds to the authentic atmosphere. Family-style food, and efficient, friendly service make it one of the best restaurants in town. It is the 'original' family Vietnamese dining experience in Hoi An after all!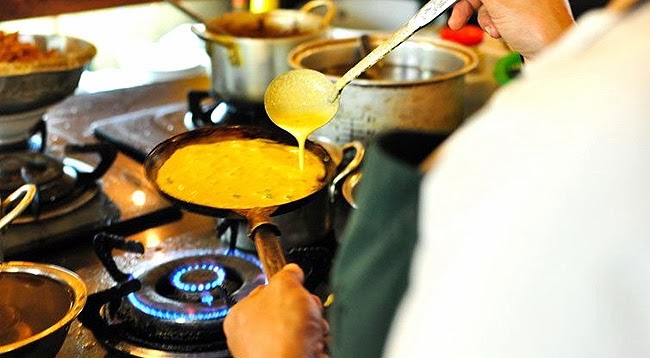 Morning Glory Cooking School & Restaurant
Add:
106 Nguyen Thai Hoc St, Hoi An
Tel:
+84 (0)510 2241 555
Cuisines:
Vietnamese
Price:
dishes from US$2-6
Description: This restaurant is a must-visit venue for those wanting to experience the real street foods of Hoi An (without actually sitting on the street). Both traditional and newly inspired dishes are on the menu with healthy choices too. The vegetarian Cao Lau, Crispy Tofu peppermint salad, Chicken with Lime Leaves and Seaweed Fish Soup are but a few of diners' favourites.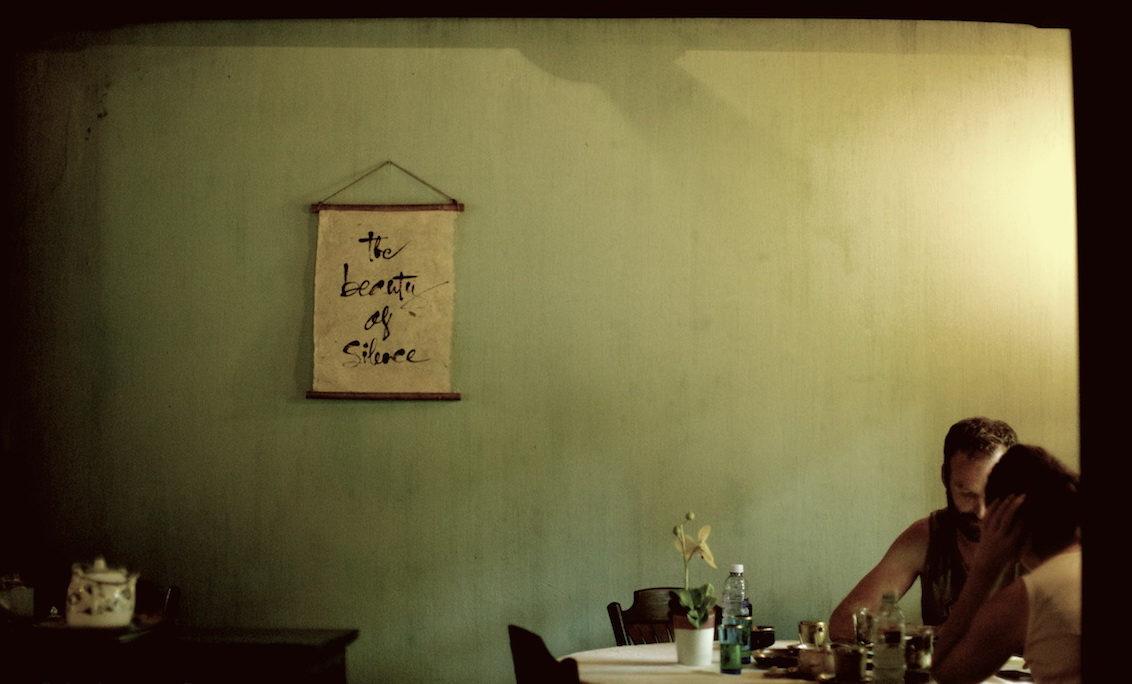 Reaching Out Teahouse
Add:
131 Tran Phu St
Tel:
+84 (0)510 3861769
Cuisines:
Cafe
Price:
$2 - $5
Description:
The first and only teahouse in Hoi An offering up exceptional gourmet teas and coffees in a stunning old house near the Japanese bridge.
Little Menu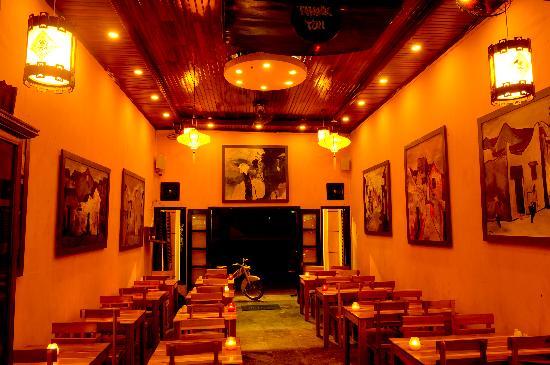 Add:
12 Le Loi Street
Tel:
(84) 945 568 568
Cuisines:
Vietnamese
Price
: dishes from US$2
Description:
Limited but excellent menu of traditional Vietnamese home-style dishes by Chef Son – traditional pho, mi quang, fresh seafood dishes (pan-seared snapper is amazing) and salad selection. The illustrious Son welcomes every guest personally and is a wealth of local information. He also offers one-on-one cooking classes.
Miss Ly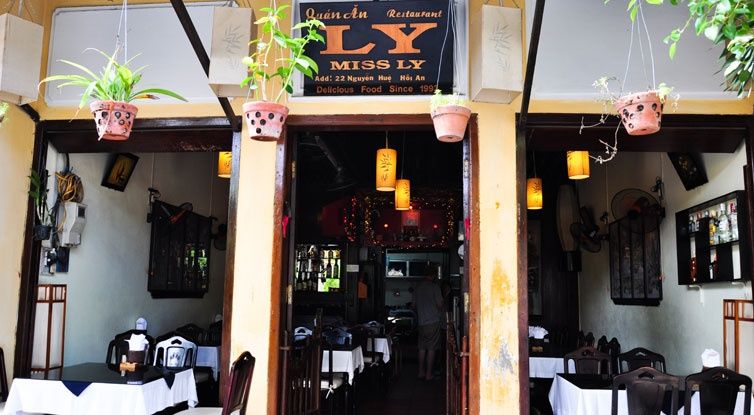 Add:
22 Nguyen Hue St
Tel:
+84 (0)510 3 861 603
Cuisines:
Vietnamese
Price:
dishes from US$2
Description:
This famous café has been in business for many years and is an expat favourite. Her wontons are a must try as well as all other local specialties, such as her noodle dishes and tofu with tomato sauce.
Luong Gia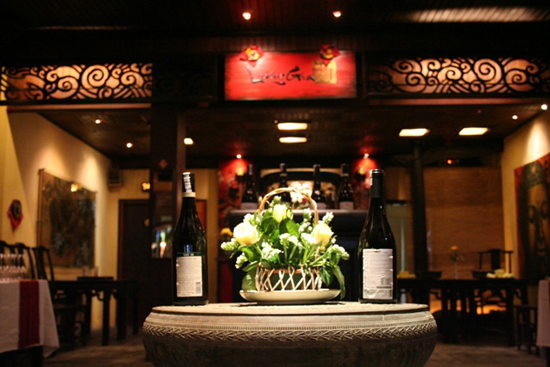 Add:
34 Le Loi St, Hoi An
Tel:
+84 (0) 510 3911 899
Cuisines:
Vietnamese, Italian
Price:
around US$10-30 for a meal
Description:
This relatively new restaurant is owned by the same family that run the well-known Before & Now. Fantastic Vietnamese and Italian are their specialties and the ambiance is quite unique – both old relics and contemporary art feature in an inviting space. There is a romantic atmosphere which is appropriately matched with a large selection of wines.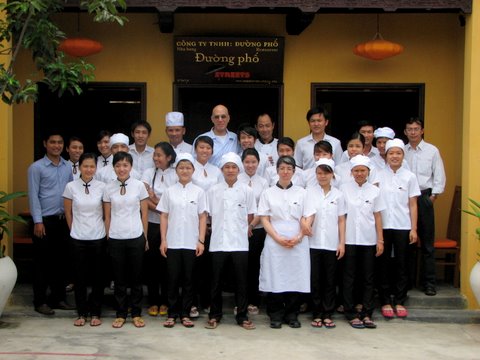 STREETS International
Add:
17 Le Loi, Hoi An
Tel:
+84 (0)510 3911 948
Cuisines:
Vietnamese, International
Price:
US$2-7
Description:
This modern café offers an excellent menu of local classics and Western sandwiches – their Paninis are the best in town. Also, all the staff are trained under the Streets International program for underprivileged youth, and their English and hospitality skills are second to none. Open for both lunch and dinner, the meals at Streets are delicious and – as the slogan says, it is – 'Good Food Helping Good Kids'.
Tam Tam Cafe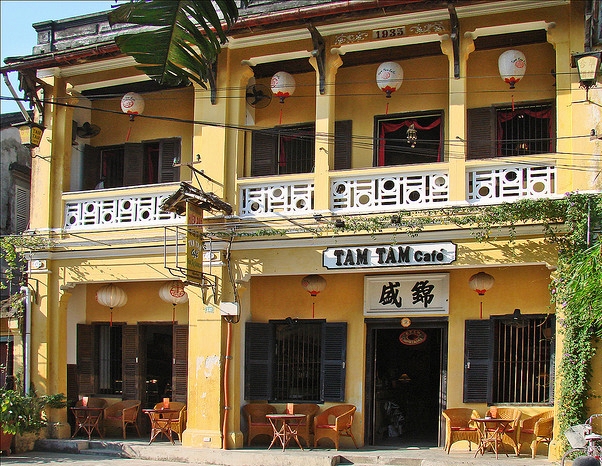 Add:
110 Nguyen Thai Hoc St/ 121 Tran Phu St.
Tel:
+84 (0) 510 386 2212
Cuisines:
Vietnamese, International
Price:
main courses US$2-10
Description:
The restaurant set in a spacious and stylish French colonial building with upstairs terrace seating overlooking the old town. The ground floor offers a comfortable cafe and bar area with a pool table. Tam Tam's menu is inspired by a mixture of cuisines, with their resident French chef serving Vietnamese and Western choices.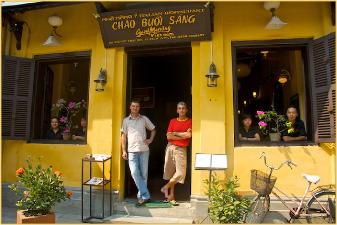 Good Morning Vietnam
Add
: 102 Nguyen Thai Hoc St
Tel:
+84 (0)510 3910 227
Price:
US$3-10
Cuisines:
Italian
Description:
offering excellent traditional pizzas, pastas and other Italian dishes.
Hai Café Bar & Grill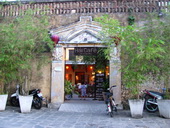 Add:
98 Nguyen Thai Hoc St, Hoi An
Tel:
+84 (0)510 3863 210
Cuisines:
Vietnamese, International
Price:
US$3-10
Description
: This charming 19th century classic Chinese building has been renovated into a spacious restaurant. Their lovely garden courtyard serves up a delicious nightly-barbecue, and their versions of local classics are renowned – namely White Rose and Com Ga.
Hai Cafe also offers evening cooking classes as part of its Red Bridge Cooking School.
Mango Mango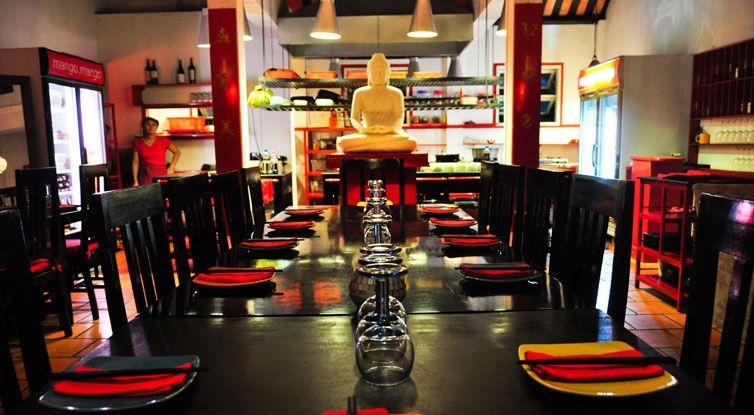 Add:
45 Nguyen Phuc Chu St.
Tel
: +84 (0) 510 3911 863
Cuisines:
Vietnamese, Fusion
Price:
Main courses US$3-10
Description:
It's the second restaurant of Duc and Ly of the famed Mango Rooms. Signature dishes include the red snapper, squid rings, and the amazing 'Lost in Translation' tuna rolls. Don't forget to order one of their innovative cocktails!
Cargo Club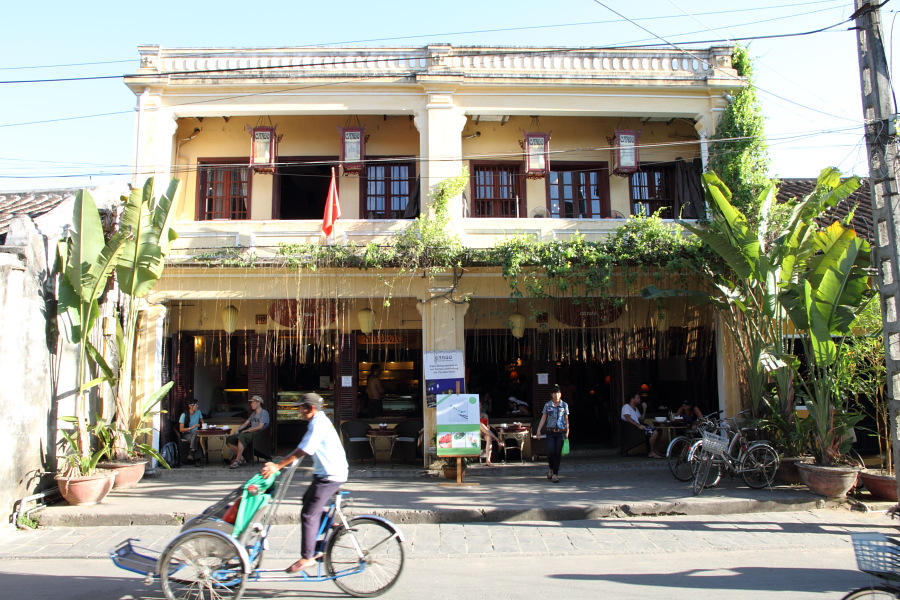 Add:
107-109 Nguyen Thai Hoc St.
Tel:
+84 (0) 510 3910 489
Cuisines:
Vietnamese, International
Price:
Main courses US$3-10
Description:
One of Hoi An's most established and consistent restaurants, this is Hoi An's favourite place for breakfast, but the menu is suitable for all times of the day. Their Italian and local dishes are all first-rate and the patisserie ensures excellent desserts. Try their pizzas topped with fresh rocket! The restaurant has both street and river views.
Seedlings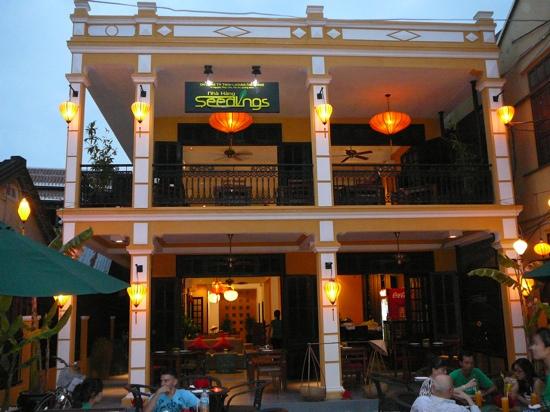 Add:
41 Nguyen Phuc Chu St
Tel:
+84 (0) 510 392 1565
Cuisines:
Vietnamese, Asian, Western
Price:
US$3-10
Description:
This restaurant utilizes the shared vision of the KOTO Foundation and Laguna Lang Co to provide training opportunities to marginalized youths, giving them the life skills to create successful careers. Their superb menu meshes archetypal Vietnamese dishes with an excellent array of Thai, Southeast Asian and Western classics.
GODA Restaurant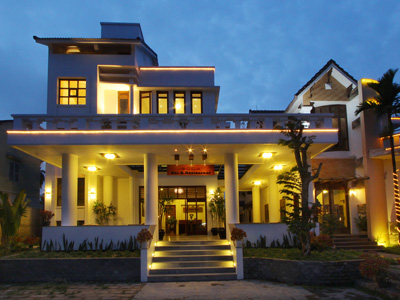 Add:
308 Cua Dai Road,
Tel:
+84 (0) 510 3923 644
Cuisines:
Vietnamese, International
Price:
US$5-20
Description
: The four-floor venue has excellent vantage points of the surrounding countryside and town. Both food and service are of a high standard due to the staff training under Eurasia hospitality. A great venue for either groups, functions or just a romantic tet-a-tet.
Brother's Café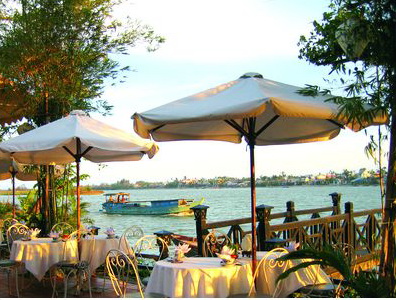 Add:
27-31 Pham Boi Chau St
Tel:
0510 391-4150
Cuisines:
Vietnamese
Price
: Main courses $6-$15; set menu $30
Description:
Brother's Cafe secured the most spectacular location and colonial era complex of buildings in Hoi An when it opened back in 2000. Many of the tables are nestled in lush green gardens so the tropical plants enclose the tables making it feel private and exotic. This really comes to life in the evening, the gardens are illuminated with lights so it feels very magical.
Mango Rooms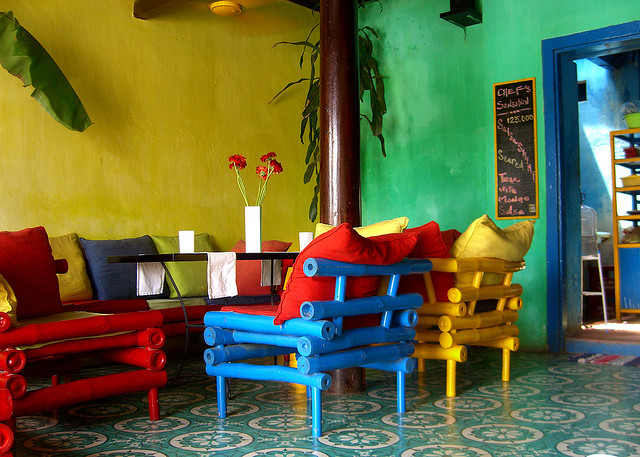 Add:
111 Nguyen Thai Hoc Str.
Tel:
+84 (0) 510 3910 839
Cuisines:
Vietnamese
Price:
Main courses US$7-15
Description:
Classed as mid-range this colourful contemporary restaurant does crank the prices up but the quality of food and imagination displayed is worth the extra dosh. Although classic Vietnamese specialities will not be found on Mango Rooms' menu, the innovative fusion of tropical and familiar ingredients reflect the chef's love of travelling with tastes from the east and west combined together.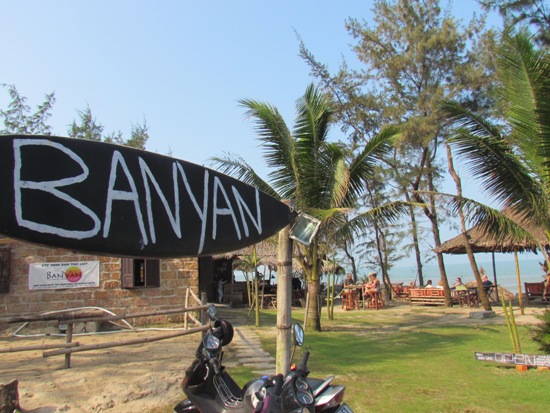 Le Banyan Bar
Add:
Far left, An Bang beach
Tel:
+84 (0)123 8819 236
Cuisines:
French, Mediterranean, Tapas, Vietnamese
Price:
US$2-5
Description:
The Banyan Bar deservedly pulls in the crowds with alfresco beachside dining, cosy cabanas and a traditional Vietnamese house for chilly winter evenings. Huge beanbags and loungers line the beach for guests to stretch out on, which are very welcome after sampling the unlimited San Miguel beer or excellent premium, very tropical cocktails they serve.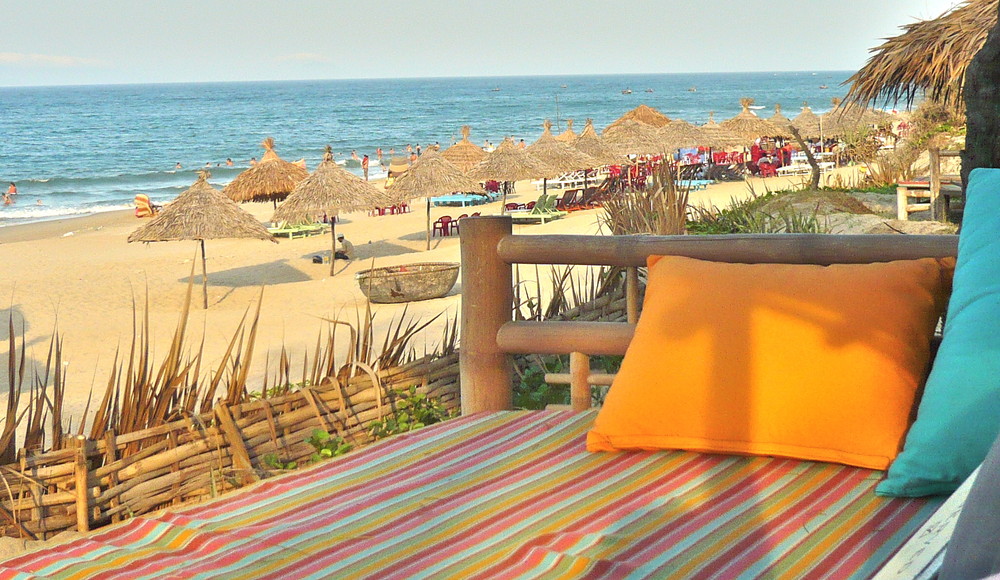 Soul Kitchen
Add:
Far left, An Bang beach
Tel:
+84 (0) 90644 0320
Cuisines:
American, European, French, Seafood, Vietnamese
Price:
US$2-5
Description:
Soul Kitchen's a bohemian style lounge and restaurant on An Bang Beach outside Hoi An - pleasant by day and night. They also have live music every Sundays from afternoon into evening. Credit cards are accepted here (the only venue on An Bang beach).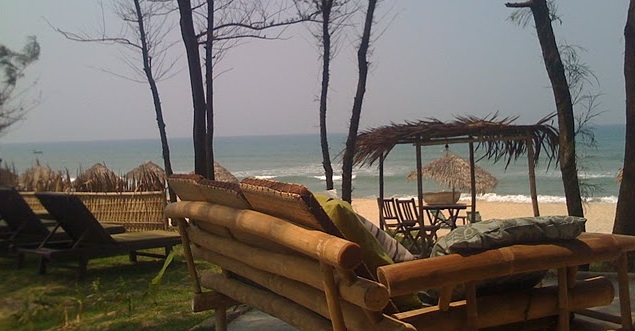 La Plage
Add:
Far right, An Bang beach
Tel:
+84 510 3928 244
Cuisines
: French, Vietnamese, Bistro
Price:
US$2-5
Description:
Located on the far right of the restaurant strip at An Bang beach this sweet little open-air café does wonderful French-inspired food. In the evening, Matty plays tunes that range from funk and soul to drum and bass! He loves imput from customers about which songs to play and will happily give over his laptop for you to select songs from youtube.