Specialities and Restaurants in Sapa
Sapa's specialties are another reason attracting more and more tourists travelling to this town. The cool weather of the region makes barbecued meat and fish with mushroom and vegetables the most preferred street foods in Sapa. More surprisingly, Western restaurants, from Italian to French ones, can also be found around the center of Sapa, at a very reasonable price.
Sapa Specialities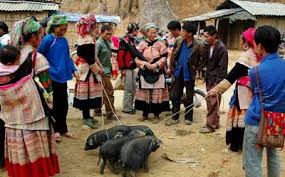 Clamped-under-the-armpit pig (Lợn cắp nách)
The name arises from the fact that pigs about 4 to 5 kg in weight are carried under the arm for sales at market.
Due to growing unbridled under severely cold weather all year round, pig's meat here is much lean, solid and sweet, which makes the dish distinctive from other places.
Not long ago, this type of pork was almost wiped out because it couldn't be sold and no one wanted to feed it anymore. All of a sudden, piglets are now promoted and become a specialty of Sapa which is admired by many visitors.
Seven color steamed glutinous rice
T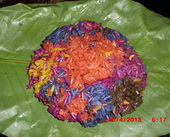 his dish is splendid with seven colors without using any artificial coloring and the pride of Nung Din ethnic women because it expresses their ingenuity and skill.
The cooking process is quite similar to that of other steamed sticky rice; however, the dying process takes a lot of time and effort. The colors all originate from leaves of different forest trees that are ground or boiled to exact the colors. What is more, the forest tree leaves are often used as restorative medicines by the locals; therefore, please do not hesitate to try this delicious and healthy dish!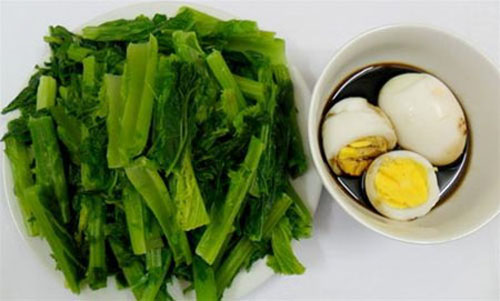 Meo Cabbages
A wide range of sub-tropical vegetables such as white cauliflower, red beet, or chayote are planted here. Apart from the famous chayote vegetable, visitors are also impressed by a kind of vegetable which has a special bitterness. That is bitter cabbage (people commonly call it Meo cabbage) – a kind of pure vegetable in Sapa.
Salmon in Sapa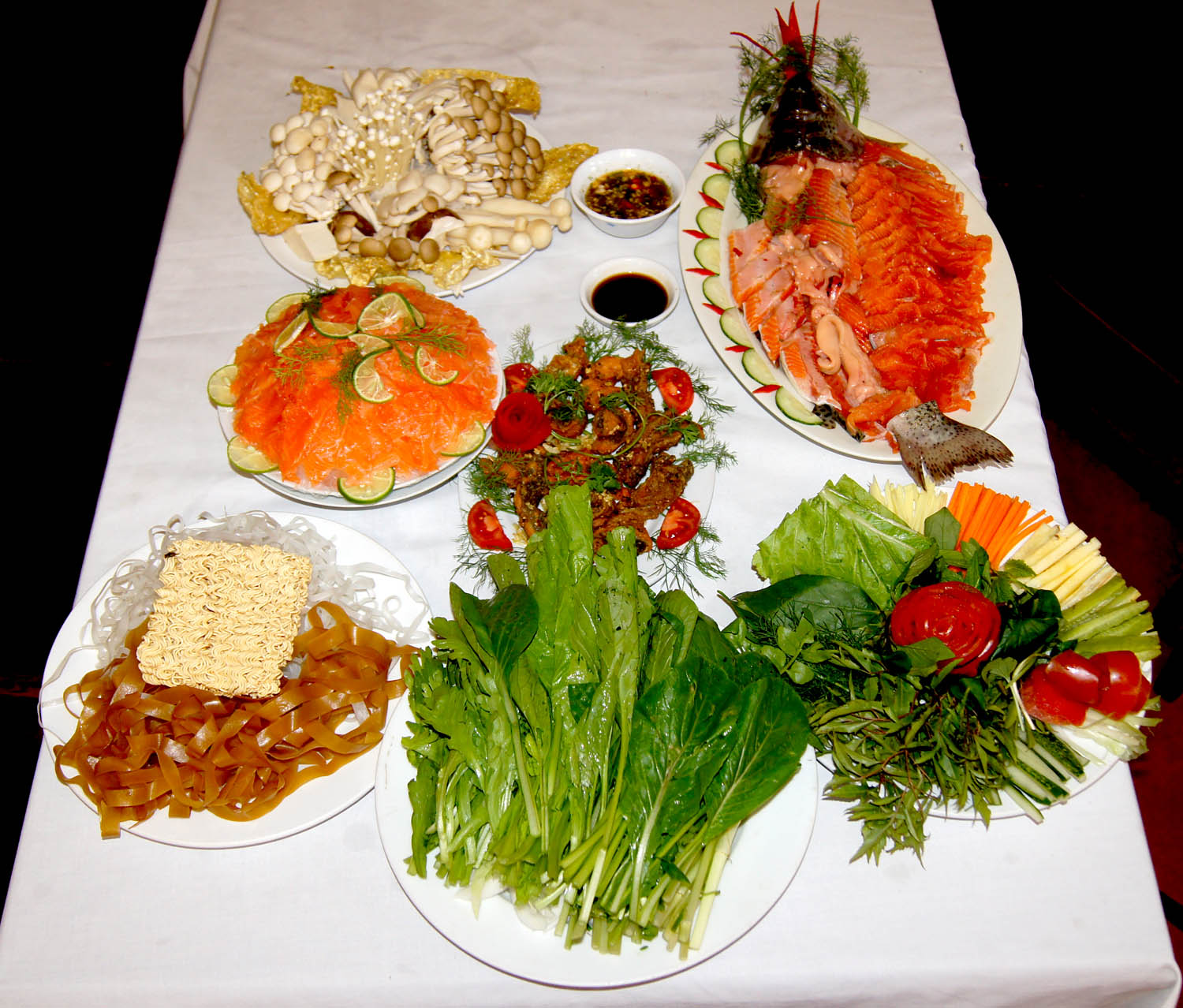 Such fish which live only in cold regions like America or Europe have been imported but only successfully adopted in Sapa. With a cool climate all year round and a cold winter even with snow covers, Sapa salmon is blessed to have flesh meat, firm muscles and no grease which is suitable for processing many different dishes. The most prominent are salmon hot pots, salmon salads and grilled salmon ...
Brook Fish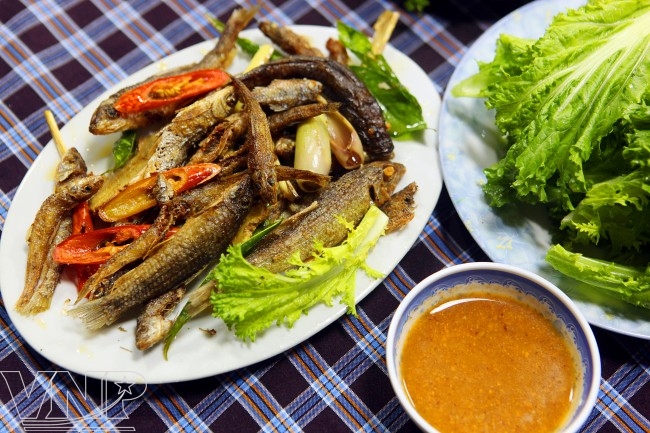 Sapa brook fish are usually not big, just equal to an adult finger, or a knife handle as the biggest. The most special secret is that these brook fish has no fishy flavor. Once catched, fish are often grilled on coal immediately at the stream in order to store or bring to restaurants in town for sale. After being grilled, fish's head, tail and fins are very crisp while the fish's round body still maintains the fiber muscles-unique characteristics only for such mountainous species.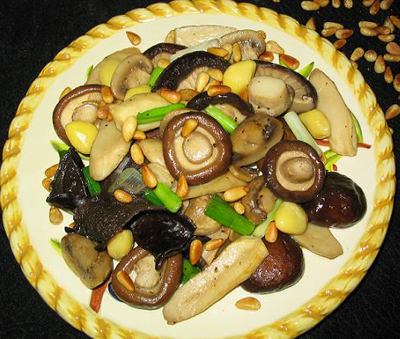 Mushroom
Sapa is the place where black mushrooms hidden in the forests. Dried mushroom can be found all 4 seasons. It swells in water but it retains its original flavour.
The mushroom can be mixed with meat, dried cuttlefish and some spices. You can eat it with many kinds of vegetables here
Restaurants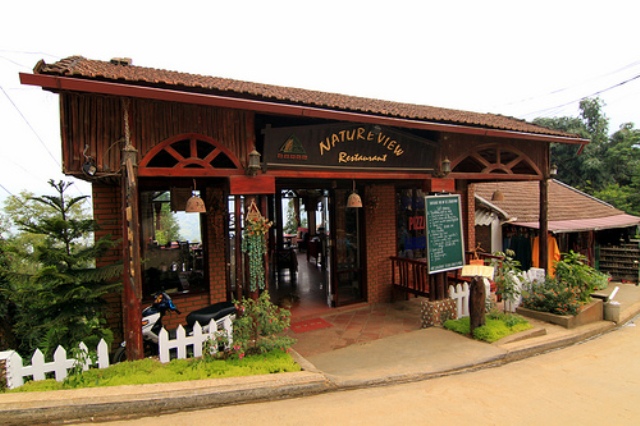 Nature View
Add:
51 Fansipan St.
Phone
: +84 915449707
Cuisines
: Vietnamese
Price
: US$2-7
Description
: Location is quite street on the way to Cat Cat village. The antique designed Sapa Nature View Restaurant offers you various tasty authentic Vietnamese dishes and standard Western menu for lunch and dinner.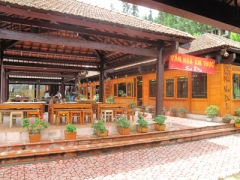 Viet Discovery Restaurant
Add
: 15 Thanh Son road
Tel
: +84-(20)-387-1555
Cuisines
: Vietnamese, Vegetarian, Buffet, International, Asian
Price
: US$2-15
Description
: Viet Discovery Restaurant combines the traditional style of Vietnam and modern architecture in its entire property.
Red Dao House Restaurant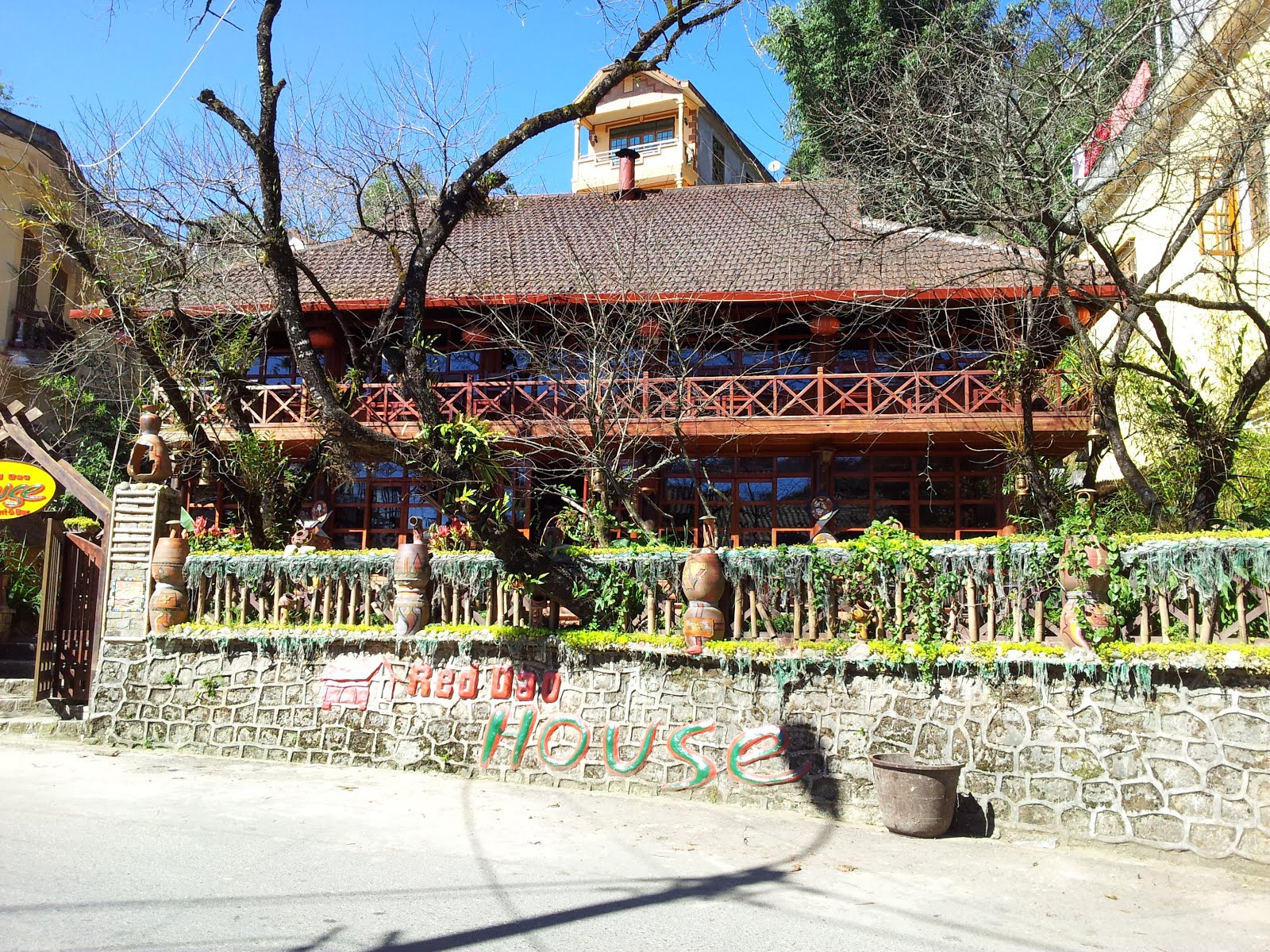 Add:
04B Thac Bac St.
Tel
: +84 20 387 2927
Cuisines
: Vietnamese
Price
: US$2-15
Description
: Located in the heart of the town of Sapa. The Red Dao House restaurant is a fascinating traditional wooden house on stilts of the Red Dao hill briber in the North West mountain of Vietnam. It is much more than a restaurant; it's a wonderful dining experience.
Little Sa Pa Restaurant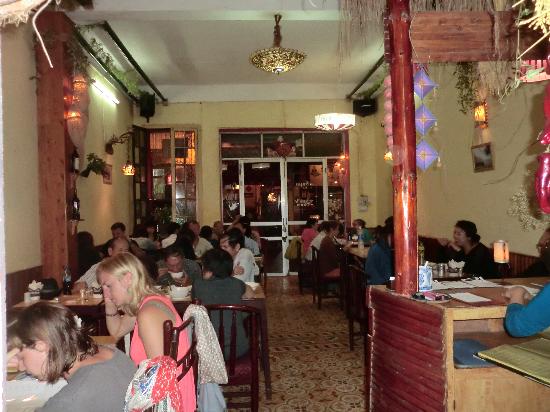 Add
: 18 Cau May St.
Tel:
+84 20 387 1222
Cuisines
: French, Vietnamese, Vegetarian, International
Price
: US$2-20
Description
: It's a place where you can find yourself some great local food at a very reasonable price. The restaurant is neatly clean and well-function. The extremely friendly staff will try their best to support you, although they cannot speak English well.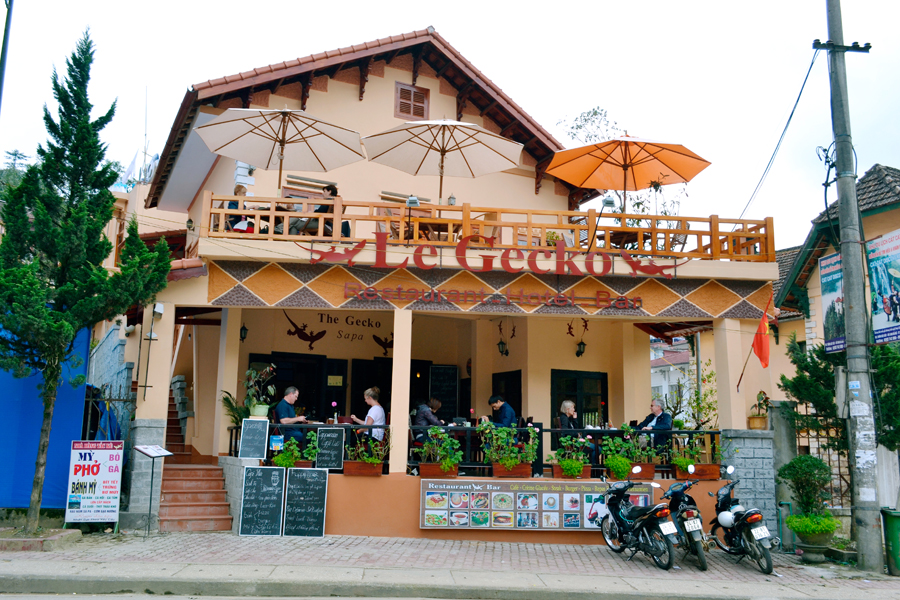 Le Gecko
Add
: 04 Ham Rong St
Tel
: +84 20 387 1504
Cuisines:
French, Vietnamese, Vegetarian, International
Price
: US$3-12
Description
: Away from the Cau May madness, Le Gecko Restaurant on Thach Son near the post office claims to be world known for its French cuisine, but it's clearly not relying on that fact as its menu features global cuisine including burgers and pizzas, although, yes, they also serve up a small selection of French mains and omnipresent Croque Monsieur.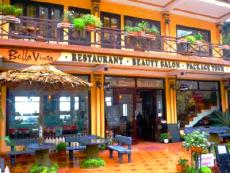 Bella Vista Restaurant
Add
: 41 Fansipan St.
Tel
: + 84 20 387 2727
Cuisines
: Vietnamese, European
Price
: set menus from US$12
Description
: Bella Vista restaurant is also located in the magnificent real state with the view of the Muong Hoa valley and of the Fansipan peak so you can enjoy the good foods cooked by "Son Chef" without missing the occassion of watching the imposing and splendid beauty of Sapa.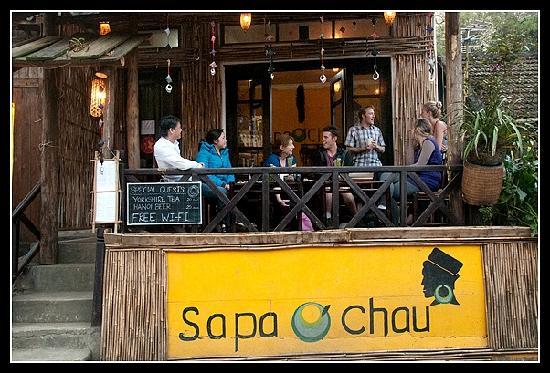 Sapa O'Chau Cafe
Add
: 08 Thac Bac St
Tel
: +84 20 3771 166
Cuisines
: Coffee Shop, Café, Tea Room, Creperie
Price
: US$3-5
Description
: Sapa O'Chau is a non-profit organization seeking to promote education and employment opportunities for the Hmong ethnicity in Sapa town and beyond. Sapa O'Chau is both the latest project and also a bridge to bring more awareness to people about the organization.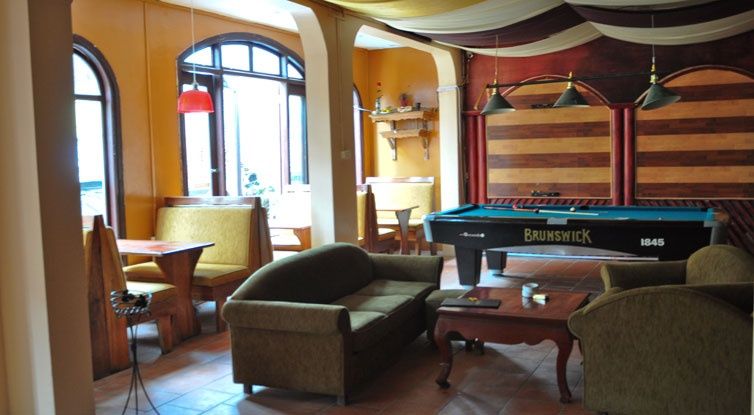 Delta Restaurant
Add:
33 Cau May St
Tel
: +84 20 387 1799
Cuisines
: Italian
Price
: US$3-12
Description
: Delta is an up-market Italian restaurant and wine bar, making the most of fresh local and imported products. The decor is a little spartan, but the wine list makes up for it. The dessert menu matches the main menus in quality, featuring homemade chocolate gateau and crepes.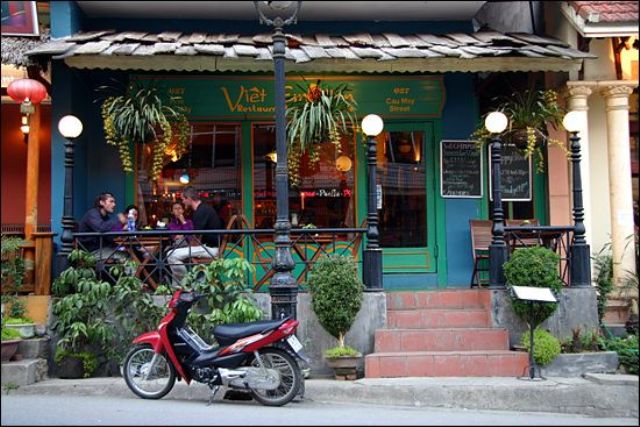 Viet Emotion
Add
: 27 Cau May Str.
Tel
: +84 20 387 2559
Cuisines:
European, Vietnamese, International, Asian
Price
: US$3-15
Description
: Established in 2005, Viet Emotion Restaurant is a Tapas café located in Cau May Street of Sapa Town. Customers will have a chance to enjoy great Vietnamese and western cuisines while listening to the large music collection, creating the lively tapas atmosphere. The staff is friendly and fluent in English. The restaurant also offers two computers with free internet access.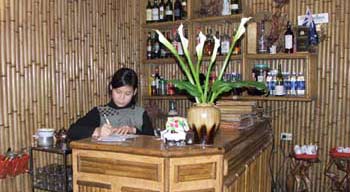 Gerbera Restaurant
Add:
31 Cau May Street
Tel:
+84 20 387 1064
Cuisines
: Vietnamese, Asian, Western
Price
: US$3-15
Description
: With classical bamboo design and casually amiable atmosphere, Gerbera Restaurant is a fine restaurant that offers delicious cuisines and an excellent choice of local and international wines. Located on the busiest street of Sapa, the restaurant sometimes can be a little bit noisy, meanwhile be the best place to catch the whole view of the town as well as the Hoang Lien Son range.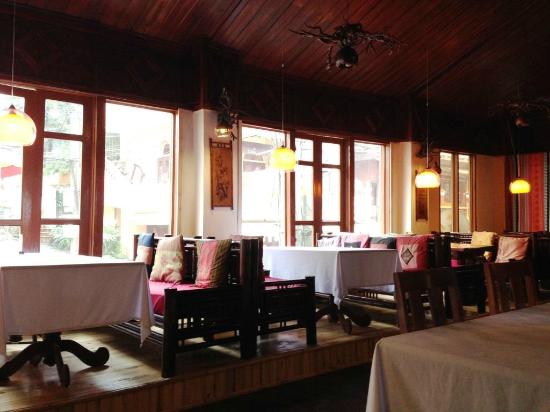 Nature Bar & Grill
Add
: 24 Cau May St, near the steps to the market
Tel
: +84 20 387 2094
Cuisines
: Vietnamese
Price
: US$5-10
Description
: Nature Bar and Grill has a very pleasant atmosphere, with friendly staff, dark wood everywhere, including the A-frame ceiling and a very comfortable common area around an open fire for cold winter evenings.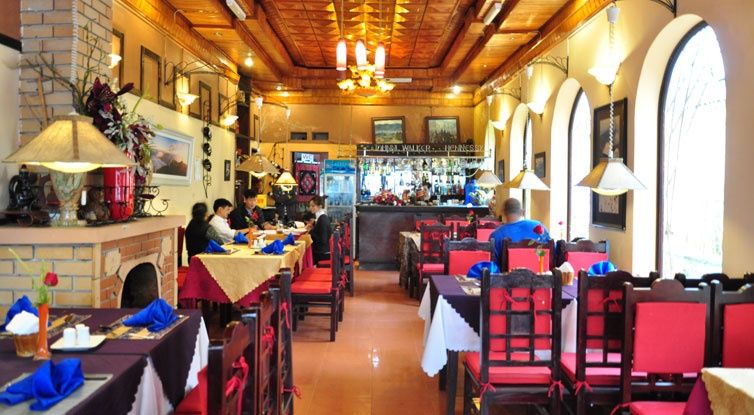 Michell Sapa Restaurant
Add
: 34 Cau May St.
Tel
: +84 20 387 2518
Cuisines
: Vietnamese, Western
Price
: US$5-15
Description
: Michell Restaurant offers tasty fresh Vietnamese and Western food and excellent value set menus, with a service level to match. Set menus can be two or three courses and the portions are a good size. Watch the action on busy Cau May street as you eat.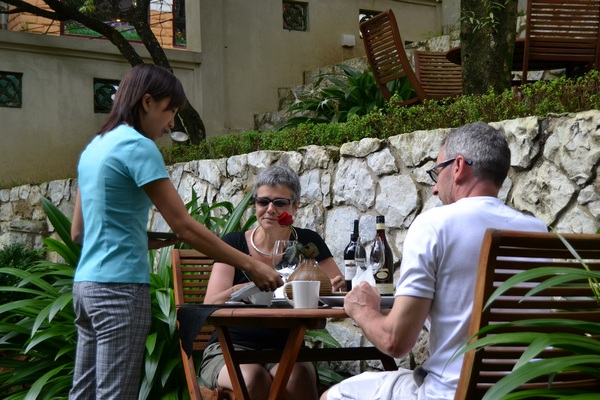 Chapa Garden Boutique Restaurant
Add:
23B Cau May St.
Tel
: +84 20 3872 907
Cuisines
: European, Vietnamese
Price
: US$7-20
Description
: Cha Pa Garden Restaurant is a very cosy warm place where we serve mostly western dishes and a local specialty, in a "brasserie" style small menu, well practiced by our cooks. Our wine & cognac selection coupled with a great fireplace, in this picturesque french villa make this place unique for a family or romantic dinner.