From Saigon to Phu Quoc on Mekong Eyes 2 days
From Saigon to Phu Quoc on Mekong Eyes 2 days will be enough for you to discover Mekong Delta by boat along Mekong River. Visit floating markets, traditional villages and enjoy the daily lives of the local in Mekong River. The boat trip will end in Rach Gia Boat Dork Where you can take the speed boat to Phu Quoc Island.
PRICE AND BOOKING
Price per person in a double or twin cabin
Tours & Packages
Single Occupancy
Double/ Twin Occupancy
01 Oct, 2022 - 31 Mar 2023

Double/ Twin Occupancy

$256

Tour Enquiry
01 Apr 2022 - 30 Sep 2022

Double/ Twin Occupancy

$236

Tour Enquiry
Itinerary
This 2-day tour starts on even dates (e. g. Sept. 2, 4, 6, 8 etc.). If you would like to begin your tour on an odd date in Saigon or travel from Phu Quoc through the Mekong Delta to Saigon you can book our
3-day tour to Phu Quoc.
Day 1: Panorama Cruise
In the morning we pick you up at your hotel in Saigon and take you to Can Tho or Cai Be. You board the Mekong Eyes around noon. After a refreshing welcome drink we show you our on-board facilities and your cosy cabin. As lunch is served, the boat starts cruising. Sit back and watch the fantastic scenery and the daily life of the Mekong people.
In the afternoon you can disembark for a guided leisurely stroll through the village and the surrounding fruit orchards or rice fields. Meet the friendly locals and taste the local produce and fruits.
Get back on board and enjoy a drink at the bar or relax on deck as the sun sets over the magnificent water landscape. The boat will anchor for the night. The day ends with a delicious on-board dinner.
Day 2: Floating market and travel to Phu Quoc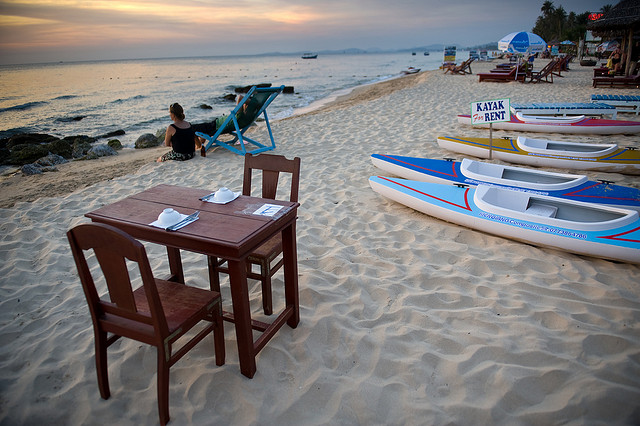 Wake up well rested to the sound of the River and get ready for another exciting day of sightseeing. At 6.30h the Mekong Eyes sets off for a sunrise cruise.
After breakfast, we will board a sampan boat to Cai Rang floating market, one of the region's busiest and most lively markets. Marvel at the sheer abundance of exotic fruits, vegetables and skilfully handcrafted regional products. We will pull up to the boats for talking and bargaining with the merchants.
Directly after visiting the floating market a car takes you to the waterfront town of Rach Gia and to the pier for the ferry to the holiday paradise of Phu Quoc. Alternatively you can return to the boat for a sumptuous brunch before we bring you to Can Tho airport for your flight to Phu Quoc.
The tour ends here. We will be happy to help you book a resort on the island and organize your trip back to Saigon.
Inclusions
• Road transfer from Saigon by shuttle bus
• Accommodation in cosy double or twin bedded cabins
• Guided walk and side trip on sampan as mentioned in the itinerary
• English speaking guide on the Mekong Eyes
• Private transportation (car with driver) from Can Tho to Rach Gia
• Public speed boat from Rach Gia to Phu Quoc
• Alternatively: transfer to Can Tho airport and plane ticket to Phu Quoc.
• Meals as mentioned in the itinerary
• Mineral water placed in your cabin on the Mekong Eyes
• Insurance and tax
Exclusions
• Beauty service and massage
• Beverages
• Tips and personal expenses
• All other services not mentioned above
Tour brief
Day 1: Panorama Cruise
Day 2: Cai Rang / Cai Be Floating Market – Transfer to Phu Quoc

Similar Tours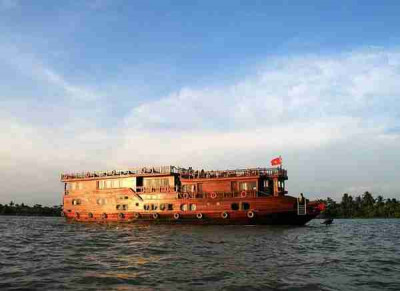 2 days 1 nights
Cai Be - Can Tho or vice versa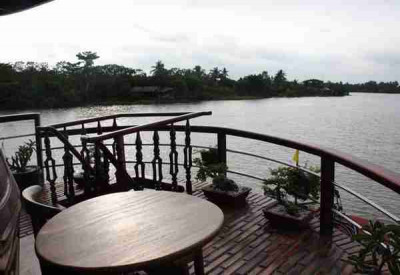 2 days 1 nights
Sai Gon - Cai be - Tra on - Can Tho - Sai Gon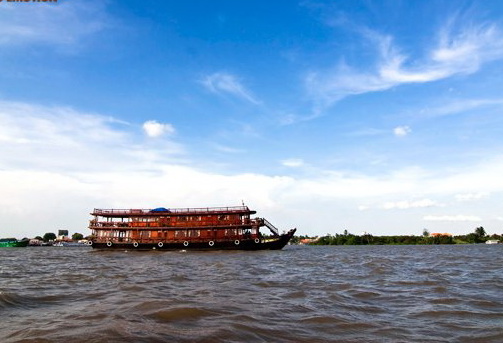 2 days 1 nights
Cai Be - Tra On - Can Tho or vice versa