The Anawrahta Cruise - Monarch of the mighty Ayeyarwady river
With the largest cabin space on the Ayeyarwady, and the highest crew to passenger ratio, The Anawrahta offers the finest on-board experience in Myanmar. This impressive vessel is named after the founder of the Burmese nation, modern day Myanmar. During his reign, from 1044-1077, he introduced and spread the religion of Theravada Buddhism throughout the land.
Tour brief
Technical figures
Built 2015
Length / Width / Height 65 m
Beam / Draft 14 m / 0,9 m
Gross tonnage 650 tons
Cruising speed 12 nautical knots
Electricity 220 Volts
Capacity / Cabins 46 passengers / 23 cabins
Itinerary
One of the least-visited rivers in Asia, a cruise on the chindwin is amost like an expedition. Walk through typical riverside villages in the cool air of early-morning, where lifestyles have not changed little since the paddle-steamers of the Irrawaddy Flotilla Company first brought Western people here. sail through rolling hills and visit secluded, carved-teak monasteries dating from the time of the Burmese Kings. The grand finale is Bagan, the ancient capital where thousands of ruined medieval temples and pagodas are scattered across the plain.
Cruise departure:
01 Sep'17, 18 Sep'17, 05 Oct'17, 05 Aug'18, 21 Aug'18, 06 Sep'18
Day 1: Sailing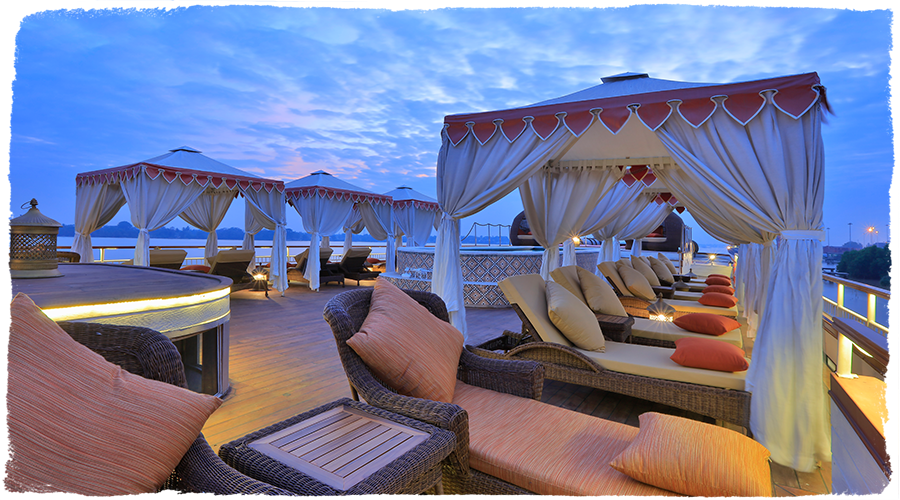 Board our beautiful river-cruiser berthed on Mandalay's river bank and, after a short Safety Briefing, enjoy lunch as we sail downstream. Today you can enjoy a relaxing day's sailing, an ideal way to unwind. Our spacious Spa facilities (including the Ayeyarwaddy's only Swedish-style sauna) and our 8 metre, jacuzzi-style swimming pool await you. Early in the afternoon there will be a demonstration of Myanmar Traditional Dress and, later, a lecture on Myanmar Culture. Tonight a longyi Cocktail Party will break the ice with your fellow guests.
Mandalay to Chindwin Confluence = 87 miles
Lunch, afternoon tea and dinner
Day 2: Monywa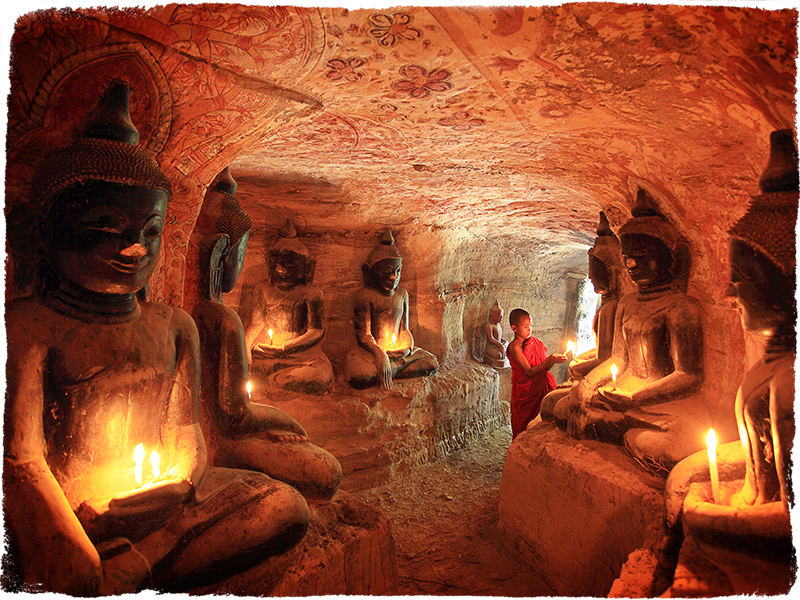 This morning we will enter the Chindwin River and make our way to the busy trading town of Monywa. Join our guide for a relaxed Burmese language lesson in the Mandalay Lounge. An afternoon tour will take you to visit some cave-temple complexes outside the city at Pho Win Taung and Shwe Ba Taung. Believed to be around 300 years old these caves contain many carvings in the sandstone including Buddha images, animals, plants, demons and ogres. There are also many beautiful Konbaung-period murals and paintings. We will then sail on into the late-afternoon light as the river narrows, passing small villages amid rolling hills.
Chindwin Confluence to Monywa = 53 miles
Breakfast, lunch and dinner
Day 3: Moktaw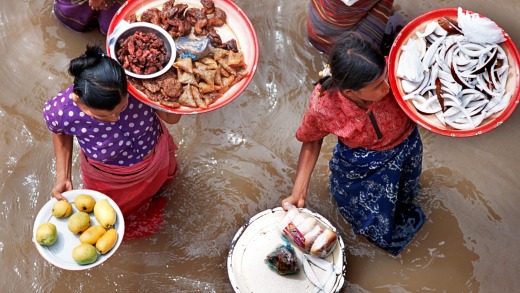 After a short sail, disembark for a morning visit to the typical riverside village of Moktaw to see the traditional way of life. If we are lucky we may witness a special ceremony at the local monastery. Enjoy the scenery as lunch is served and, after Afternoon Tea, join an explanation and demonstration concerning the ancient habit of betel-chewing. Tasting is optional! Tonight the ship will moor near Maukkadaw.
Aitaung to Moktaw = 7.75 miles
Moktaw to Maukkadaw = 56 miles
Breakfast, lunch, afternoon tea and dinner
Day 4: Maukkadaw & Kalaywa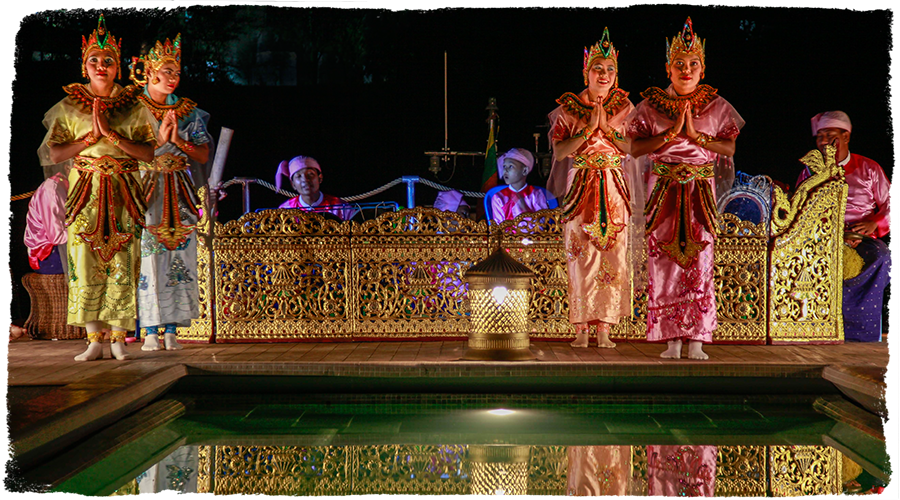 Start your day with an early-morning walk through the small village of Maukkadaw. This used to be a busy teak port and we will show you their remaining teak enterprises before visiting the local school and walking through this old village. Back on board there will be another Burmese-for-Beginners language lesson and a Book Review with Burma as it's subject. During the afternoon there will be another lecture, this time looking at Burmese history and current situation. Before dinner there should be the chance to stretch your legs at our destination for tonight, the riverside port of Kalaywa.
Maukkadaw to Kalaywa = 60 miles
Breakfast, lunch, afternoon tea and dinner
Day 5: Kalaymyo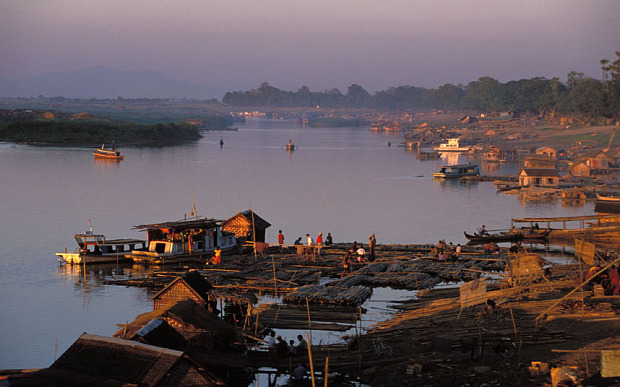 This morning we will take a beautiful, one hour drive inland to visit the market at Kalaymyo, which is the gateway to Chin State and a trade post to India, being less than 80 miles from that border. There will be the opportunity to purchase traditional Chin fabrics and to visit a silk weaving factory. The Chin Hills stand over the town, making a dramatic backdrop on a clear day. We will return in time for lunch on board and continue sailing through a wild landscape of forested gorges and rolling hills. If our Captain has had a good day there should be time to walk among the Colonial houses of Mawleik before sunset.
Kalaywa to Mawliek = 40 miles
Breakfast, lunch, afternoon tea and dinner
Day 6: Mawleik and Sittaung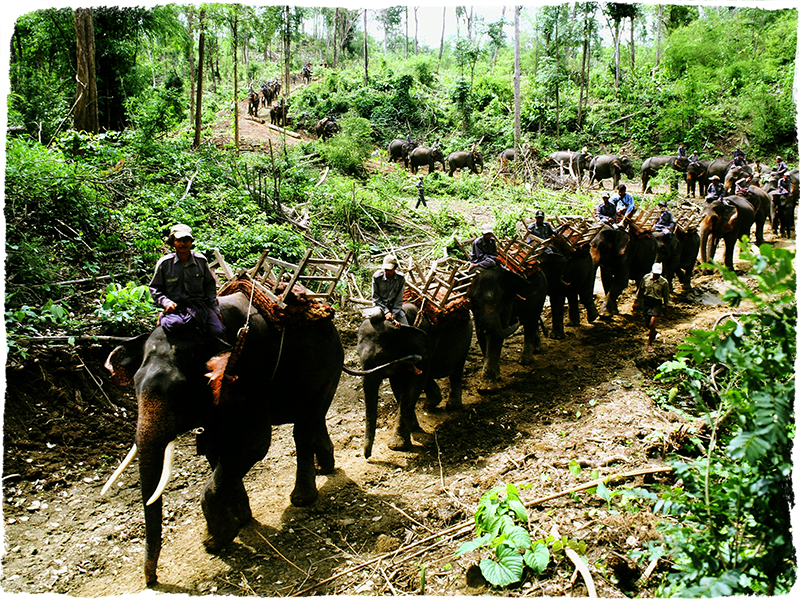 Once again we will take advantage of the cooler air of morning and take you to visit the working elephants of Pyarswal Elephant Camp before making a tour around the town of Mawleik. This used to be the Administrative Capital of the region under the British and many of the Colonial-era houses built by the Bombay-Burmah Trading Company still remain. Legend has it that they chose Mawleik over the more practically placed Kaleywa on account of the excellent duck shooting they found here. Key to the development of the area was the subject of this afternoon's lecture - the 700 ships of the Irrawaddy Flotilla Company, the greatest river fleet ever assembled in the world. Many of these were scuppered at our next stop, Sittaung, by the retreating British in 1942; rather than leaving them for the advancing Japanese Army.
Mawleik to Sittaung = 57 miles
Breakfast, lunch, afternoon tea and dinner
Day 7: Sittaung and Toungdoot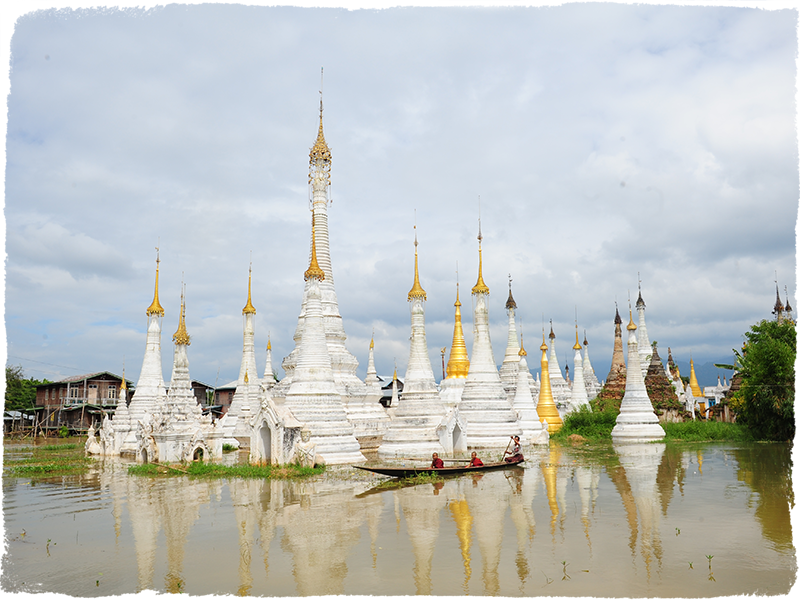 Tiny Sittaung, with it's 28 houses and 200 or so inhabitants, is the place for this morning's village walk before we sail on northwards. Join our staff in the Mandalay Lounge and learn how to write your name in beautiful Burmese script before enjoying another delicious buffet lunch. Early in the afternoon we will make a second stop for today at Toungdoot (or "Hswang-hsup" in Tai), a remote outpost of the Shan people who are far from their usual lands in the east of Myanmar, near to the border with Thailand. We will carry on into the sunset tonight, eventually mooring near Kyaing Kyaing.
Sittaung to Toungdoot = 37 miles
Toungdoot to Kyaing Kyaing = 21 miles
Breakfast, lunch, afternoon tea and dinner
Day 8: Homelin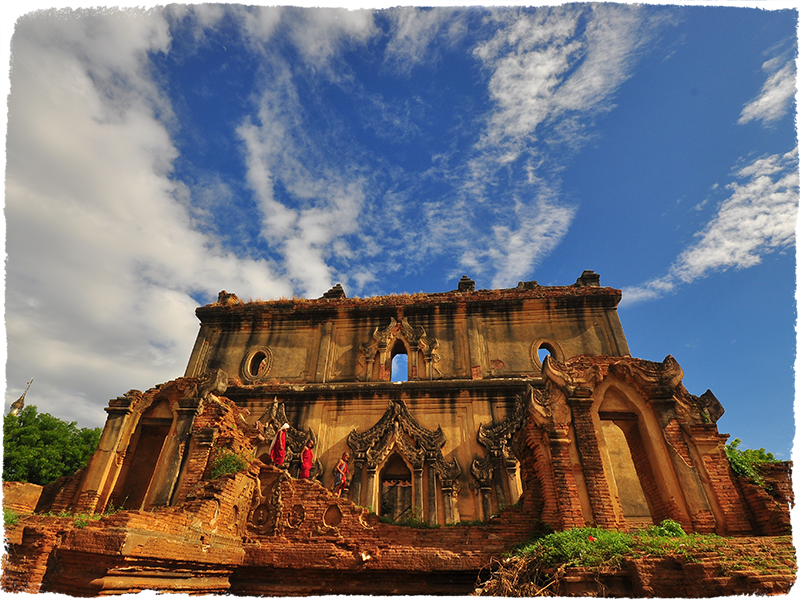 Homelin is the end of the 400 navigable miles of the Chindwin for us (and indeed all ships of any size) and here we will make a morning tour before starting our downstream voyage; including taking in the view from the high vantage point of the Buddha Lotus Garden. Here your guide will explain the significance of the various statues depicting scenes from the life of the Buddha. On our return to the ship you may appreciate the power of the river as we now sail with the force of the current on our side. During the afternoon we will continue the religious theme of the morning with a lecture entitled "Religion in Myanmar".
Kyaing Kyaing to Homelin = 26 miles
Homelin to Hal Hlaw = 78 miles
Breakfast, lunch, afternoon tea and dinner
Day 9: Sailing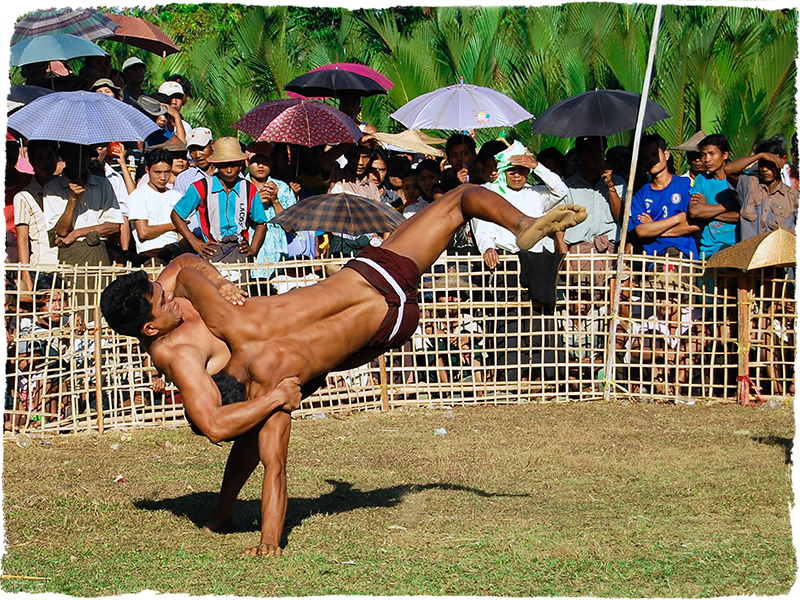 Today you have another opportunity to simply relax, enjoy the passing scenery and enjoy the facilities on board our beautiful ship. We will sail around 150 miles today, taking us to the area around Mingkin, an outpost of the Konbaung Kings of Burma and home to some outstanding carved-teak monasteries. If we have a good day's sailing there may be time to visit one of these at the end of the day, in a small village called Kanywa.
Hal Hlaw to Kanywa = 147 miles
Breakfast, lunch and dinner
Day 10: Minkin and Kani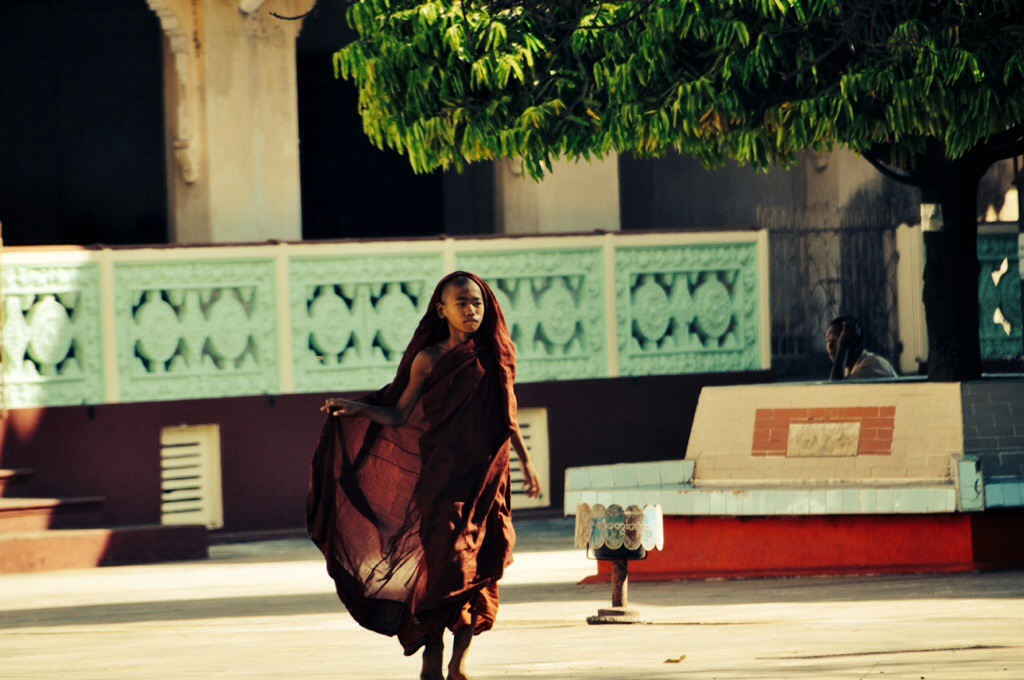 This morning we will visit the small village of Gyi-taung-oo where you can discover the only surviving (and still-working) wooden monastery that pre-dates the Konbaung Dynasty's foundation in 1752. "Gyi-taung-oo" means 'Great Sacred Hill' and as you might expect there are some nice views to be had from the monastery over the river and surrounding area. Moving on to Minkin town itself we will continue our monastic explorations with a stop at the Maha Min Kyaung Monastery. This was built in 1912 and has a unusual mix of Burmese and European architectural influences, including some Italian stained-glass windows. Sailing on through lunch we will stop again early in the afternoon to visit the small town of Kani, home to the "Lord of the White Horse", one of the most famous "Nat Spirits". These are pre-Buddhist, animist spirits which are still honoured by many Burmese.
Minkin to Kani = 69 miles
Kani to Monywa = 35 miles
Breakfast, lunch and dinner
Day 11: Bagan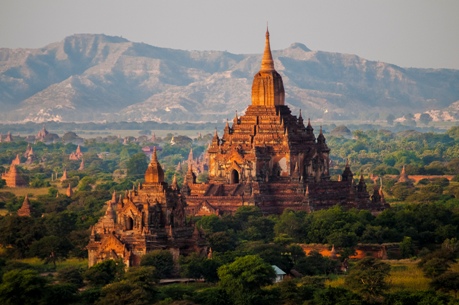 Enjoy a leisurely morning, which will include a lecture on the subject of our final destination – Bagan, the ruined city of King Anawrahta, our namesake. The Bagan Period is one of the finest in Burmese history as the newly-unified country converted to Buddhism and set to work in a frenzy of pagoda-building. We will arrive in time to give you an orientation tour which will include the magnificent Ananda Temple, the pretty Sulamani Pagoda and end at one of the 'sunset' pagodas to watch the breathtaking vista of the sun setting over the temple-strewn plain. Tonight the ship moors at Bagan.
Monywa to Bagan = 90 miles
Breakfast, lunch and dinner
Day 12: Check-out
For those either staying on in Bagan or with a later flight (after 10am), this morning there is the opportunity to experience one of the highlights of many people's trips to Myanmar – a sunrise flight in a hot air balloon over the temple-strewn plain. Please note that advance booking for this is nearly always required.
An early morning tour is available that will take you to the bustling Nyaung-U market and the revered Shwezigon Pagoda. Then you will make a visit to one of the famous lacquer ware shops where the fascinating production techniques of this ancient craft will be explained before returning to the ship for a late-morning check-out.
Breakfast
DECK PLAN
STATEROOM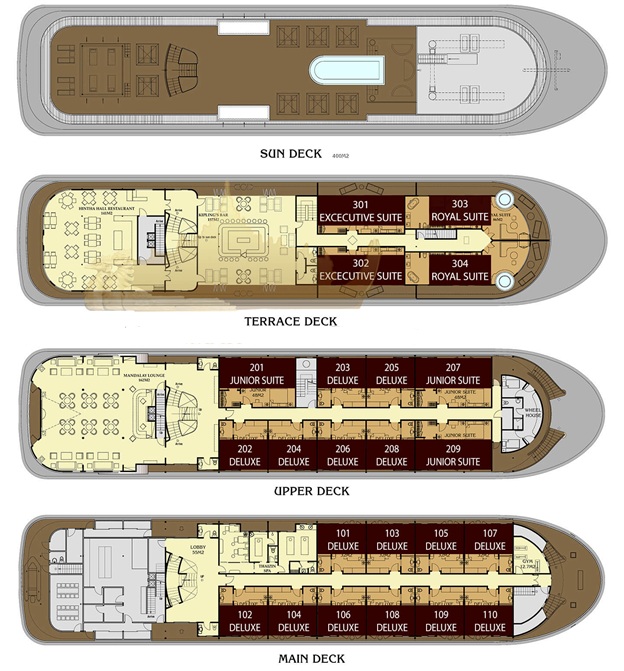 Deluxe Staterooms
Anawrahta's 16 beautifully appointed deluxe rooms are decorated with original handicrafts, locally-carved wood panels and richly-textured fabrics inspired by the brocade of Burma's ethnic minority groups. Large windows and serene colors inspire total relaxation.
Size: 32 square meters / 344 square feet.
Junior Suite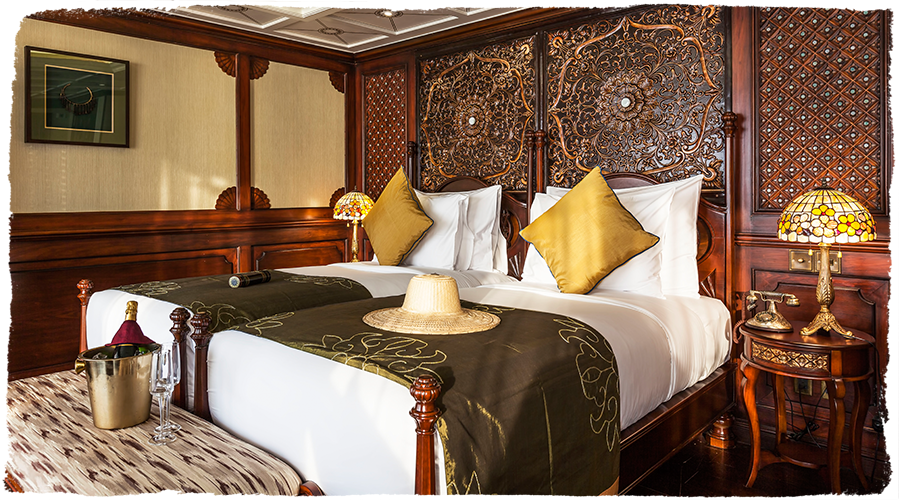 Named after some of the most fascinating rivers in Myanmar, the Anawrahta offers three Junior Suites: the Kaladan, the Lenya and the Thandi. Combining dark, regal wood with the bright oranges, saffrons and greens of the floral offerings presented at temples, these suites offer a comfortable seating area and a private balcony from which to enjoy the lush beauty of the Ayeyarwady.
Size: 48 square meters / 517 square feet.
Executive Suite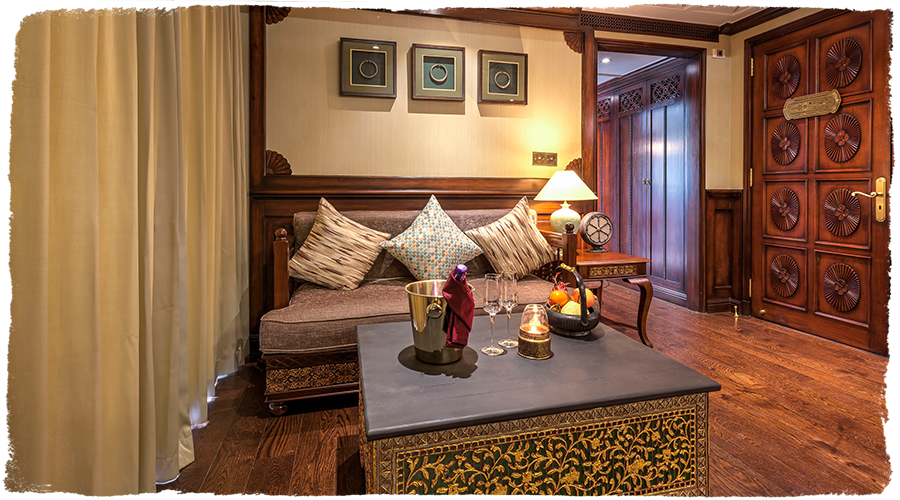 Located on the Terrace Deck, each of our two Executive Suites is a spacious 59 square meters/ 635 square feet, including an indoor seating area and a private balcony. Polished wood, locally made brocade and artefacts collected in Mandalay, Bagan and Yangon create a relaxing yet exotic ambiance. These suites are named after of Myanmar's famous rivers, the Chindwin and the Yangon.
Size: 59 square meters/635 square feet, including 16.5 square meters/177 square feet of balcony space.
Royal Suites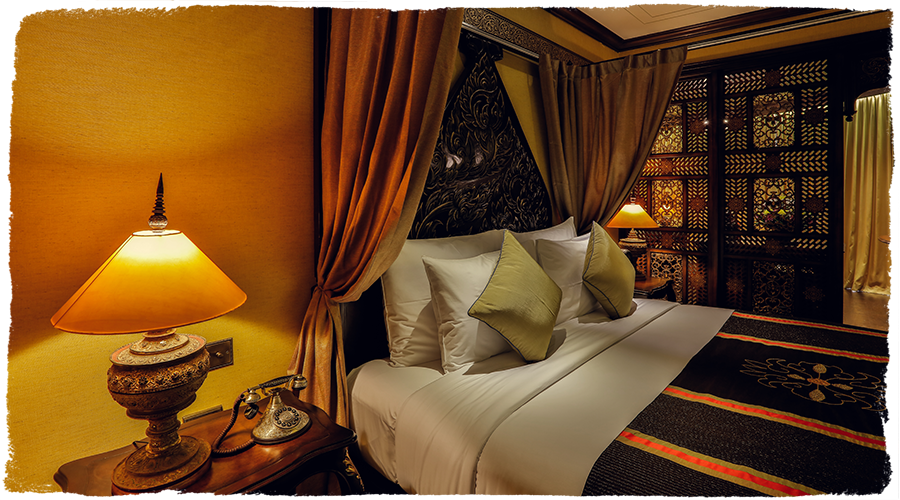 The two opulent Royal Suites are named after Anawrahta and his son Kyansitta, considered as two of the most famous monarchs in Burmese history. Equipped with a private terrace and a private Jacuzzi, these stunning suites feature elaborate woodcarvings, fine works of Burmese art, and handmade artefacts commissioned throughout Burma.
Size: 86 square meters / 926 square feet, including a terrace of 29 square meters / 312 square feet balcony with a private Jacuzzi
Inclusions
Group shore-excursions, entrance fees, transportation, tour guide services (English speaking)
Taxes, fuel, river pilots, port dues
Mineral water, coffee/tea, soft drinks and local beer
Fruit juices in addition during breakfast and afternoon tea
Full laundry service on board
Wifi-internet in public areas
Inclusions for Anawrahta Suites only: Private butler service, balcony breakfast or in-suite dining, daily laundry service, daily newspaper delivered to suite room, complimentary mini bar, daily turn down gift, one private candle light dinner in the balcony, welcome fruit basket, flower and a bottle of Prosecco, complimentary tea/coffee making facility and spa services.
Exclusions
Port tax $129 per passenger, subject to change without prior notice (levied by Myanmar Port Authorities and port taxes appear on our invoice)
Crew gratuities (8 USD – 10 USD per passenger/day are recommended)
Fuel surcharges, if any
Hotels