RV Mekong Princess Cruise 4 Days from Phnom Penh to Saigon
RV Mekong Princess Cruise downstream from Phnom Penh to Saigon 4 days for travelers with limited time, we recommend a fascinating insight into life in the Mekong Delta. Commencing from the river port of Phnom Penh Cambodia, we journey across the border into Vietnam. From here we combine river cruising. Mekong Princess styles, with remote location, cultural shore excursions.
Itinerary
Day 1: Phnom Penh / Embarkation (D)
We embark the RV Mekong Princess by noon to commence an extraordinary journey along the 'Mighty Mekong'. Our Princess cruises past the confluence of three rivers, leaving Phnom Penh in our wake, en route to the scenic pastures of Cambodian rural life. After a leisurely afternoon "going with the flow" and cruising downstream, we drop anchor at sunset. A delicious traditional Khmer Welcome Dinner is served.

Day 2: Border Crossing / Hong Ngu - Gieng Island (B,L,D)
This morning the Mekong Princess will cross the border into Vietnam. The scenery changes noticeably from the dry arid landscape of Cambodia, to lush Green irrigated rice paddies.
Your sampans take you to the local island village of Hong Ngu, not far from the Vietnam - Cambodia border. Hong Ngu produces a large number of the traditional, Khmer scarves exported to Cambodia. Woven in many homes around the village, you will have the opportunity to see the weaving process under several homes. Some villagers are also embroidery artists, displaying their art in and around the homes. The inhabitants of this area had only encountered one western visitor prior to the arrival of the Mekong Princess, and are especially friendly and welcoming. Before returning to the sampans, guests will visit the local temple dedicated to a unique religion founded in this area of Vietnam, Hòa Hóa.
This afternoon local riverboats return to ferry us to Gieng Island. We stroll through the nearby village to witness how the classic and traditional oriental sampan boats are made. A short distance along the canal and time to explore duck farms, monkey bridges and tropical orchards. Next is another mode of transport named a "xe loi" (motorized trishaw). Crossing the island aboard your Xe Loi we arrive at the local Catholic Church, built in the 1870's. We return to the ship for sunset cocktails and dinner is served.
The Princess sails and anchors near Ben Tre.

Day 3: Ben Tre / Cho Gao Canal (B,L,D)
For early risers, sunrise tea or coffee provides the perfect start to your day.
This morning, sampans take you through a channel lined with mangroves to visit a local coconut candy maker. After watching the candy-making process, walking through the village to visit an orchard where fruits native to Vietnam can be seen in various stages of maturity on the vine. After a fresh fruit tasting, you continue to a pier where you board small, local boats (two guests per boat) for a trip through the narrow creeks lined with Nipah palm before returning to the ship.
Luncheon is served as we cruise along a narrow canal, regarded as one of the busiest trading routes in Southeast Asia.
This afternoon, the ship cruises through the hustling bustling Cho Gao canal, a manmade waterway that runs for 21kms, en route to the Saigon River. The RV Mekong Princess arrives at Saigon Port at dusk with spectacular skyline views of the city at sunset.
This evening, savor a sumptuous Vietnamese Dinner as we conclude our extraordinary journey through the Mekong Delta.
*Onboard activity: Lecture of Vietnam, the Past & Present by your local Vietnamese host

Day 4: Ho Chi Minh City / Disembarkation (B)
After breakfast onboard, it's time to say farewell to the Mekong Princess and your ship's crews. A transfer is provided for your convenience from the ship to the Meeting Point at the Park Hyatt Saigon Hotel.
Inclusions
COMPLIMENTARY EXCURSION AMENITIES:
Wellness and Culture Based Included Shore Excursion Program Including All Admissions
Port charges.
Unique Exclusive Cruise Program Itinerary
Shoe Cleaning After Excursion
Welcome Drink Following Excursions
Individual VOX Listening Devices Throughout Cruise
Maximum 24 Guests Per Guide on All Excursions
Full-Size Motor Coach on All Excursions (Where Applicable)
Deluxe Sampans with Cold Towel Service, Fresh Fruit, and Tea/Coffee Service (Where Applicable)
DINING, WELLNESS & ENTERTAINMENT:
Expertly trained culinary team providing buffet breakfast, buffet lunch, and seated multiple course dinner, including exclusive 'Spa Cuisine' and French-Indochine inspired options.
Complimentary Organic Coffee, Herbal Teas, Mineral Water, Soft Drinks, Local Beer, Local Spirits, and Free-Flow House Wine (House Wine with Dinner Only)
Series of Cultural Performances, Educational Talks and Cooking Classes
Enhanced Fitness Facility.
In-room Breakfast (Available Upon Request)
Welcome Reception
Farewell Reception
Themed Dinners
Spacious Air-Conditioned Lounge with Onboard Activity and Entertainment
TRANSPORTATION:
Transfers from/to the meeting point to/from Embarkation/Disembarkation Points.
Meeting point for checking – in Mekong Princess, Ho Chi Minh city, Vietnam:
The lobby of Park Hyatt Sai gon hotel. 2 Lam Son Square District 1, Ho Chi Minh city, Vietnam.
Exclusions
Air fare to/from Destination
All outside transfers are not included in the cruise itineraries of Viet Princess Cruises.
Premium Wines & Spirits
Shipboard Gratuities
All Incidental
Tour brief
Day 1: Phnom Penh / Embarkation
Day 2: Border Crossing / Hong Ngu - Gieng Island
Day 3: Ben Tre / Cho Gao Canal
Day 4: Ho Chi Minh City / Disembarkation
Similar Tours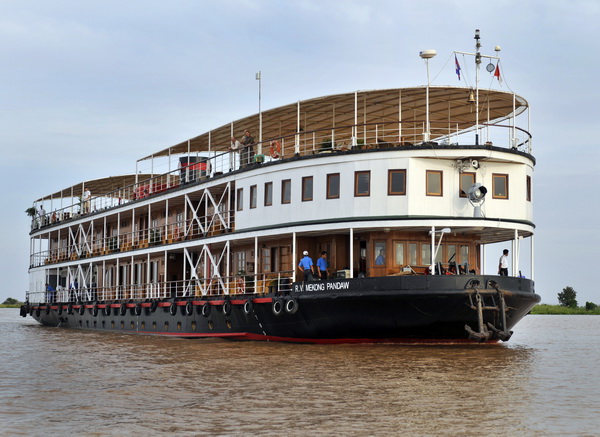 4 days 3 nights
Sai Gon - My Tho - Cai Be - Sa Dec - Chau Doc - Border crossing - Phnom Penh