RV Mekong Pandaw upstream Saigon to Siem Reap 8days
RV Mekong Pandaw upstream Saigon to Siem Reap is the best trip to Mekong Delta from Vietnam to Cambodia, The Cruise Ship starts from My Tho upstream along Mekong River through Mekong Delta in Vietnam to Phnom Penh and Siem Reap. Indeed there can be no more striking a cultural contrast as that between the bustling Vietnam delta and the tranquility of Cambodia
PRICE AND BOOKING
Price per person in a double or twin cabin
Itinerary
| | | | | | | | | | | | | |
| --- | --- | --- | --- | --- | --- | --- | --- | --- | --- | --- | --- | --- |
| 2022 | Jan | Feb | Mar | Apr | May | June | July | Aug | Sep | Oct | Nov | Dec |
| SGN - SR | | | | | | | | | | 1,15,29 | 12,26 | 10,24 |
| SR - SG | | | | | | | | | | 8,22 | 05,19 | 03,17,31 |
| 2023 | | | | | | | | | | | | |
| SGN - SR | 07,21 | 04,18 | 04,18 | | | | | | | 07,21 | 04,18 | 16,30 |
| SR - SG | 14,28 | 11,25 | 11,25 | | | | | | | 14,28 | 11,25 | 23 |

Day 1 : Saigon - My Tho
8h00 : Pick you up at your hotel in Saigon, Car transfer to My Tho Port. After boarding your Pandaw we sail downstream to Ben Tre and anchor midstream. In the afternoon, there is a lecture on Vietnamese life on the Mekong Delta. During cocktail hour passengers are entertained by an indigenous dance group and meet your key crew.
Day 2 : Ben Tre
Travel by sampans through mangroves and bamboo groves to the fruit orchards of Ben Tre. In these local artisans are at work and are invite visitors into their homes for tea, fruit and honey products made from their own honey. This is an area rich in bird life and on our return journey we travel by local transport through the lush countryside. After lunch, the ship moors off Cho Lach island for pot making and further glimpses of Delta life, agriculture and local Viet hospitality including a culinary lesson in making traditional Banh Xeo.
Day 3 : Con Phuoc Island
After breakfast, there is a short coach journey to the Gao Giong 'green oasis' with its bird sanctuary. Here a diverse selection of water and egrets that gather in the tens of thousands across the Duong Tharp Muoi or 'Plain of Reeds'. Rowing boats traverse the canals to take us to see the principal nesting areas. After returning to the boat we cruise upstream to Con Phuoc Island. We Moor in a small canal off Con Phuoc Island and go ashore to explore the island by Xi Loi seeing basket production and visiting a 100-year old Catholic Church as well as local woodworking artisans.
Day 4 : Cambodia Border
Afternoon, explore the labyrinthine canal system around Tan Chau to visit a Taoist temple where the monks will read fortunes. Continue through local villages by Xi Loi stopping off to help locals tend their fields before stopping off to visit a fish farm and earn merit by releasing fish back into the Mekong. Border crossing formalities take up much of the afternoon and during this stationary period there is an optional tour of the working ship and fruit carving classes on deck.
Day 5 : Phnom penh
Morning orientation of Phnom Penh by cyclo visiting the Royal Palace and Silver Pagoda followed by the National Museum with its marvelous collection of Angkorian statuary. Afternoon optional visit to the Killing Fields and Genocide museum or take a tuk-tuk to explore the riverfront and finish with High Tea at Raffles Hotel. Overnight in Phnom Penh city port with its lively bars, restaurants and night life.
Day 6 : Silk Island
Sail up the Mekong/Tonle River convergence to visit Koh Okhna Tey, or 'silk island' to study the entire silk making process from worms to weavers. There will be a demonstration of the ancient Khmer martial art of Bokator. Return to ship and cruise upstream towards Kampong Cham. Evening lecture on Angkor and Khmer culture.
Day 7 : Wat Hanchey, Obt Chiro Village and Wat Nokor Bachey
Sunrise cruise to Wat Hanchey an important centre of worship during the Chenla period located on top of a hill above the mighty Mekong River with some of the best Mekong views in Cambodia. Visit 8th century structures some destroyed by American bombings during the Vietnam War. Well noted for its bizarre Fruit and Animal statues.
We cruise back downstream to Kampong Cham where after lunch we travel by Bus to the local OBT Chiro Village where the education of local children is high on the agenda. Pre-Hospitality training courses, plastic recycling, bee keeping, farming and handicraft skill projects are set up to improve the skill set of local children. We then travel to the Wat Nokor Bachey dating back to the Jayarvaman VII period. Built completely from Black Sandstone which makes it standout from other temples built during this period. Many legends surround this complex one being it was built by a king who accidently killed his father then married his mother as per Greek legend. This temple was built in penance fir his crime.
Day 8 : Siem Reap
Sail downstream to moor at Kampong Cham for disembarkation and road transfer to Siem Reap.
Inclusions
Entrance fees
Guide services (English language)
Gratuities to crew
Main meals onboard
Local mineral water
Jugged coffee, teas & tisanes.
Transfers between the meeting point and the ship at the start and end of a voyage.
Exclusions
International flights
Port dues (if levied)
Laundry, all visa costs,
Fuel surcharges (see terms and conditions)
All beverages except local mineral water
Jugged coffee, teas & tisanes and tips to tour guides
Local guides
Bus drivers, boat operators and cyclo drivers.
Tour brief
Day 1 : Saigon - My Tho
Day 2 : Ben Tre
Day 3 : Con Phuoc Island
Day 4 : Cambodia Border
Day 5 : Phnom penh
Day 6 : Silk Island
Day 7 : Wat Hanchey, Obt Chiro Village and Wat Nokor Bachey
DAY 8 : Siem Reap
Similar Tours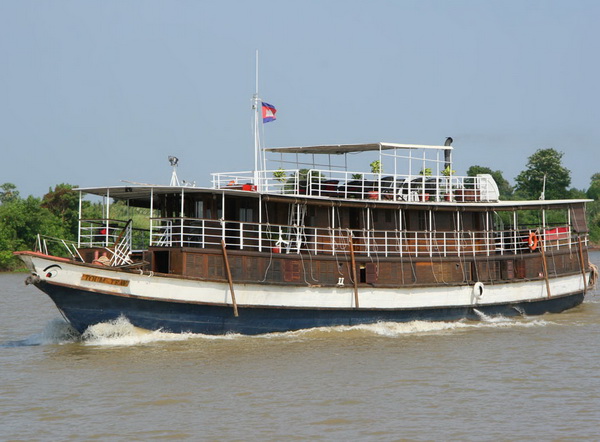 8 days 7 nights
Sai Gon - My Tho - Cai Be - Vinh Long - Sa Dec - Chau Doc - Koh Dek Chau - Phnom Penh - Kompong Tralach - Kampong Chnang - Kampong Luong - Siem Reap or vice versa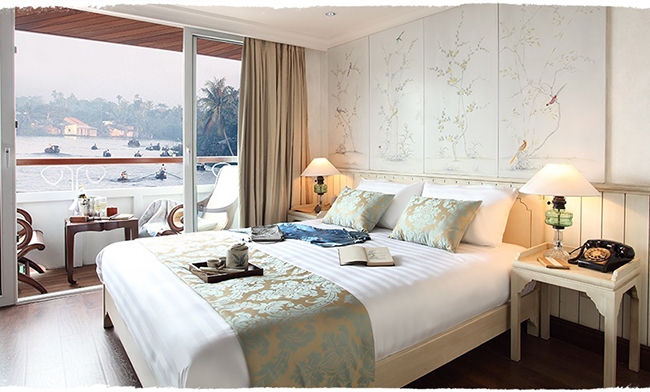 8 days 7 nights
Saigon - Cai Be - Chau Doc - Phnom Penh - Kampong Cham - Kampong Chhnang - Tonle Sap - Siem Reap