Temple and Beach
The Tour will start from Angkor Complex with Angkor Wat, Angkor Thom, Bayond and other famous temples of this Wold Heritage Site, The end of Tour will be a beach break in one of the best Sihanouk Ville Beach
Tour brief
Day 1 : Arrival – Siem Reap
Day 2 : Siem Reap Exploration
Day 3 : Siem Reap Exploration
Day 4 : Siem Reap – Phnom Penh – Sihanouk Ville
Day 5 : Sihanouk Ville
Day 6 : Sihanouk Ville – Phnom Penh
Day 7 : Phnom Penh – Departure
Itinerary
Day 1: Siem Reap Arrival (L,D)
Arrive Siem Reap, special welcome all warmly to everybody, a moment of courtesy meeting then self-introduce with our Cambodian tour guide in the meeting point's Siem Reap airport.

- Visit Eastern Mebon used to be in the middle the waters of the large Oriental Baray that is presently filled with rice-fields
- Neak Poan was supposed to be a symbol of the Universe
- Preah Khan built in 1191 according to the tradition on a spot where the king fought a crucial battle against the Cham.
Welcome dinner with Apsara Dance show at local restaurant.
For those travelers thirsting for cultural highlights of Cambodia, No visit to Cambodia is complete without attending at least one traditional Khmer dance performance, often referred to as 'Apsara Dance' after one of the most popular Classical dance pieces. Traditional Khmer dance better described as 'dance-drama' in that the dances are not merely dance but also meant to convey a story or message.
Day 2: Siem Reap Exploration (B,L)
This morning we get up early to witness sunrise over ancient of Angkor area. We return to hotel for breakfast.
- Banteay Srei: nearly everyone's favorite site. The special charm of this temple lies in its compact size, remarkable state of preservation, and the excellence of it decorative carving
- Banteay Samre: Its rose-colored sandstone walls are decorated with carvings and bas-reliefs, which are among the most accomplished Angkor has to offer.
- We continue to visit the fabulous Ta Prohm embraced by the roots of enormous fig trees and gigantic creepers
- Prasat Kravan – With its unique brick sculptures
- Srah Srang – The Royal Baths" was once used for ritual bathing
- Banteay Kdei – Surrounded by four concentric walls
- Thommanon and Chaosay Tevorda temple

Day 3: Siem Reap Exploration (B,L)
We start on our bike and cycle (45 minutes for cycling) to world heritage areas on the roads less travelled. Ride among the jungle passing local village and local shop. It's a very special and acting day as you will explore some of Angkor's most beautiful temples. You will visit the West Gate of Angkor Thom – undiscovered by mass tourist.
- The ancient capital of Angkor Thom (12th century)
- See the South Gate, Bayon Temple- unique for its 54 towers decorated with over 200 smiling faces of Avolokitesvara
- Baphuon temple lying just to the north of Bayon a pyramidal representation of mythical Mont Meru
- The Royal Enclosure, Phimeanakas
- The Elephant Terrace and the Terrace of the Leper King

The tour start with the visiting to the famous temple: Angkor Wat. Angkor Wat is a World Heritage Site since 1992, famous for its beauty and splendor. Angkor Wat features the longest continuous bas-relief in the world, which runs along the outer gallery walls and narrates stories from Hindu mythology, we embark on Elephant ride up Bakheng hill and visit Bakheng Temple and enjoy a romantic sun set view form Bakheng hill.
Enjoy walking at busy pub street where you can find many bars for cool drink or shopping at Angkor Night Market.

Day 4: Siem Reap - Phnom Penh (B)
Morning we transfer to Siem Reap airport for domestic flight to Phnom Penh. Arrive Phnom Penh, Phnom Penh – the city retains its traditional Khmer and colonial charm. French villas along tree-lined boulevards remind the visitor that the city was once considered the gem of Southeast Asia. Recent political changes have triggered an economic boom of sorts, with new hotels, restaurants, bars and nightclubs springing up around the city.
Upon arrival then drive straight down to Sihanouk Ville (without guide). Check in hotel and rest time. The lovely beaches of Sihanouk Ville are some of the most unspoiled in all of South east Asia although the fast growing of tourism. There are some 10 km of beach stretching the whole length of the town and dozens of small islands just a short boat ride away, which make for a perfect tropical getaway, with facilities for swimming, snorkeling or scuba diving, This free day will provide you some great opportunities to soak up the sun and sea as much as you want by spending your time swimming or lazing on a beach.
Accommodation at hotel in Sihanouk Ville.

Day 5: Sihanouk Ville Boat Trip (B,L)
Head out by boat in the morning for an exciting trip to the best of the many islands lying offshore from Sihanoukville. You will be taken to Koh Russei, also called Bamboo Island (transfer time 1 hour). Upon arrival and a short hike through the forest across the island, you will have time at leisure at the fine beach in the North of the island, which is still pristine and lined with Casuarina trees. You will not see many other people there. Activities here include sunbathing, snorkeling, swimming and just relaxing!

Day 6: Sihanouk Ville - Phnom Penh (B,L)
Morning we depart Sihanouk Ville for Phnom Penh without guide.
Firstly, visit to the Royal Palace compound build in 1866 by the Predecessors of King Norodom, is the most conspicuous feature and also one of impressive colorful Khmer-style Palaces. Nearside the Royal Palace is Silver Pagoda (The Emerald Buddha temple), display plenty of Buddha Statues that were decorated and made by diamond, emerald, gold and silver. Travelers will proceed to visit Independence Monument which was constructed in 1954 after Cambodian took their country back from French colony, continuing visit to National Museum, the distinctive red building with a beautiful Khmer architecture was build since 1917 and contains more than 5000 art objects made of sandstone, bronze, silver, copper, wood and others.

Day 7: Phnom Penh Departure (B,L)
Morning visit Tuol Sleng prison (Genocide Museum) was the most secret organ of the Khmer Rouge regime. S-21 stands for "Security Office 21." was Angkar's premier security institution, specifically designed for the interrogation and extermination of anti Angkar elements. Continue to visit Choeung Ek museum, between 1975 and 1978 about 17,000 men, women, children and infants detained and tortured at S-21 prison were transported to the extermination camp of Choeung Ek. Then shopping at Toul Tompong Market (called Russian Market), so-named because of the prevalence of items from the Eastern Bloc in past times, the Russian Market today is a treasure trove for tourists, that you will feel a bustling daily life of local people with Cambodian's special character through local specialties, their houses, their face.
Transfer to Phnom Penh airport for departure to next destination. Say goodbye to your Cambodian guide and driver. Goodbye Cambodia!!!!

Inclusions
06 nights hotel accommodation with daily breakfast
Meal: Full board at local restaurant as mention in program
Airport transfers & Transport by air con. vehicles as per program
Sightseeing and entrance fees as specified
Boat trip as mention in program
Local English speaking guide as per program
Bike & 1 hour foot massage
Elephant ride up Bakheng Hill (one way)
Cold water and towel during tours
Exclusions
Visa fee: 25$
International air ticket in-out Cambodia
International airport tax: 25$
Other meal, drink, personal expenses, tip
Airfare for the route REP-PNH: US$92/Economy ticket
Hotels
OPT 1 (3 stars)
PHNOM PENH : Princess Hotel (3*) – Standard
SIEM REAP : Angkor Home Hotel (3*) – Superior
SIHANOUK VILLE : La Reserve Hotel (3*) – Standard

OPT 2 (4 stars)
PHNOM PENH : Imperial Garden Hotel (4*) – Superior
SIEM REAP : REE Hotel (4*) – Superior Room
SIHANOUK VILLE : Independence Hotel (4*) – Superior

OPT 3 (4 stars)
PHNOM PENH : Phnom Penh Hotel (4*) – Superior
SIEM REAP : Tara Angkor Hotel (4*) – Superior
SIHANOUK VILLE : Sokha Beach Resort (5*) – Superior

OPT 4 (5 Stars )
PHNOM PENH : Naga World Hotel (5*) – Superior
SIEM REAP : Sokha Angkor Hotel (5*) – Superior
SIHANOUK V ILLE : Sokha Beach Resort (5*) – Superior

Similar Tours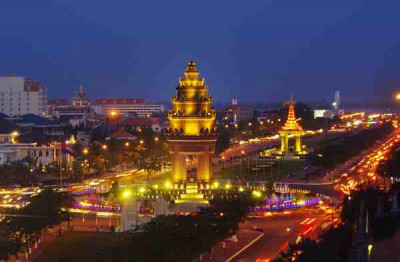 5 days 4 nights
Phnom Penh - Siem Reap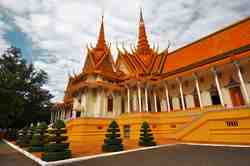 4 days 3 nights
Phnom Penh - Siem Reap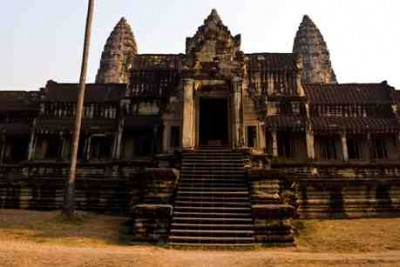 3 days 2 nights
Angkor Watt, Angkor Thom, Royal Enclosure, Phimeanakas, Kraven, Banteay Kdei, Srah Srang