Explore the riverside life by Cycling
This trip will lead you to Bac Ninh province, the wealthiest province in north Vietnam. The wealthy did not come from heaven, as the farmer here work hard like no where else. Where between the two rice seasons the farmer plant other crops or vegetables such as maize, bean, peanut... more than just to make ends meet. At the end of the tour, you will visit a nation famous pagoda - But Thap pagoda, the most beautiful pagoda in the area around HN.
Tour brief
Hanoi - Thuan Thanh - But Thap - Hanoi
PRICE AND BOOKING
| Tours & Packages | 1 pax | 2-3 paxs | 4-6 paxs | Over 7 paxs | |
| --- | --- | --- | --- | --- | --- |
| Standard | | | | | Tour Enquiry |
Itinerary
Morning:

8:00 Leave Hanoi for Thuan Thanh district in Bac Ninh Province
8:45 Reach the farmer house, taking bike, starting to ride to Keo pagoda, a 1000 year old pagoda. Visit Keo pagoda and village temle with a town morning market.
9:45 Leave town for a ride on the dike of Duong river. Here you get a beautiful view with rice paddies on the right side and maize field on the left side. You will have chance to experience the other life on the Dike Expanding Land.
10:00 Visit a small village on the dike expanding land with its newly restored communal house. Riding through a big maize field.
10:30 Stop at a institution complex on the way back to lunch. The complex is very characristical for the region. A pagoda, a temple, and a communal house were built in one ground. You have a little tea pause and a little chat with the monks of the pagoda.
11:30 Back to the farmer house for lunch and rest.
Afternoon: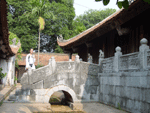 13:00 Start riding again. Visit a handicraft village on the dike expanding land, where the silk worm are bred, raised in order to produce the material for silk. Visit a mullbery field and a village river ferry. Possibility of riding a motor boat to another side of the river.
14:00 Visit a brick field, experience the work of a brick field.
14:30 Visit But Thap pagoda, the most famous pagoda in Bac Ninh and one of the most beautiful pagoda in North Vietnam.
15:00 On the way heading back to the farmer's house, visit the village of the first master of Vietnam.
15:30 Back to the farmer's house, Transfer back to Hanoi
15:00 Arrive in Hanoi. End of the tour.
Inclusions
Entrance fees
Lunch
Bike
Guide
Water
Bike parking fee
Transportations
Exclusions
Personal expenses
Insurance