8 Days War Memory
Vietnam 8 days war memory takes you back to your old places and you will see the many changes have taken place since the end of the Indochina conflict and renew old acquaintances as you swoop on war stories with your friends.
Tour brief
Day 1: Ho Chi Minh arrival
Day 2: Ho Chi Minh City tour
Day 3: Ho Chi Minh – Hue
Day 4: Hue - Quang Tri - Dong Ha – DMZ
Day 5: Dong Ha - Khe Xanh - Lang Vei - Hue
Day 6: Hue - Da Nang - Hoi An
Day 7: Hoi An - Ho Chi Minh City
Day 8: Ho Chi Minh departure

Itinerary
Day 01: Ho Chi Minh arrival
On arrival at Tan San Nhat Airport, you are met and transferred to hotel. Ho Chi Minh City, still called Saigon by many locals, is a center of commerce, finance, culture and tourism in Vietnam. This bustling metropolis, contradiction of its northern counterpart, is crowded with bikes and motorbikes; excited by numerous shopping area and sidewalk café (If time permits) we stroll around the down town to explore the different local ways of lives. O/N in Ho Chi Minh.
Day 02 : Ho Chi Minh City tour (B, L, D)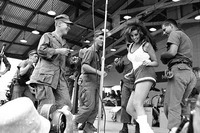 Today we enjoy a full day sightseeing tour taking us to some major sights of Ho Chi Minh. We pass the now-demolished wartime American Embassy on our way to the Reunification Palace. This famous edifice was the former residence of the President of Southern Vietnam until end of April 1975. Close to the palace are some striking French colonial structures including the Notre Dame Cathedral and the Old Sai Gon Post Office. The following sights are the History Museum and the Jade Emperor Pagoda. We also visit the War Remnant Museum before continuing to the bustling Ben Thanh Market where anything and everything is for sales! The remainder of the day will be free for you to further explore the town or simply to relax. O/N in Ho Chi Minh.
Day 03 : Ho Chi Minh - Hue (B, L)
The next destination of our trip is Hue via a short flight from Ho Chi Minh. The small and quiet city of Hue is widely known for magnificent architecture, pagodas and royal tombs laid in many small villages and surrounding hills. On arrival, you are greeted and driven to hotel, passing by Camp Eagle. We spend this afternoon to visit Hue with the massive citadel, containing the Imperial City and the Purple Forbidden City. This royal residence was all but destroyed during the 1968 Tet Offensive; however it is still fascinating to stroll among the ruins. Afterwards we enjoy a walk to the bustling Dong Ba Market that sells a wide variety of local goods and handicrafts. Along the way we pass by many fantastic eating spots, ideal places for visitors to sample some local delicacies. O/N in Hue.
Day 04 : Hue - Quang Tri - Dong Ha - DMZ (B, L, D)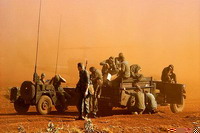 Upon leaving the town we drive up the highway 1 northwards passing by Camp Evans, Fire Support Base Nancy and Quang Tri battle site. Along the way we catch a look of Ai Tu Combat Base and Airfield before arriving in Dong Ha , which is well known as Leatherneck Square bounded by Con Thien, Gio Linh, Dong Ha, and Cam Lo. We cross over the Hien Luong Bridge spanning the Ben Hai River which demarcated North and South Vietnam. Here is a chance to visit the Doc Mieu Base in the DMZ, the infamous Vinh Moc Tunnels and the old citadel of Quang Tri. This violent battlefield is still in many veterans? memory . O/N in Dong Ha.
Day 05 : Dong Ha - Khe Xanh - Lang Vei - Hue (B, L)
The journey continues with a drive towards the former American marine base of Khe Sanh. Along the highway No 9, which links Vietnam and Laos, we traverse by a series of fire support bases, including Rock pile, Camp Carol and Da Krong Bridge. On arrival at Khe Sanh Base we have time to stroll around to visit some of the many battle sites and military camps. There were all but partly cleared by villagers. We make our way towards Tacon Airport as well as Lang Vei Special Forces Camp, in south of Lang Vei Village. In the mid afternoon we return to Hue via Da Krong Bridge. O/N in Hue.
Day 06 : Hue - Da Nang - Hoi An (B, L, D)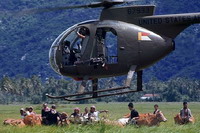 Heading out of town we make our way to Hoian, which was originally a Cham seaport but has been influenced down the centuries by a myriad of traders from various cultures. Along the way we can break the journey in Lang Co Beach for a leisurely swim and an enjoyable visit to a nearby fishing village. The winding road begins as we make our way up the spectacular Hai Van pass. At the top of the pass we stop to admire a fantastic view north to Lang Co and south to Danang, the US Marines landing beach in 1965. We stop en route to visit the Cham Museum in Danang City , the Marble Mountain and the ChinaMy Khe Beach, which was the former R&R ground for the US Marines. O/N in Hoi An. (B)
Day 07 : Hoi An - Ho Chi Minh City (B, L)
The ancient architecture of Hoian is a fascinating combination of Vietnamese traditional characters with Chinese and Japanese influence. There are plenty to see in this delightful town, some of which are the famous Japanese Covered Bridges, the Pottery Museum, the 200 years old Tamky House, the Chua Ong Pagoda, the vibrant market. Today we include these on a walking tour past many low tiled houses scattered along the small streets and assembly halls which reflect the town's multi-cultural past. We also have time to stroll around many shopping areas before catching flight south. O/N in Ho Chi Minh.
Day 08 : Ho Chi Minh departure
There is a free time to relax or further explore Ho Chi Minh City. The tour ends after your transfer to Tan San Nhat Airport for departure.
Inclusions
Transportation in private air-conditioned vehicle with driver
Meal as mentioned: B = breakfast, L = Lunch, D = dinner
Accommodation: twin sharing room
English or French speaking guide
Entrance fee to indicated sights
Domestic flight Ho Chi Minh - Hue, Danang - Ho Chi Minh + Domestic airport tax
Exclusions
Other meals
Tip
Drinks
Single room supplement
Personal expenses
Hotels
3 Star Hotels :
Saigon : Elios Hotel
Hoi An : Lotus Hotel
Hue : Asia Hotel
Dong Ha : Saigon Dong Ha Hotel

4 Star Hotels :
Saigon : Eden Star Saigon Hotel
Hoi an : Ancient House Village Resort
Hue : Eldora Hotel
Dong Ha : Saigon Dong Ha Hotel

5 Star Hotels :
Saigon : Rex Hotel
Hoi an : Anantara Hoi An Resort
Hue : La Residence Hotel
Dong Ha : Grand Muong Thanh Dong Ha Hotel
Similar Tours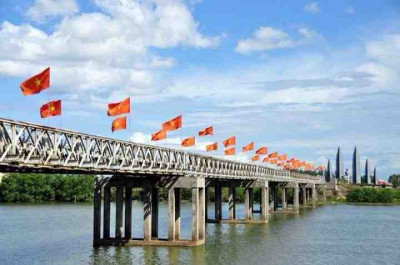 1 days 0 nights
Ben Hai River, Hien Luong Bridge, Vinh Moc Tunnel, Khe Sanh Combat, Ho Chi Minh Trail, Dong Ha Town, Rock Pile