Sai Gon My Lai Quang Tri DMZ Hanoi
A complete tour of special interest to Vietnam veterans, teachers and students of the Vietnam War, historians, and people interested in military history
Tour brief
Day 1: Sai Gon Arrival
Day 2: Sai Gon - Cu Chi tunnel
Days 3 & 4: Sai Gon - Mekong Delta
Day 5: Sai Gon City Tour
Day 6: Sai Gon - Vung Tau
Day 7: Vung Tau - Nha Trang
Day 8: Nha Trang - Buon Ma Thuot
Days 9 & 10: Buon Ma Thuot - Pleiku - Kon Tum
Day 11: Kon Tum - Quy Nhon
Day 12: Quy Nhon - Quang Ngai
Day 13: My Lai
Day 14: Da Nang
Day 15: Da Nang - Hue
Day 16: Hue
Day 17: Hue - Dong Ha
Day 18: DMZ – Hanoi
Day 19: Hanoi City Tour
Day 20: Hanoi Departure

PRICE AND BOOKING
| Tours & Packages | 2-3 paxs | 4-6 paxs | Over 7 paxs | |
| --- | --- | --- | --- | --- |
| Deluxe | | | | Tour Enquiry |
Itinerary
Day 01: Sai Gon Arrival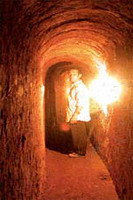 Arrive at Tan Son Nhat Airfield, Saigon, in the evening. Clear customs and transfer to the Rex hotel, an officers hotel (BOQ) during the war and the most famous of the French-built hotels in Saigon. From the roof garden of the Rex, at the hub of Saigon downtown, you can look down Le Loi Street to the former RVN Parliament Building on Dong Khoi Street, well known during the war as Tu Do Street.
Day 2: Sai Gon - Cu Chi tunel (B,L)
Iron Triangle, sites of the 173rd Airborne and 11th Armored Cav bases. Staging area for 503rd Airborne Brigade at Ben Cat. Lai Khe, home of the 1st Infantry Div. Cu Chi Tunnels, located, in part, directly beneath HQ of the 25th Infantry Division. It was from the Cu Chi tunnels that Saigon was attacked at Tet, 1968. Opportunity to crawl into the tunnels (bring your flashlight). Also, we will visit the "Holy See" of the Cao Dai religion, their fantastic art deco temple and compound with its formal gardens. Observe the worship service, view murals of the history and theology of this unusual religion. This is a religion found only in Vietnam, the third most popular religion there. The Cao Dai were a paramilitary force in combating the French, and when they were defeated by ARVN forces under the Diem presidency they brought their army into alliance with the South Vietnamese government. Back to Saigon for dinner.
Days 3 & 4: Sai Gon - Mekong Delta ( B,L,D)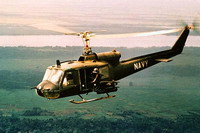 Two days and one night will get you deep into the Mekong Delta to My Tho, Dong Tam, Vinh Long, and Can Tho. Cruise the mighty Mekong River and recall the hazards of this sub-tropical jungle 30 years ago. Tropical fruit orchards, the Island of the Coconut Monk, floating markets, and river life will make this an unforgettable two days. Stay at the new Saigon-Can Tho Hotel.
Day 5: Sai Gon City Tour (B,L)
City tour of Saigon including the Presidential Palace, Remnants of War Museum (formerly American War Crimes Museum), old U.S. embassy, Cho Lon (Chinatown), central post office and Notre Dame Cathedral on what was once called John F. Kennedy Square. Thien Hau Pagoda, Binh Tay Market, lacquerware factory.
Day 6: Sai Gon - Vung Tau (B,L)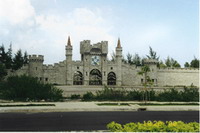 Today we take off for R&R. It's a good thing we are because we've been keeping up a hectic pace. Drive to Vung Tau, the biggest in-country R&R Center in country. On the way, Di An, Bien Hoa, Long Binh, and Bear Cat. Opportunity for swimming on the not-so-great but very popular beaches. We will stay at a classic hotel, the Canadian. Places of interest: Villa Blanche, mountaintop Jesus, Light House, Niet Ban Tinh Xa Pagoda.
Day 7: Vung Tau - Nha Trang (B,D)
Drive to Nha Trang via Xuan Loc, Phan Thiet, Phan Rang, and Cam Ranh Bay. Check into the Bao Dai Villas. Spend a relaxing day. Opportunity for snorkeling, jet-skis. Go out to Tri Nguyen Oceanographic Institute "aquarium," Tam Island, and a fishing village. Ride in small basket boats piloted by young girls.
Day 8: Nha Trang - Buon Me Thuot (B,L)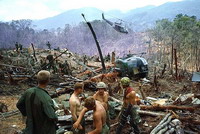 Here we start into the Central Highlands. Drive from Nha Trang to Buon Ma Thuot, elephant training center and coffee plantations. Thang Loi (Victory) Hotel or White Horse Hotel.
Days 9 and 10: Buon Ma Thuot - Pleiku - Kon Tum (B,L)
Drive northward through the highlands to Pleiku and Kontum. Kontum was the site of a major battle at Easter, 1972. Opportunity to visit several Montagnard villages. Overnights at Dakbla Hotel in Kontum. Explore areas from Pleime to Dak To including site of Battle of Ia Drang and NVA retreat route past LZs Albany and X-Ray, and Rocket Ridge named for the many B52 bomb craters.
Day 11: Kon Tum - Quy Nhon ( B,L)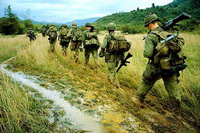 Drive from Kontum to Qui Nhon, supply depot of the first Log Command, via An Khe, a major military area where you could find the First Air Cav among other units. Stop at Quang Trung Museum at Tay Son. Qui Nhon also was an R&R location with the Red Beach Recreation Area. Great beaches. Swimming and city tour.
Day 12: Quy Nhon - Quang Ngai (B, L,D)
Drive to Quang Ngai. See the petroleum farm and ammunition dump near Qui Nhon. Along the way are Phu Cat Airbase, Bong Son and Duc Pho.
Day 13: My Lai (B,L,)
Significant sites are in store for you today. My Lai (Son My) Massacre Memorial. Chu Lai, Tam Ky, Hoi An, and Da Nang.
Day 14: Da Nang (B,D)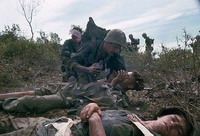 Old Airfield, Nguyen Van Troi Bridge built by US, now named for VC martyr who tried to blow up former Secretary of Defense, Robert McNamara. Marble Mountains, My Khe Beach, Cham Museum.
Day 15: Da Nang - Hue (B)
Drive to Hue over the Hai Van Pass. Stop at Red Beach where the first U.S. combat marines landed in 1965. Upon arrival, check into the Huong Giang Hotel. Sights for today are the Citadel and Flag Tower, location of the strongest stand by the VC during Tet, 1968.
Day 16: Hue (B,L)
Cruise on the Perfume River to the Thien Mu Pagoda, oldest and most important Buddhist shrine in Vietnam. Here you will see the Austin driven by the monk to his immolation in Saigon to protest the anti-Buddhist repression of President Ngo Dinh Diem. Continue your cruise to the mausoleum complex of Emperor Minh Mang and then visit tombs of Emperors Tu Duc and Khai Dinh.
Day 17: Hue - Dong Ha (B,L)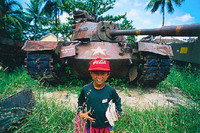 Drive up Highway 1 passing Camp Evans (20th Tank Regiment) and Fire Support Base Nancy (258th M.C. Brigade); continue to battle site of Quang Tri. Next pass Ai Tu Combat Base and Airfield of the 3rd ARVN Div. HQ. Next reach Dong Ha and enter Leatherneck Square bounded by Con Thien, Gio Linh, Dong Ha, and Cam Lo and recall Operation Buffalo. Continue up Highway 1 across the Hien Luong Bridge over the Ben Hai River which demarcated North and South Vietnam. Visit the Doc Mieu Base in the DMZ, the infamous Vinh Moc Tunnels, and the North Vietnamese National Cemetery. Before returning to Dong Ha for the night, visit Con Thien Fire Support Base.
Day 18: DMZ - Hanoi (B,L)
Dong Ha to Khe Sanh and return to Hue. Ride parallel to the DMZ along Route 9 to Khe Sanh. Pass a series of fire support bases and the Rockpile and the Da Krong Bridge. Tour Khe Sanh Base, a French fort, battle sites and military camps. Overnight train ride to Hanoi.
Day 19: Hanoi City Tour (B,L)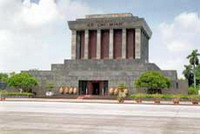 Your train will arrive in Hanoi where you will see the city that was bombed by American B-52? s. View "Uncle Ho" preserved under glass in his mausoleum. Visit Ho Chi Minh's home/office on stilts, the Ho Chi Minh Museum, and the Temple of Literature (Oldest University in Vietnam and shrine to Confucius). Evening performance in water Puppet Theater (unique to Vietnam).
Day 20: Hanoi Departure (B)
After breakfast ready for your flight back home. End of the tour.
Inclusions
Hotels in double/twin sharing room.
Private Transfer
Train ticket soft sleeper Hue - Hanoi
Boat trips in Mekong delta and Hue
Meals as mentioned
Tour guide with good knowledge of War
Entrance fees
Service Charge
Exclusions
Personal Expenses
Drinks
Tips
Others not mentioned in the tours
Hotels
Saigon : Eden Saigon Star Hotel
Vung Tau : Muong Thanh Vung Tau Hotel
Nha Trang : Michelia Hotel
Buon Ma Thuot : Saigon Ban Me Hotel
Kon Tum : Kontum Indochine Hotel
Quy Nhon : Saigon Quy Nhon Hotel
Quang Ngai : Centra Hotel
Da Nang : A La Carte Hotel
Hue : Eldora Hotel
Hanoi : Silk Path Hotel
Similar Tours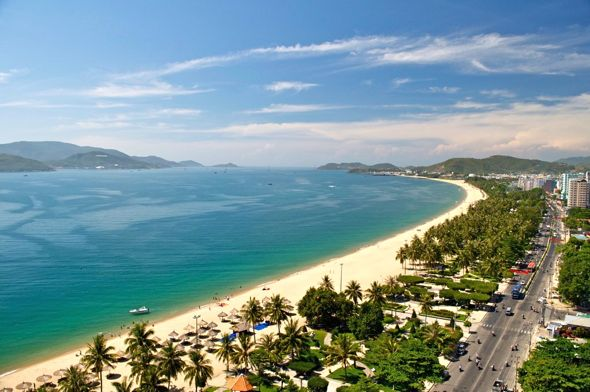 8 days 7 nights
Ho Chi Minh - Hue- Quang Tri - Hoi An -Ho Chi Minh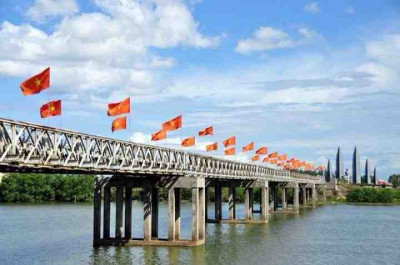 1 days 0 nights
Ben Hai River, Hien Luong Bridge, Vinh Moc Tunnel, Khe Sanh Combat, Ho Chi Minh Trail, Dong Ha Town, Rock Pile