Vietnam War Tour
This trip is carefully designed to suit the interests of most veterans, regardless of unit or period served. The itinerary encompasses many major regions and significant sites including the infamous underground network of Cu Chi, the watery world of Mekong River, the undiscovered central highlands, also the violent battle fields of Khe Sanh.
Tour brief
Day 01: Ho Chi Minh Arrival
Day 02: Ho Chi Minh City tour
Day 03: Ho Chi Minh - Cu Chi - Tay Ninh - Ba Den
Day 04: Ho Chi Minh - Mekong Delta - Dong Tam
Day 05: Ho Chi Minh - Bien Hoa - Long Binh - Xuan Loc - Ho Chi Minh
Day 06: Ho Chi Minh – Pleiku
Day 07: Pleiku - Kontum - Dakto – Pleiku
Day 08: Pleiku - An Khe - Quy Nhon
Day 09: Quy Nhon - Quang Ngai - Son My - Hoi An
Day 10: Hoi An - Hue
Day 11: Hue - DMZ - Khe Sanh - Hue
Day 12: Hue - Hanoi
Day 13: Hanoi - Ha Long
Day 14: Ha Long – Hanoi
Day 15: Hanoi Departure

Itinerary
Day 01: Ho Chi Minh Arrival (D)
Upon arrival at Tan Son Nhat Airport our guide who will accompany you will welcome you, take you to hour hotel, check in, time at leisure
Day 02: Ho Chi Minh City tour (B, L)
After breakfast, we embark on a tour of the city including Cholon - home to Saigon's substantial Chinese population and the site of the largest market in Vietnam. Continue to the War Remnants museum - the wealth image of the wars and the Reunification Palace.
Close to the Palace you visit some of the best examples of French colonial architecture represented in the forms of Notre Dame Cathedral and the Central Post Office. Next to the cathedral stands the Central Post Office, finished in 1891. For all its French colonial history, Ho Chi Minh City is by far and away Vietnam's most modern city. It has numerous shopping malls, cinemas, discotheques and a bewildering number of bars and this evening we will have the opportunity to see just what the city has to offer at nighttime!.
Day 03 : Ho Chi Minh - Cu Chi - Tay Ninh - Ba Den (B,L)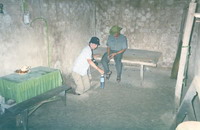 In the morning we have an excursion to the famous Cu Chi tunnels. This network of tunnels, which stretched for over 200km, played a vital part in the American War in that they allowed the Viet Cong to control a large rural area only 30 to 40 km from Sai Gon to the Cambodian border. From Cu Chi we drive to Tay Ninh, the headquarters of the Cao Dai Sect, whose patron saints include Joan of Arc, Victor Hugo and Winston Churchill. Our drive passes by the former Michelin Rubber plantations before delivering us to Ba Den Mountainn. Here is a chance to take cable to the summit for an impressive view of the surrounding areas. O/N in Ho Chi Minh.
Day 04 : Ho Chi Minh - Mekong Delta - Dong Tam (B,L)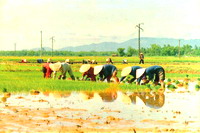 Upon leaving the town we travel by roads to Vinh long with stop over at Dong Tam snake farm, which was the former base of the 9th US Division and Riverine Units, then visit Ap Bac village, the former site of the ground battle between the VC and ARVN. On arrival at Cai Be we embark on a boat for a leisurely trip around the tributaries of the mighty Mekong River, stopping at Cai Be floating market where each boat usually sells one particular item, whether it is pumpkins, pineapples, sugar canes. Along the way we also visit the many fascinating local cottages industries including rice paper makers, sweet factory, bonsai nurseries. A huge lunch followed with many seasonal fruits at an orchard is some enjoyment of the trip. We then weave our way through the intricate network of canals which are the lifeblood of the Mekong Delta before we meet up with our vehicle for return trip. O/N in Ho Chi Minh
Day 05 : Ho Chi Minh - Bien Hoa - Long Binh - Xuan Loc - Ho Chi Minh (B,L)
An early morning start to drive along the highway No 1 towards Bien Hoa and Long Binh, the former USARV head quarters. This area now is transformed into industrial parks developed by foreign investment. Along the way we also have a chance to make stop over Di An and Bear Cat. Turning southeast we are using slightly different route passing by the 11th Armored Cave's former headquarters and Xuan Loc, the site of the last fierce ARVN/NVA battle in 1975 before the fall of Saigon. O/N in Ho Chi Minh.
Day 06 : Ho Chi Minh – Pleiku (B,L)
The impressive journey begins as we depart Ho Chi Minh and board a short flight, taking us over the mountainous regions to Pleiku, the most strategically important position during the Vietnam War. After checking into hotel we set off on a drive southward highway No 14 to visit Ham Rong Pass and Camp Enari, which was the former headquarter of the 4th Infantry Division. The following war sites are Cacteka plantation, Pleime, and Ban Can. This village is the former operational areas of the 4th Division. O/N in Pleiku.
Day 07: Pleiku - Kontum - Dakto – Pleiku (B, L)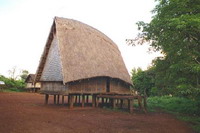 Heading out of town we travel by roads to Komtum with a look of the former US DZ site where some French barracks are still standing. This rough mountainous area was once a violent battle field between the NVA units and the 4th Division along the Ho Chi Minh and Sihanouk trails. On arrival we explore areas of Dakto including the former airbase and the Chalie hill. We return to the town for lunch and visit the old wooden church and several hill tribe villages. O/N in Pleiku.
Day 08: Pleiku - An Khe - Quy Nhon (B,L)
The sightseeing tour continues with a visit to Camp Halloway and some nearby hill tribe villages, home to the Jarai people. They are very poor but have an interesting culture and colorful history. Afterwards we depart for Quy Nhon Town, which was a supply depot of the first Log Command. We cross over the Mang Yang Pass before arriving at An Khe , a major military area where we could find the First Air Cavalry among other units. After checking into hotel, we spend the remainder of the day to relax at one of Vietnam best beaches. O/N in Quy Nhon.
Day 09: Quy Nhon - Quang Ngai - Son My - Hoi An (B,L)
An early morning start to drive north up the highway No 1, passing by Phu Cat Airbase which is now managed by Vietnamese Army therefore no picture is allowed. We traverse the Tra Bon River valley, seeing Bong Son, Mo Duc, Phuoc Loc and Duc Pho. Upon leaving this area we make our way past the rugged Animate Mountains, sarcastically referred to as "The Street without joy" by French soldiers. Along the way we make stop over at Son My District, sense of infamous My Lai incident before continuing on coastal plain to Chu Lai airbase. Here we have a chance to see the work of the Sky hawks. O/N in Hoian.
Day 10: Hoi an -

Hue (B, L, D)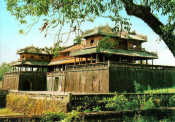 The ancient architecture of Hoian is a fascinating combination of Vietnamese traditional characters with Chinese and Japanese influence. There are plenty to see in this delightful and tranquil town, some of which are the famous Japanese Covered Bridges, the Pottery Museum, the 200 years old Tam Ky House, the Chua Ong Pagoda, the vibrant market. We visit these on our morning walking tour. Heading out of Hoian we drive north to Hue, stopping en route to visit the sensational Marble Mountains and the China Beach, which was the former R&R ground for the US Marines. The winding roads begin as we make our way up the spectacular Hai Van Pass. At the top of the pass we stop to admire a fantastic view south to Danang and north to Lang Co. We pass by Camp Eagle before arriving in Hue, Vietnam's the last imperial capital, check in the hotel, dinner on cruise in Huong River. O/N in Hue.
Day 11: Hue - DMZ - Khe Sanh - Hue (B, L)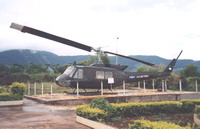 Upon leaving Hue we set off on our drive along the highway 1 northwards passing by Camp Evans and Fire Support Base Nancy. Along the way we catch a look of Ai Tu Combat Base and Airfield before arriving in Dong Ha , which is well known as Leatherneck Square bounded by Con Thien, Gio Linh, and Cam Lo. The journey continues across the Hien Luong Bridge over the Ben Hai River which demarcated North and South Vietnam. Here is a chance to visit the Doc Mieu Base in the DMZ and the infamous Vinh Moc Tunnels. We travel up the route No 9 to Khe Sanh and pass a series of fire support bases including Rockpile, Camp Carol and Da Krong Bridge. On arrival at Khe Sanh Base we have time to stroll around to visit some of the many battle sites and military camps. There were all but partly cleared by villagers. O/N in Hue.
Day 12: Hue - Hanoi (B, L)
The exploration of Hue would be not complete without a visit to the Imperial Citadel and the Purple Forbidden City. This royal residence was all but destroyed during the 1968 Tet Offensive, however it is still fascinating to walk among the ruins. In the late morning we board a short flight to Hanoi. After checking into hotel we visit the beautiful lake of Hoan Kiem with its sacred temple and the vibrant Dong Xuan Market, which boasts Hanoi's oldest and largest market. A perfect way to finish the day is to enjoy a short cyclo excursion through the bustling old quarter streets named after the specific goods once offered for sale at these places. O/N in Ha Noi.
Day 13: Hanoi - Ha Long (B, L)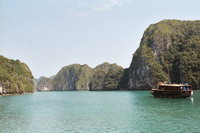 Today we enjoy a half day city tour starting with the Ho Chi Minh Complex, containing the mausoleum of the nation's founder Ho Chi Minh, the Presidential Palace and the Ho Chi Minh's house on stilts. The complex also comprises the One Pillar Pagoda, whose origins date back to the foundation of Hanoi. We follow this with a trip to the Temple of Literature, well known as Vietnam's first university, and the History Museum which displays an excellent collection of artifacts illustrating the Vietnamese history. The peaceful lake of Hoan Kiem and the bustling Dong Xuan Market are also visited before we depart for Halong Bay through the scenic countryside. Along the way we make stop over at Dong Trieu pottery village to observe many craft man at work. O/N in Ha Long.
Day 14: Ha Long - Hanoi (B, L)
The wondrous Halong Bay is truly one of Vietnam's most impressive scenic sights. Heading out of the town we embark on a boat for an exploration of the legendary Halong Bay. This exciting five hour cruise will provide us a fantastic view of the picturesque scenery blending with the sky and some 3,000 limestone islands rising amazingly from the clear and emerald water. The limestone karsts formations are littered with beaches, grottoes and beautiful caves. Along the way we will anchor for a leisurely swim in a secluded cove and an enjoyable visit to one of the many hidden grottoes beneath towering cliffs. After a seafood lunch on board we return to Ha Noi, stopping en route at Dong Trieu pottery village. We arrive in time to see an evening performance of Hanoi's famous water puppets. O/N in Ha Noi.
Day 15 : Hanoi Departure (B)
There is a free time to relax or further explore Ha Noi City. The tour ends after your transfer to Noi Bai Airport for departure.
Inclusions
Transportation in private air-conditioned vehicle with driver
Meal as mentioned: B = breakfast, L = Lunch, D = dinner
Accommodation: twin sharing room
English or French speaking guide
Entrance fee to indicated sights and permit
Air ticket Ho Chi Minh - Plei Ku, Hue - Hanoi + Domestic airport tax
Boat trip in Mekong and Halong Bay
Exclusions
Other meals, tip, drinks,
Single room supplement,
Personal expenses
Hotels
Saigon : Rex Hotel
Pleiku : Hoang Anh Gia Lai Hotel
Quy Nhon : Anya Premier Hotel Quy Nhon
Hoi An : Lasenta Boutique Hotel
Hue : Saigon Morin Hotel
Hanoi: Silk Path Hotel
Halong : Heritage Hotel