Specialities and Restaurants in Hue
Hue is renowned for its elaborate cuisines, developed by the skilled cooks of the royal court. Legend has it that the Nguyen kings, who ruled a united Vietnam from Hue in the 19th century, refused to eat the same meal twice in a year, so their cooks came up with hundreds of distinct, visually arresting dishes (most using the same few dozen ingredients).
Hue Specialities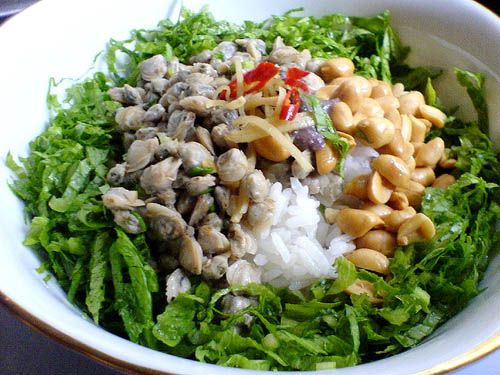 Rice mixed with mussels (Com Hen)
It's a combination of different ingredients: cold rice, fresh veggies, flavorful herbs, sour taste of star fruit, pungent aroma from shrimp paste, warm tasty mussels, hot chili, crispy deep fried pork's skin, tasteful roasted peanut and white sesame...served with a bowl of the super clear mussels's soup.
Com Hen has an extremely spicy flavor as such, so gastronomes remember it just after one time enjoying.
Where to eat
Very easy as it is popular everywhere in Hue and these days, elsewhere in Hue restaurants. More favorably, it is a low-priced specially
(around 45 cents a bowl)
, thus you could eat it in luxurious restaurants in Hue or even in vendor mobile shops on the streets. But the best one might be
Ba Hoa restaurant at Truong Dinh St.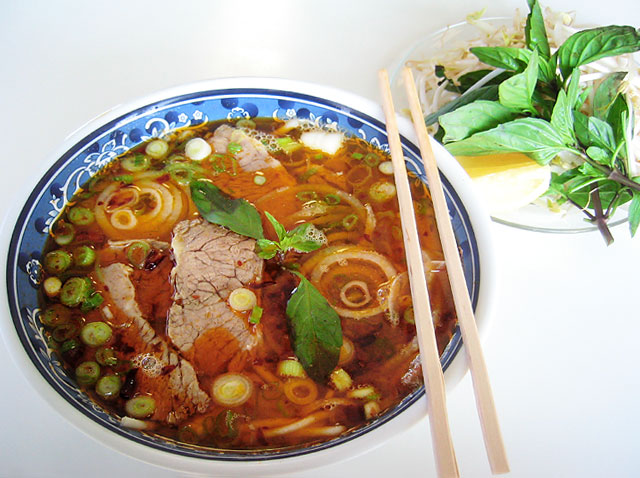 Bun Bo Hue
Like its more famous cousin pho bo, it's a beef noodle soup served with a clear beef broth but healthy doses of chili, shrimp paste and a rounded slippery noodle that slips off your chopsticks and sending dots of reddish-brown broth on your shirt.
The specialty is commonly served with a plenty of herbs like sprouts, lime wedges, cilantro sprigs, onions, and sliced banana blossom. Thinly sliced purple cabbage or iceberg lettuces are used in case of lacking in banana blossom. It is highly recommended for tourists to add a few of shrimp paste directly into the soup.
Where to eat
The best place in town is
Bun Bo Hue (17 Ly Thuong Kiet St)
, with
about 50 cents for a bowl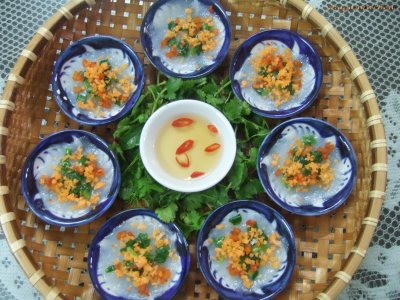 Banh Beo
Banh beo (water fern cake) is a kind of small steamed rice pancake. The name is to refer from the shape of the cake (like a water fern-Beo in Vietnamese). It is white in color, sometimes nearly transparent and usually has a dimple in the center, which is covered with savory recipes including chopped dried or fresh shrimp, scallions, mung bean paste, crispy fried shallots, fish sauce, rice vinegar, and oil.
Where to eat
To enjoy delicious banh beo, diners should come to
a small alley next to An Dinh Palace
at the corner of Nguyen Hue and Phan Dinh Phung streets or to Ba Do or Huong Cay food shops on
N
guyen Binh Khiem Street.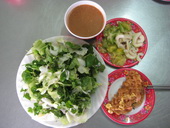 Banh khoai
Banh khoai translates as "happy pancake". It is cooked from beautiful Vietnamese rice flour crepe, which is crispy, moist and full of flavour.
Banh khoai always goes with a fermented soy bean sauce, and people consider it a winter food owing to its greasiness and spicy taste of the sauce. Therefore, most Hue citizens only make them when winter coming.
Where to eat
Lac Thien Restaurant
– Add: 6 Dinh Tien Hoang St, Hue, Vietnam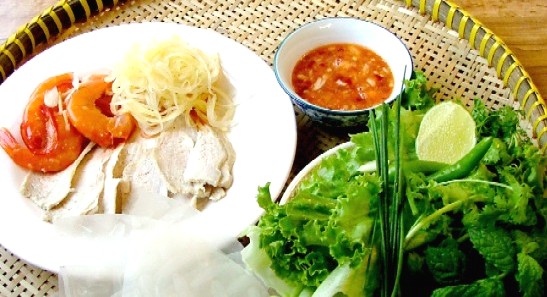 Sour Shrimp (Mam tom chua)
Sour Shrimp is one of the most sought-after specialities of the old capital of Vietnam. When they first come to Hue and taste this dish, visitors from other regions must be really amazed and surprised.
To savor the flavor of Sour Shrimp, you have to eat this dish with 2 other food: sliced boiled pork sides and fresh veggies (green bananas, star fruits, cinnamons, and chilies). These vegetables give the meal a good look implying the balance of Yin and Yang in the dish.
Vegetarian food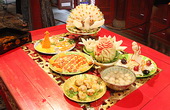 Hue takes Buddhism a bit more seriously here than most of Vietnam -- with more monasteries than anywhere else, and the nation's most famous monks. Beyond the pagodas nowadays, where robed monks and apprentices break in the afternoon for volleyball games you're welcome to join, Hue's vegetarian scene is more developed than anywhere else in the country. Com chay, or vegetarian food, places pop up on riverside locations and alleys with many of its residents eating vegetarian food twice a month.
Where to eat
Thanh Lieu Restaurant at 50 Nguyen Cong Tru St.
Tinh Tam Restaurant at 12 Chu Van An St.
Restaurants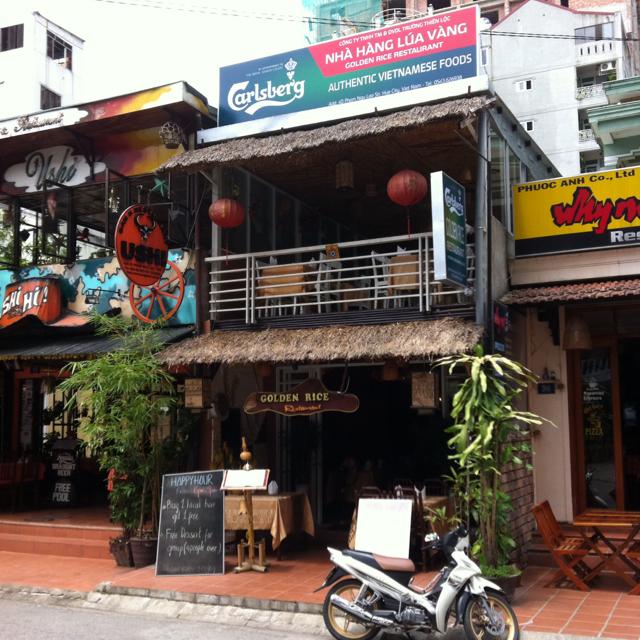 Golden Rice
Add
: 40 Pham Ngu Lao St.
Tel
: +84 54 3626938
Cuisines
: Vietnamese
Price
: dishes from US$1
Description
: A backpacker-oriented Vietnamese restaurant
Bloom Restaurant
Add
: 14 Nguyen Cong Tru, Hue, Vietnam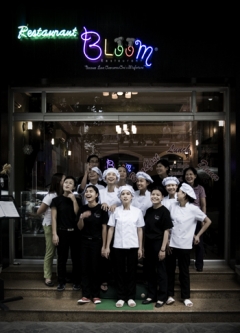 Tel
: +84 54 3837 179
Cuisines
: Vietnamese and Western
Price
: from US$1
Description:
As part of a charity called Aid to Children without Parents, Bloom is not only a restaurant but vocational training center for many needy children also. The place sends a meaningful message to everyone with its name Bloom – "because love overcomes one's misfortune".
Mandarin Cafe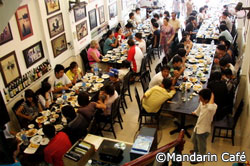 Add
: 24 Tran Cao Van St.
Tel
: +84 (054) 821 281
Cuisines
: French, Vietnamese
Price
: main courses from US$2
Description
: Your host at this fine family restaurant is photographer Mr Cu, whose inspirational pictures adorn the walls. You'll find lots of vegetarian and breakfast choices on the varied East-meets-West menu, and copious copies of National Geographic to browse.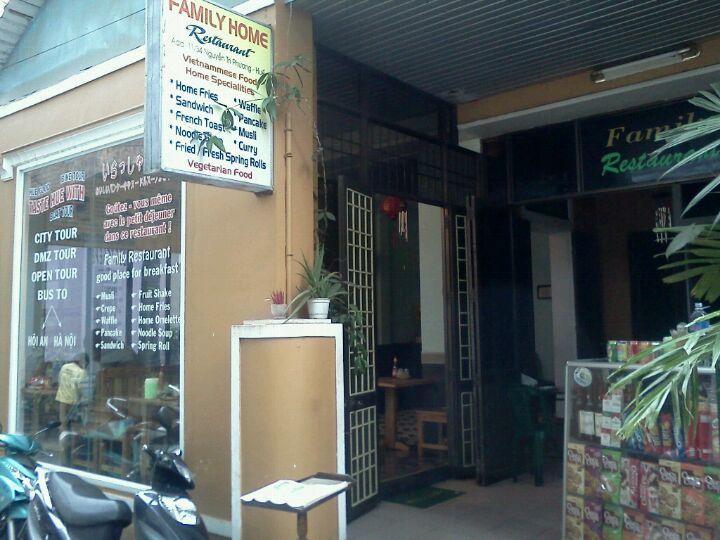 Family Home Restaurant
Add
: 11/34 Nguyen Tri Phuong St.
Tel
: +84 54 3820668
Cuisines
: Asian, European
Price
: main courses US$2-5
Description
: Famous for its homely atmosphere which it's very name suggests, the place even boasts of having some great, friendly staff who'll make you feel at home!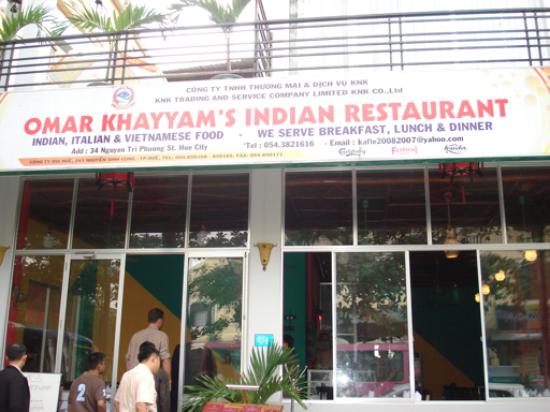 Omar Khayyam's Indian Restaurant
Add
: 34 Nguyen Tri Phuong St.
Tel
: +84 54 3821 616
Cuisines
: Indian
Price
: main courses from US$2-5
Description
: Don't expect much in terms of ambience or decor, but if you're dreaming of a spice fix, this place makes a pretty decent stab at Indian curries, samosas and vegie dishes.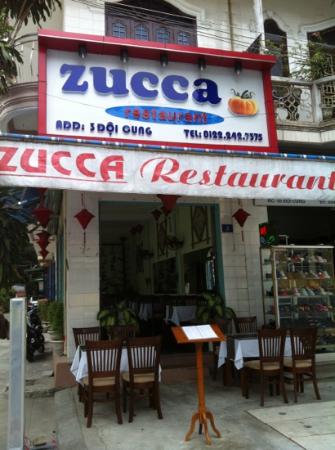 ZUCCA Restaurant
Add
: 03 Doi Cung St.
Tel
: +84 1222427375
Cuisines
: Italian, Pizza, Vietnamese
Price
: US$2-10
Description
: Don't be mislead by the small size of this restaurant. The food inside is a real surprise! Great Italian food that's simple but full of flavor. You can choose from a wide array of salads, pasta, pizza, and even bruschetta.
CaThi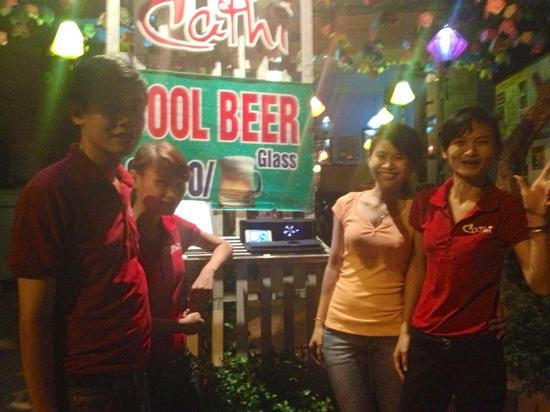 Add
: 24 Tran Thuc Nhan St
Phone
+84 54 384 5924
Prices
: Set menus 80,000 VND (~US$4) -150,000 VND (~US$8)
Cuisines
: Vietnamese
Description
: This tiny, hush-hush restaurant -- just opening at press time -- is a good place to enjoy a special lunch after visiting the Citadel and Imperial City. In a tranquil courtyard garden, alfresco dining takes place on cool, shaded patio areas surrounded by restored, low, open pavilions that are held up by ornate carved pillars and covered with terra-cotta tile roofs. It all overlooks a tranquil pond filled with hearty Japanese.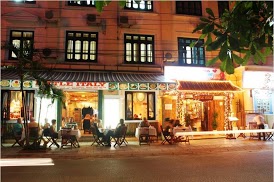 Little Italy Restaurant
Add
: 10 Nguyen Thai Hoc St.
Tel
: +84 54 3826928
Cuisines
: Italian, Vietnamese
Price
: main courses US$3-5
Description
: The place to get your pizza and pasta cravings in order. This was opened by the same folks who brought you the DMZ Café. The interior is small and cozy, with some tables near the window overlooking their small backyard garden.
Confetti restaurant & art gallery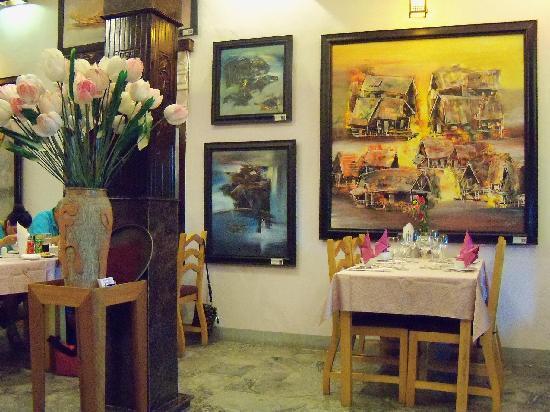 Add
: 01 Chu Van An St.
Tel
: +84 54 3 824148
Cuisines
: Asian, Barbecue, Seafood, Vietnamese
Price
: main courses US$3-15
Description
: Stylish and chic, Confetti serves warm ambience to match its colourful selection of Hue specialities. Pair your fresh hot pot or barbequed seafood with a bottle from their extensive international wine list. Be sure to try their grilled duck with lemongrass and chili, a savoury and spicy dish updating tradition with a healthy dash of culinary innovation.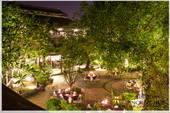 Ancient Hue
Add
: 104/47 Kim Long St.
Tel
: +84 54 3590356
Cuisines
: Asian, Vietnamese, and International, Bar
Price
: US$5-20
Description
: Located in lush garden houses near the Citadel, Ancient Hue is a high ranking restaurant where visitors can experience fine food and Hue's cultural heritage in a beautiful ambience. Offering refined takes on local specialities, the scrumptious dishes are presented with traditional royal decorations passed through generations of Hue culinary artists.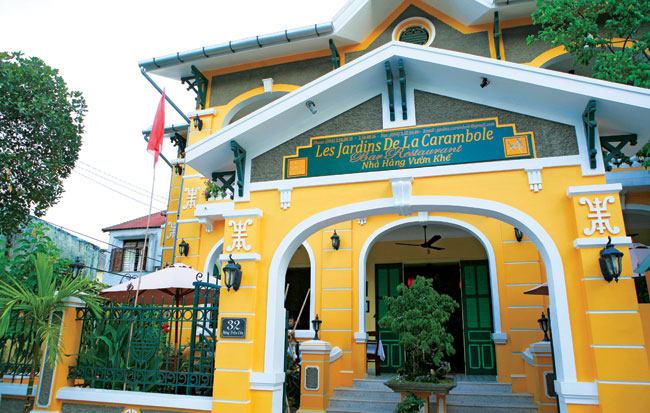 Les Jardins de La Carambole
Add
: 32 Dang Tran Con St.
Tel:
+84 54 3548815
Cuisines
: French, Vietnamese
Price:
main courses US$5-25
Description
: This is Hue's most visually impressive restaurant set in a recreation French colonial villa not far from Hue Citadel.
Le Parfum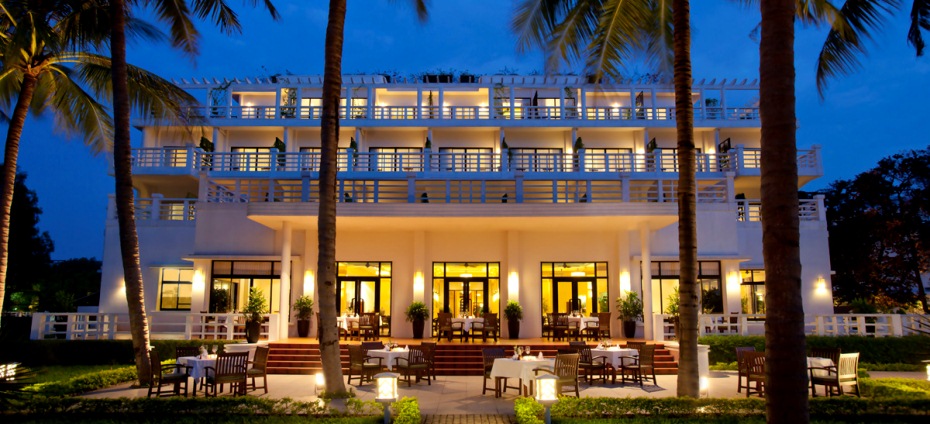 Add
: 5 Le Loi St. (inside La Residence Hue hotel)
Tel
: +84 54 3837475
Cuisines
: French, Vietnamese
Price
: main courses US$5-30
Description
: It's an excellent place to unwind after a day of temple- and tomb-hopping. The outdoor seating is a quiet setting overlooking the Perfume River and lit by retro gas lamps placed on each table