Restaurants in Nha Trang
There are an enormous range of options for travellers to Nha Trang, whether you're looking for some delicious local dishes, great seafood or a bit of homely western grub. There are options for Vietnamese, Italian, Thai, French, Indian and more, and venues range from top class restaurants to roadside noodle stalls or the ladies on the beach that will grill you some of the freshest, tastiest seafood to be found, right next to your towel.
Nha Trang Specialities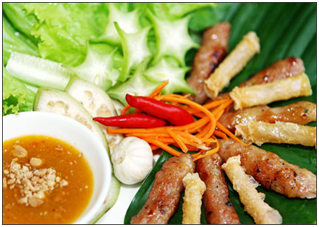 Nha trang grilled pork (Nem Nuong)
Grilled directly with the fire of coal brazier, fermented pork roll is served with raw herbs as well as dipping sauce with pickled green papaya.
Where to eat
Nem Nuong Vu Thanh A n - 15 Le Loi St.. The restaurant is crowded with customers from late afternoon till midnight.
Nha Trang fish noodle (Bun Ca)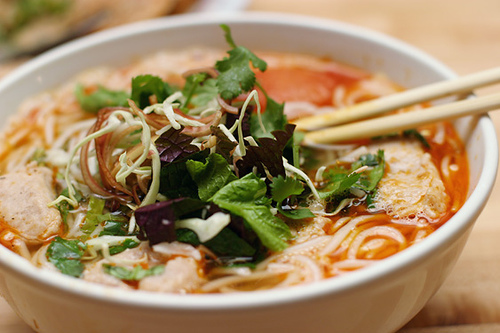 It's "bun cha ca" broth, which is made from boiled sailfish and mackerel's bones, that determines the exclusive taste of this specialty. Different from the fatty boiled pork bones' broth; "bun cha ca" broth is sweet and savory, especially suitable for people who are going on a diet. A bowl of Nha Trang's "bun cha ca" also contained jellyfish and steamed sailfish.
Where to eat
Bun ca Nam Beo - Block B2- Phan Boi Chau St.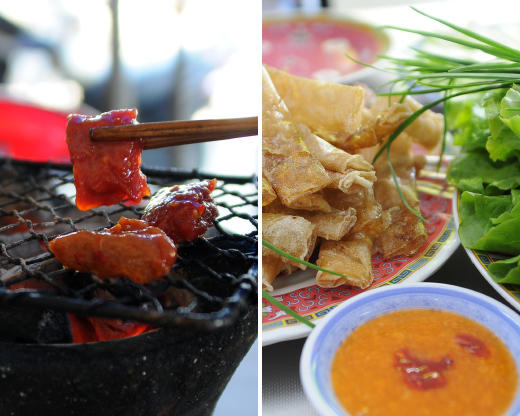 Lac Canh's Grilled Beef
The secret of making perfect grilled beef lies on the recipe of mixing beef with honey and more than ten kinds of spices. The recipe is handed down from generation to generation, and only known to specific members of restaurant owner's family. Customers are free to grill the beef and enjoy the dish in their own way.
Where to eat
Han Hon Minh restaurant (opened since 1963) - 44 Nguyen Binh Khiem St.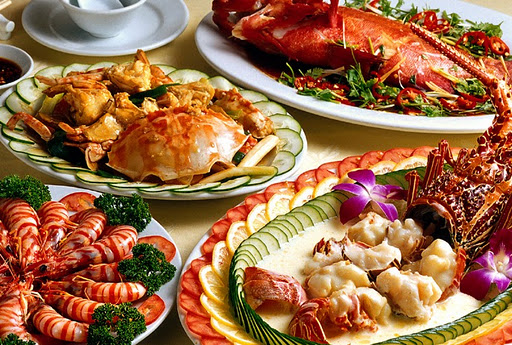 Nha Trang seafood
There is a variety of food in Nha Trang but seafood is most people's first choice as Nha Trang is a coastal city. Eating freshly cooked seafood on the beach is something special in Nha Trang. There are lots of vendors selling seafood on the beach. They generally buy their fresh seafood in the morning and start their business at 11am the same day. In the afternoon, there are also lots of seafood stalls along the main street, Tran Phu Street. They have lots of fresh lobster, big sea crabs, squid and many other sea snails and clams.
Where to eat
Chieu Anh Restaurant- 86 Tran Phu St.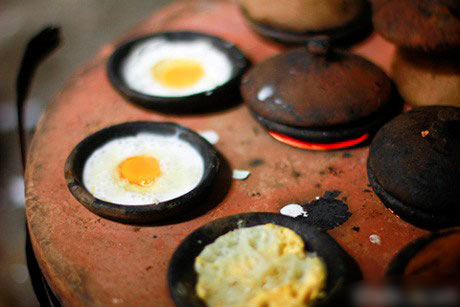 "Can" cake (Banh can)
"Banh can" is a popular snack in Central and Southern regions of Vietnam, including rice flour, lard, spring onion and eggs. The cakes are sold in pair, and served with special sweet and sour dipping sauce made from Nha Trang's famous fish sauce, and raw vegetables.
Sitting around the warm fire of coal brazier, watching the cook skillfully pouring flour into moulds , and then enjoying hot "banh can" in a windy day is an unforgettable experience for anyone when in Nha Trang.
Where to eat
Crossroad of Le Thanh Ton and Nguyen Thien Thuat Street.
Restaurants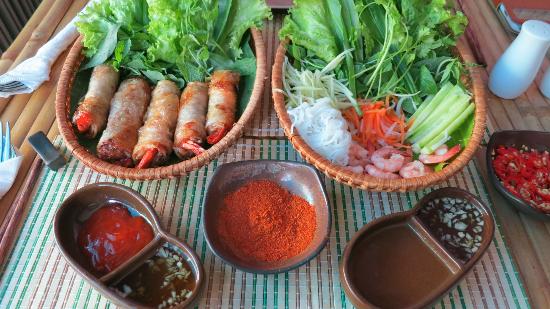 Cuon Cuon Rolls & BBQ Restaurant
Add
: 3/9 Tran Quang St.
Phone:
+84 946 350 427
Cuisines
: Vietnamese
Price
: US$2-7
Description:
Enjoy a truly unique experience by making your own Cuon Cuon Spring Rolls. Savour our delicious fresh tamarin sea food and homemade desserts such as coconut cheesecake. Take the time to share a delightful evening with your companions in a relaxing ambiance. You can also enjoy your breakfast at Cuon Cuon. Try our delectable pancakes served with a creamy caramel sauce, or go with the American classic fill-up eggs, bacon and potatoes.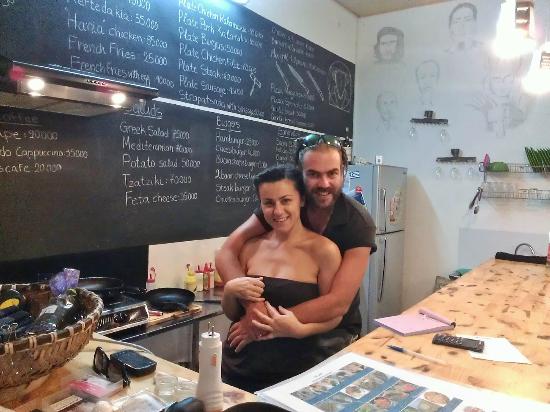 "Hy Lap" Mini Restaurant
Add
: 1 Tran Quang Khai St.
Phone
: +(84) 01205318174
Cuisines
: Greek
Price
: US$2-7
Description
: A real favorite amongst the tourists that come to Nha Trang. This little Greek gem is a masterpiece of Greek cuisine. Originally from Crete the owners have created something really different. It has a superb feel about the place and the food matches the ambience.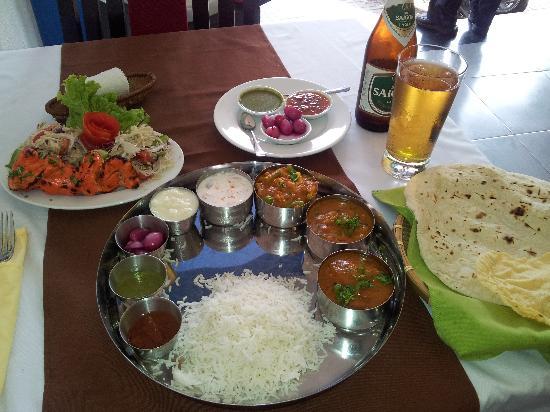 Ganesh Indian Restaurant
Add:
82 Nguyen Thien Thuat St.
Tel
: 84-0583-526 776
Cuisines
: Indian
Price
: US$3-10
Description:
Specialising in North and South Indian Tandoori Cusine.
Mediterraneo Spanish & Italian Restaurant
(Formerly Echo & Luca)
Add
: 92 Nguyen Thien Thuat, Nha Trang, Vietnam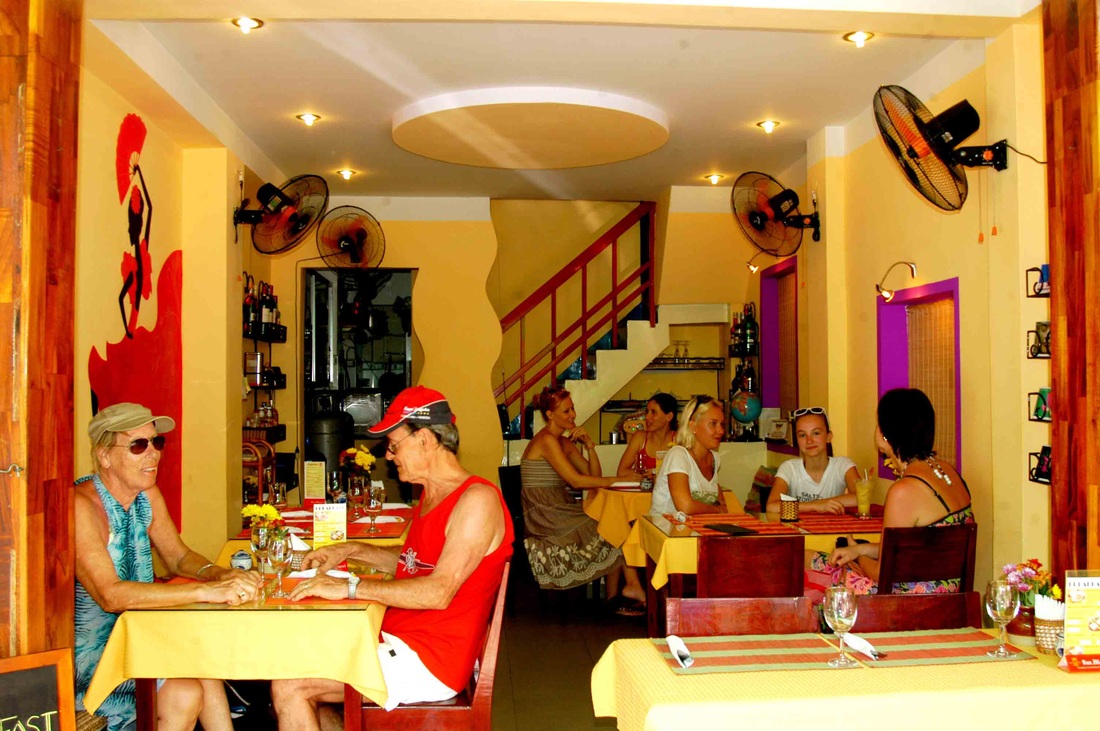 Tel
: +84 58 3521 827
Cuisines
: Italian, Mediterranean, Spanish, Tapas
Price
: US$3-10
Description
: A Spanish chef and his Italian wife run this small and cozy restaurant serving excellent traditional Italian and Spanish cuisine. Homemade lasagna, authentic dishes of Rome like carbonara and amatriciana, gazpacho, fresh seafood paella are among their specialties. Enjoy the atmosphere on the upper floor and on the small terrace. Authentic Italian espresso coffee and yummy cappuccino are served with some different delicious homemade cakes.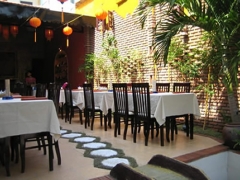 Lanterns Vietnamese Restaurant
Add:
34/6 Nguyen Thien Thuat St.
Tel
: +84 058 2471 674
Cuisines
: Vietnamese
Price
: US$3.5-10
Description:
The flavours are predominantly Vietnamese, such as braised pork in claypot or fried tofu with lemongrass, but there are a few international offerings for anyone who is riced out. The restaurant supports a local orphanage and invites the children and their carers to dine each month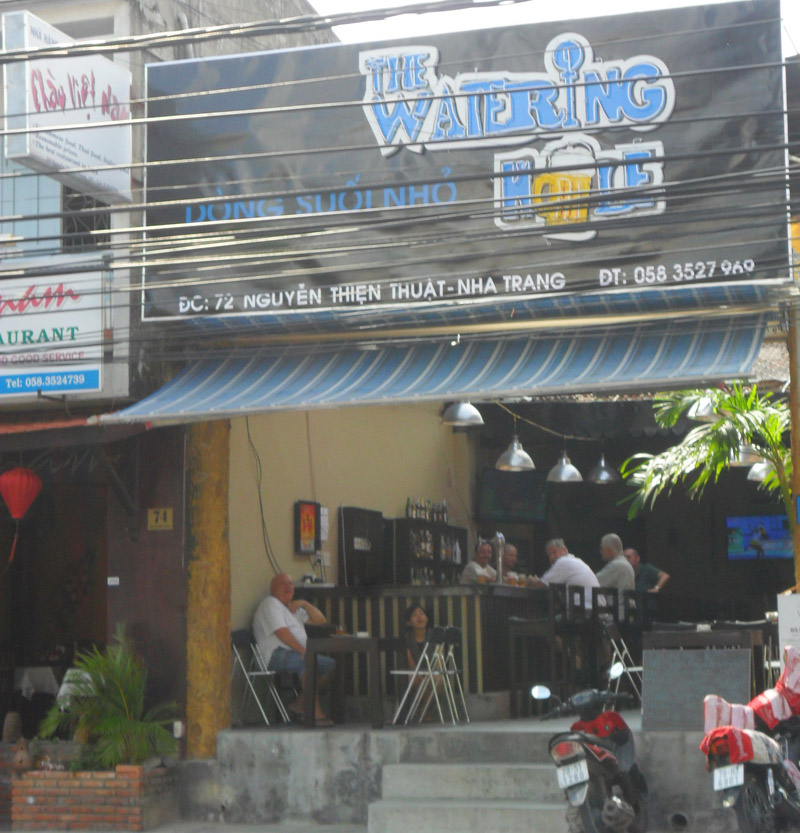 The Watering Hole
Add:
72 Nguyen Thien Thuat St.
Phone:
+(84) 58 3527 69
Cuisines:
English
Price:
US$4-10
Description:
As the name suggests, it's a place to drop in and have a quiet beer. This open air bar is lovely and cool at night and the expat owners are always there for a chat. Nice place to have a few quiet drinks...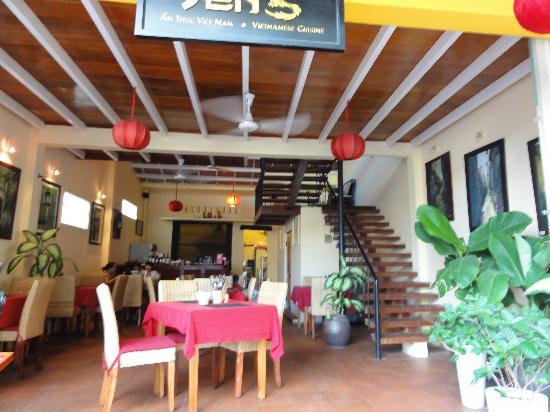 Nha Hang Yen's Restaurant
Add
: 3/2A Tran Quang Khai | (next to the Ha Van Hotel)
Phone
: +84 93 376 6205
Cuisines
: Vietnamese
Price
: US$4-10
Description
: Authentic Vietnamese food with a modern twist
Den Long Do (Red Lantern) Restaurant

Add
: 135 - 137 - 137A Hoang Van Thu Street
Tel
: +84 58 3815 006
Cuisines
: Vietnamese, Asian
Price
: US$4-10
Description
: Probably Nha Trang's largest restaurant, amazingly clean, surprisingly good service, great cuisine with more than 80 tasty Vietnamese dishes plus Cambodian and Chinese food (e.g. fresh egg noodle and wonton soup).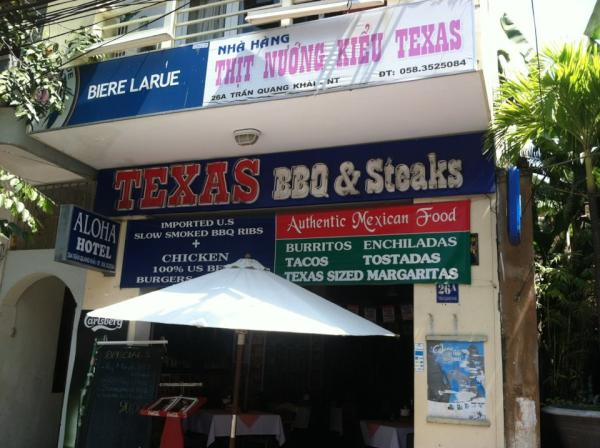 Texas BBQ and Steak House
Add
: 26 Tran Quang Khai St.
Phone
: +84 935 827 723
Cuisines
: American
Price
: US$5-30
Description
: A taste of Texas in Vietnam. They import their steak, chicken, and pork from the U.S. The ribs are smoked for 5 hours a day! Charcoal fired burgers and authentic Memphis and Texas BBQ makes this a favorite for kids and adults alike. The owner Wayne always has great stories to tell. Nice waitress staff who speak good English.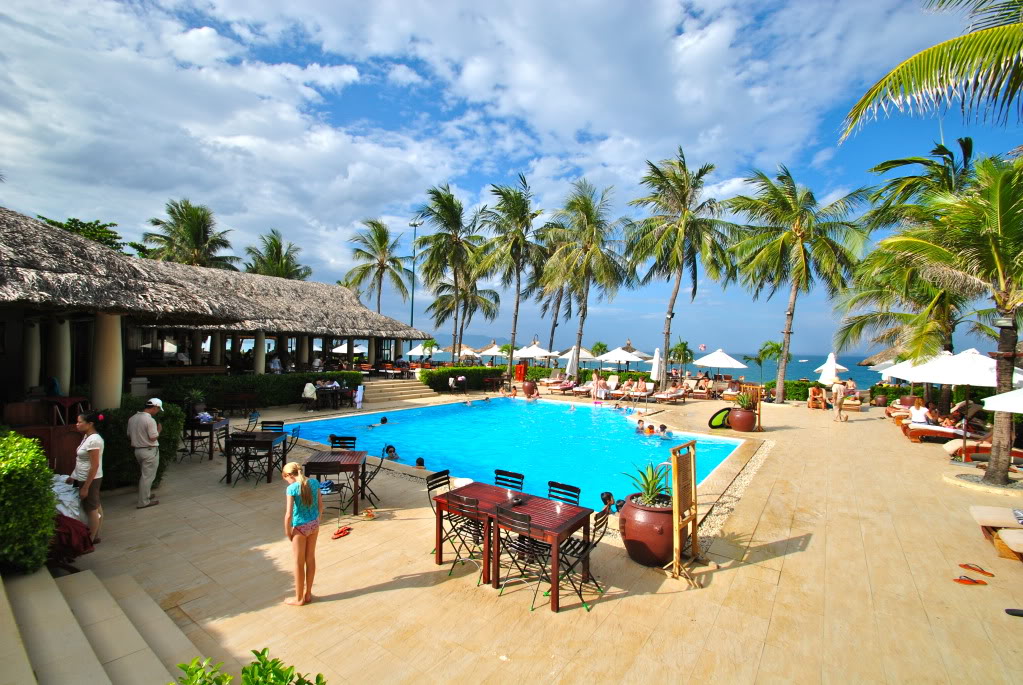 Louisiane Brewhouse
Add
: 29D Tran Phu St.
Tel
: +84 58 352 1948
Cuisines
: Vietnamese. Thai, Japanese
Price
: US$6-15
Description
: A restaurant and bar right on the beach, similar to an English pub, with some incredible home brewed beers and some nice food too. Louisiane Brewhouse is more a popular spot to grab a beer and sit on the beach instead of a fine dining experience, but the beers and service are fantastic.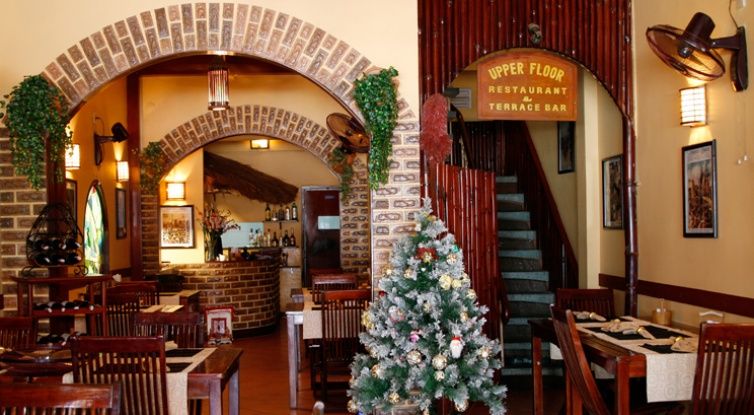 Good Morning Vietnam
Add
: 19B Biet Thu St.
Tel:
+84 (058) 3522 071
Cuisines
: Italian
Price:
$7-$15
Description
: A very good Italian restaurant with arguably the best pizza in Nha Trang. The restaurant becomes very busy around dinner time so a good idea would be to book or get in early. Good morning Vietnam has a very nice atmosphere and real authentic Italian food all cooked by an Italian chef a must try while In Nha Trang.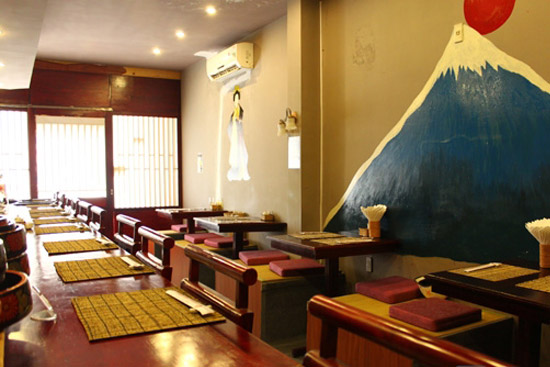 Sushi Sakura Japanese Resaurant
Add
: 47B6 Nguyen Thien Thuat St.
Tel:
+84 58 352 2954.
Cuisines
: Japanese
Price
: US$15-30
Description
: A very stylish Japanese restaurant located on the main strip. Very clean and outstanding customer service. The prices might be a little higher than other restraunts but it definitely makes up for it in terms of quality.

Ngoc Suong
Add
: South of the town center at beachside
Tel
: +84 58 352 5677,
Cuisines
: Seafood
Price:
Main courses US$5-25
Description:
Nha Trang has dozens of good seafood restaurants, but this one leads the pack. Whether in the very pleasant thatched outdoor pavilion or the vaguely nautical, softly lit interior, it's "seafood as you like it" served by a helpful, friendly staff. Whole fish and crustaceans can be chosen by pointing in the large tank and smiling greedily; the day's catch, including shrimp and crab, is ordered by the pound, grilled, fried, or boiled with basic spices like tamarind or pepper and lemon. The oysters, if they have them, are small but succulent. The name of the restaurant refers to a delicate marinated whitefish salad, one of the specialties and a great appetizer.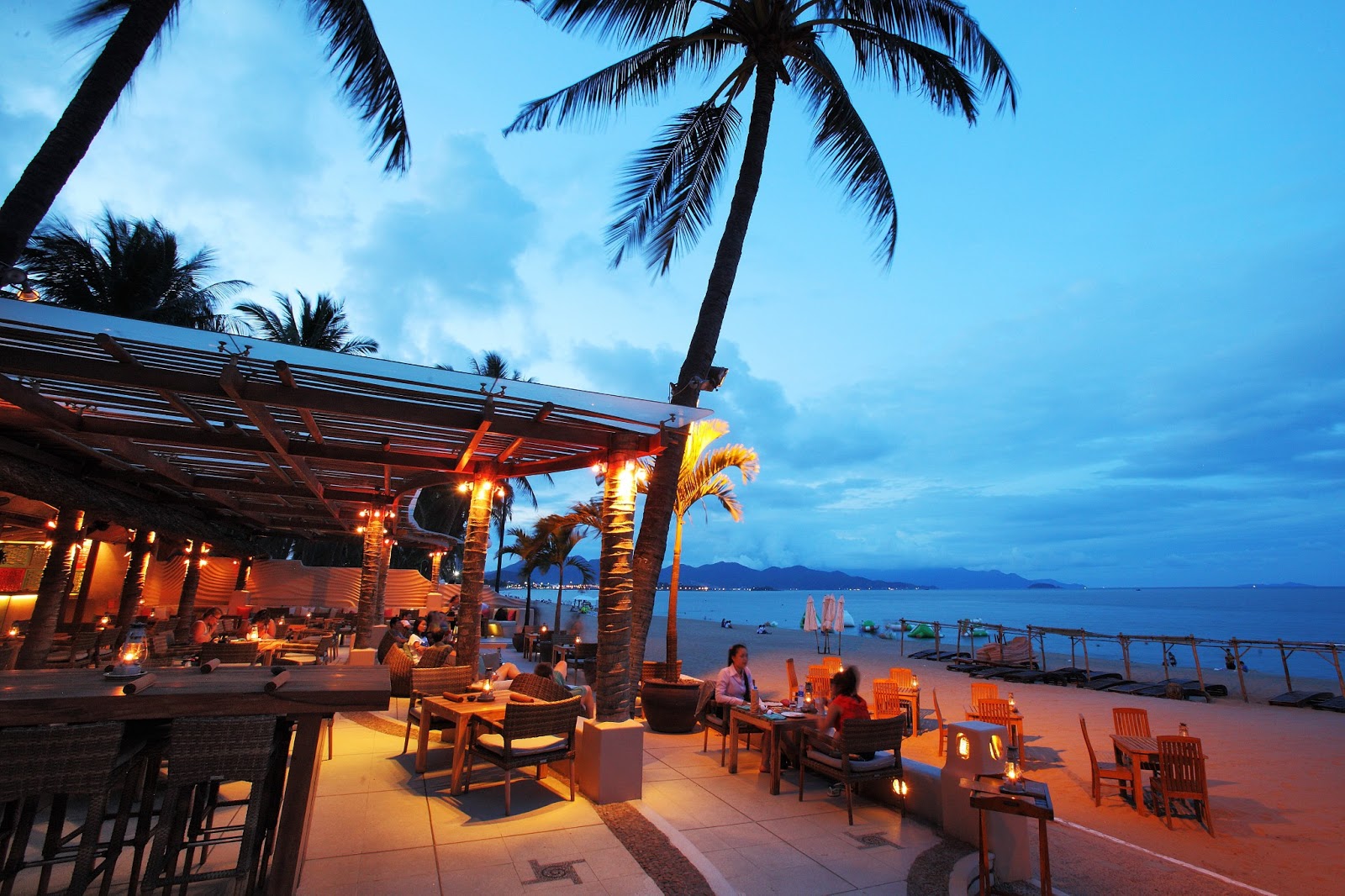 The Sailing Club
Add
: 72-74 Tran Phu St
Tel
: +84 58 3524 628
Cuisines
: Italian, Indian, American and Vietnamese
Price
: US$18-30
Description:
An upmarket restaurant and bar located right on the beach. The sailing club is a very forward thinking club, with probably the most spectacular interior design that Nha Trang has to offer. The menu at the sailing club is extensive, it includes cuisine. They also have alot of events especially on Sundays and some very nice cocktails