Central of Vietnam War memory
The past makes the experiences for the future. In a rich history over 4000 years the heroic Vietnamese defeated many strong countries such as: Mongo, China, French, US In this tour supports you a full knowledge of wars in Vietnam especially in American war
Tour brief
Day 01 : Ho Chi Minh City Arrival
Day 02 : Ho Chi Minh city - Da Nang
Day 03 : Da Nang - Hue
Day 04 : Hue
Day 05 : Hue - Dong Ha
Day 06 : Dong Ha - Khe Sanh
Day 07 : Dong Ha - Hue
Day 08 : Hue
Day 09 : Hue
Day 10 : Hue - Ho Chi Minh City
Day 11 : Ho Chi Minh City Departure

Itinerary
Day 1: Ho Chi Minh City
Arrive at Tan Son Nhat Airport in Saigon. Meet tour guide and driver with air con vehicle. Check in to Hotel, and go to lunch. In the afternoon we will have a short tour of Saigon including the Remnants of War Museum and the Presidential Palace. No evening activity is planned in order to allow you to catch up on some sleep before going North in the morning.
Day 2: Ho Chi Minh City - Da Nang
After breakfast at Hotel, we will catch an early flight to Da Nang. From Da Nang we will drive to Hoi An (196th and 198th Light Infantry Brigades) and visit this ancient port city and Capital of Vietnam on our way to Chu Lai, home of the Americal Division, and My Lai, site of the infamous massacre. Return to Da Nang and Hotel.
Day 3: Da nang - Hue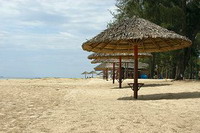 Visit the Marble Mountains and Cham Museum. Time will be provided for a swim at China Beach. See what is left of the Army Airfield. Some of the major units located in Da Nang: III Marine Amphibious Force, First Marine Division, 3rd Naval Mobile Construction Brigade, Naval Support Activity, Air Force 366th Tactical Fighter Wing. On the way to Hue, stop at Red Beach, the actual site where the Marines first landed in 1965. Drive over the Hai Van Pass and stop to check out the US and French constructed bunkers and the spectacular view. Check in Hotel in Hue.
Day 4: Hue
Visit the Citadel and Flag Tower, location of fierce fighting and the longest VC resistance of the Tet Offensive of 1968. This is the Forbidden City - home of the Nguyen Dynasty in Vietnam. Here you will have some free time to explore on your own or with others (if in group).
Day 5: Hue - Dong Ha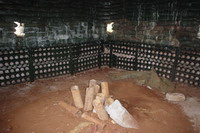 Drive up Highway 1, passing Camp Evans (20th Tank Regiment) and Fire Support base Nancy (258th M.C. Brigade). Continue to battle site of Quang Tri. Next pass the site of the Ai Tu Combat Base and Airfield (3rd ARVN Division HQ). Next reach Dong Ha and enter the quadrilateral area known as Leatherneck Square bounded by Con Thien, Gio Linh, Dong Ha, and Cam Lo; recall Operation Buffalo. Continue along Highway 1 across the Hien Luong Bridge over the Ben Hai River into North Vietnam. Visit Doc Mieu Base in the DMZ, the Vinh Moc Tunnels, and the North Vietnamese National Cemetery. Lastly, visit Con Thien Fire Support Base before an overnight at the Hotel.
Day 6: Dong Ha - Khe Sanh
Dong Ha to Khe Sanh. Ride parallel to the DMZ along Route 9 to Khe Sanh. Pass a series of Fire Support Bases as well as the Rockpile, DaKrong Bridge, and the Huang Hoa District HQ.
Day 7: Dong Ha - Hue
Khe Sanh. Tour the Khe Sanh Base, a coffee plantation, an old French Fort and a Montagnard village. Continue to Lang Vei Special Forces Camp. Return to Hue.
Day 8: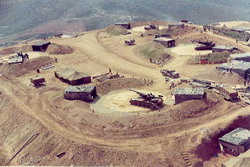 EITHER:
A-Shau Valley including major battle sites, Landing Zones and Fire Support Bases (such as 'Hamburger Hill').
OR:
Bach Ma National Park. This beautiful area once had 139 luxury French villas. In heavy fighting the VC destroyed the villas. Now the area has been made into National park with numerous species such as tigers and several types of monkeys, 330 bird species, and a newly discovered antelope (Sao la). Hiking trails overlooking a waterfall.
Day 9: Hue
Cruise the Perfume River to the Thien Mu Pagoda. Visit the tombs of Emperors Minh Mang, Khai Dinh and Tu Duc.
Day 10: Hue - Sai Gon
Flight from Phu Bai Airfield back to Saigon. Ho Chi Minh city tour: Cho Lon, Ben Thanh Market, Dong Khoi (Tu Do) Street, Le Loi and Nguyen Hue Streets, Saigon Riverfront, Central Post Office, Notre Dame Cathedral, shopping .
Day 11: Sai Gon departure
Pick up at the hotel and transfer to the Airport for the flight back home.
NOTE: Special Tailor-made tours are available according to your specific requests.
Inclusions
Transportation in private air-conditioned vehicle with driver
Meal as mentioned: B = breakfast, L = Lunch, D = dinner
Accommodation: twin sharing room
English or French speaking guide
Entrance fee to indicated sights and permit
Air ticket Ho Chi Minh - Plei Ku, Hue - Hanoi + Domestic airport tax
Boat trip in Mekong and Halong Bay
Exclusions
Other meals
Tip
Drinks
Single room supplement
Personal expenses,
Hotels
3 Star Hotels :
Saigon : Elios Hotel
Da Nang : Goldcoast Hotel
Hue : Asia Hotel
Dong Ha : Saigon Dong Ha Hotel

4 Star Hotels :
Saigon : Eden Star Saigon Hotel
Da Nang : A La Cart Hotel
Hue : Eldora Hotel
Dong Ha : Saigon Dong Ha Hotel

5 Star Hotels :
Saigon : Rex Hotel
Da Nang : Furama Resort
Hue : La Residence Hotel
Dong Ha : Grand Muong Thanh Dong Ha Hotel